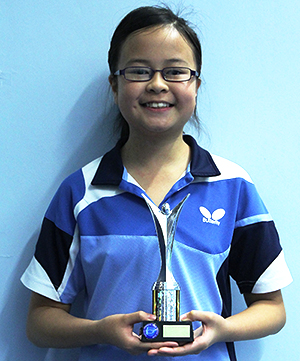 In less than two years after taking up the game seriously, 12 year-old Victoria Coll from Abingdon has risen to the dizzy heights of 10th ranked English player in her age category of Under 13 Girls. It was back in July 2012 that Vicky first won enough matches in national tournaments to gain herself a place on the England Ranking Lists, coming in then at no 45, but her greatest improvement has come over the last four months, in which she has leapt up 24 places.
Her first breakthrough came at the 11-14 National Championships held at Tipton Sports Academy in June, when she reached the last 16 of her age group. This was followed by successes in the open tournaments held at Cippenham (Slough), Waterside (Southampton), Burton and Draycott (Derby), in which she took several runner-up prizes and achieved notable victories over Sophie Barlow (Cleveland, No.3), Katie Holt (Hants, No.5) and Talia Banin-Reid (Middlesex, No.8). She also took the Welsh no 1, Lydia John, to a deciding game.
Vicky was introduced to the game by Karl Bushell of Kidlington Forum TTC, where she now receives coaching. She is also part of the South Regional Squad, under the aegis of ETTA Coach Aled Howell.
John Birkin (September 30, 2013)