The senior Worcestershire schools individual table tennis competition was held at St Egwin's School in Evesham and the players provided some quality table tennis.
The U19 girls competed in a round-robin format with all four girls coming from Bromsgrove School. Karen Chu Kiu Yan was far too strong for her less experienced opponents, completing three comfortable victories.
Winner Karen: Chu Kiu Yan Second – Mill Sibunruang Third – Katie Ho
The U19 boys also had just four entries. Friends and training partners Craig Witheford (Prince Henry's School, Evesham) and Hawley Ellicott (Heart of Worcestershire College, Redditch) battled it out in the final match to decide who would become champion. Witheford's excellent blocking tactics proving decisive.
Winner: Craig Witheford Second -Hawley Ellicott Third – Alvin Choi Wang Yang.
The U16 boys event drew eleven entries. With so few entries it was decided that an extra 'Plate' competition would be held for the losers in the first round. In the semi-finals Vladimir Averin (Bromsgrove) bt Jon Lyons (Prince Henry's ) 3-0 and Ali Witheford (Prince Henry's) bt Murat Shafigullin (Bromsgrove) 3-1. The players delivered a very exciting final with some fantastic rallies. Averin bt Witheford 3-1 ( 11-5, 10-12, 11-6, 11-2 ). Shafigullin bt Lyons 3-1 to take third place.
Winner : Vladimir Averin Second – Ali Witheford Third – Murat Shafigullin
Plate Winner: Solomon Wong (Bromsgrove)
The U16 girls event pitched Beth Pye of Bredon Hill Academy, Evesham against four girls from Bromsgrove School. Pye had missed the U13 competition the week before due to illness and was allowed to take a place against the older girls. She displayed great determination and played some brilliant table tennis to win all of her matches.
Winner: Beth Pye Second – Aida Abrahim Third – Saki Tsubuchi
Beth Pye's super performance throughout the day earned her the trophy for Player of the Tournament.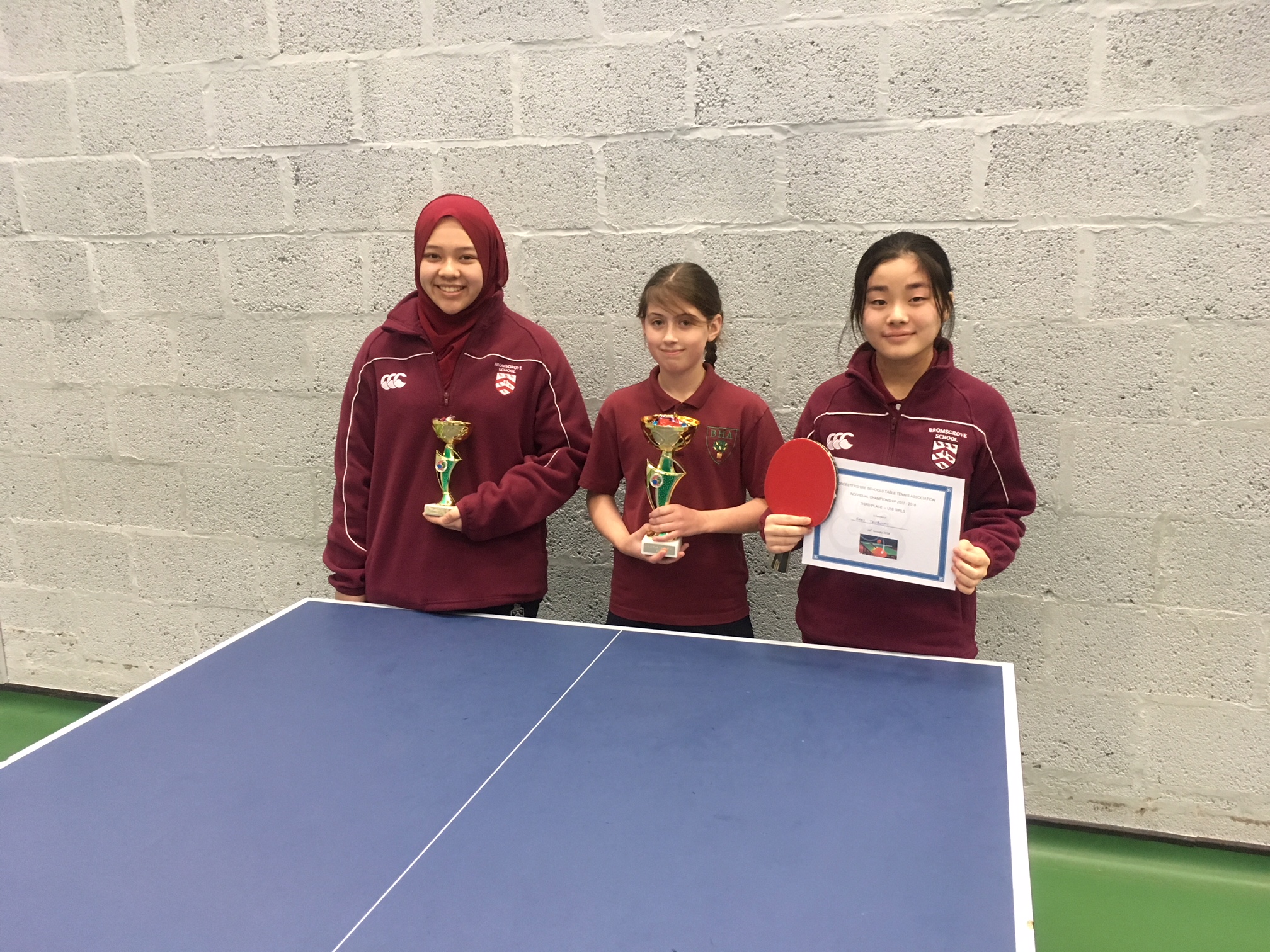 John Mckay,WSTTA representative, presented the trophies.