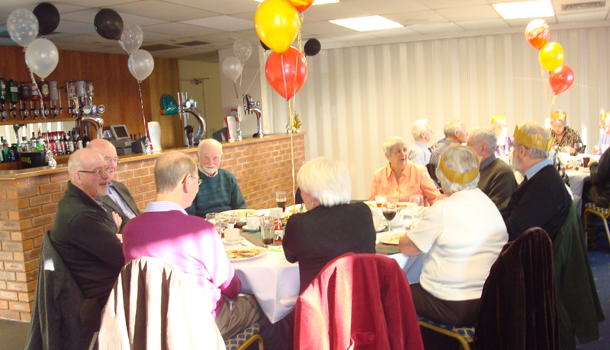 There was something for all ages at Stobart Stadium for the Table Tennis Christmas celebrations. First up was the over 50s day time section who enjoyed a festive Christmas lunch in the Karalius Suite which was followed by the Under 18's Christmas Competition.
Frank Lawless Chairman of Widnes Rugby Union Table Tennis Club presented a table tennis bat to a promising Junior selected on the evening on behalf of their club. Jack Brierley was thrilled and very grateful for this gift.
Frank James Community Coach presented the main trophies:
The Hatton Trophy was won by Jordan Abbott beating Harry Watson 8, 4
The Hatton Consolation Singles was won by Jack Brierley beat Jordan McGarry 9, -8, 6
The Halton Trophy was won by Lewis Greenway beat Sam Robson 9, 9
The Halton Consolation Singles was won by James Grindley beat Ryan Barry 9, 1
Competition target challenges were won by adult Peter Findlater, junior Connor Pook and juniors Jamie Lea Pook and four year old Romana Spivey. Chairman Karen Tonge MBE then presented special Jubilee Medals and Community Games Cerificates to all the participants to finish off the London 2012 Inspire Project.
Special thanks were given to all the volunteers Carol McCormick, Billy Wheeler, Chris Hatton, Peter Findlater, parents, senior members and Halton Stadium staff for assisting with the Games and for the buffet
Karen Tonge MBE
Chairman Halton Table Tennis Club