Tom's trio are new kinds on the block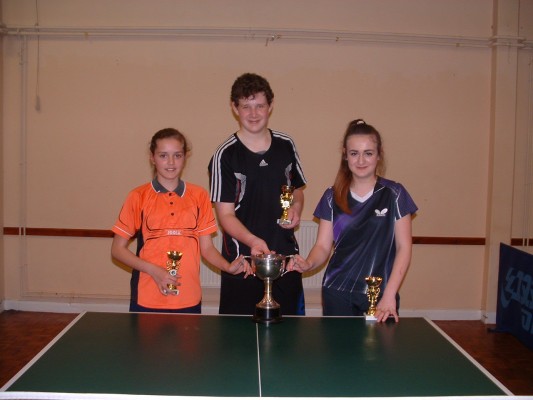 There are three new names – Tom Wilkin, Gracie Edwards and Millie Easton – on the Clacton and District League's Junior Combination Trophy.
In the tournament played at Windsor's St James Hall venue, Tom's trio were forced to battle hard in the final against the combination of Sam Hume, Lucy Burton and Daniel Hayes, before eventually emerging narrow, but well-deserved, 3-2 winners.
In a closely-contested encounter, three of the five matches in the final went the distance, Wilkin and Edwards (+1) hanging on by their fingertips in match four against Hume and Burton (-1) before winning a pulsating doubles 11-6 in the fifth to send the tie into a deciding final match.
And what a match it proved to be, Hume (-8) refusing to compromise his natural aggressive instincts in order to retrieve his handicap against Wilkin (+2) who showed equal determination not to be brow-beaten and to attack when the opportunity arose. Wilkin it was who proved the winner, taking an all-action match 12-10, 9-11, 11-2, 11-8.
Wilkin led his team well throughout the tournament, receiving top-class support from Gracie Edwards who remained unbeaten on the night, and Millie Easton, showing commendable composure in her first-ever competitive table tennis match.
Twelve juniors, including two youngsters from the Monday night coaching, took part to show off the ability and enthusiasm that exists in the junior ranks of local table tennis. But as well as their talent, every one of the youngsters displayed the highest level of sportsmanship, a credit to themselves and their parents.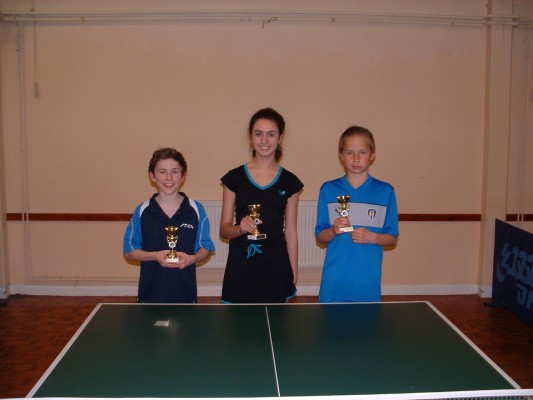 Final results : G Edwards (-6) beat L Burton (+1) 11-6, 11-8, 11-9;  T Wilkin/M Easton (+1) lost to S Hume/D Hayes (-6) 8-11, 11-5, 10-12, 11-9, 7-11; M Easton (+1) lost to D Hayes (-1) 11-8, 12-14, 12-10, 4-11, 9-11; T Wilkin/G Edwards (+1) beat S Hume/L Burton (-1) 11-2, 11-9, 12-14, 8-11, 11-6; T Wilkin (+2) beat S Hume (-8) 12-10, 9-11, 11-2, 11-8.
The Consolation Doubles was played on a round-robin basis. Elliott Atrill and Woody Fitzpatrick took the honours with two victories, with Kelvin Olano and Harry Beezer the runners-up with one win.
* The final of this year's Handicap Knock-Out Cup will be between Windsor Hawks and Walton B.
In their semi-final the Hawks retrieved a 2-1 deficit to defeat the durable Walton C outfit 5-3. Felipe Rodriguez was unbeaten for the Hawks, his win (+1) over Derek Willis (-1) 10-12, 7-11, 11-4, 11-9, 11-5 proving the best match of the tie.
Walton B also made good use of home advantage to make it through to the final with a battling 5-2 success against Windsor Eagles, again after being 2-1 down. Paul Newbould was undefeated for Walton in his one singles and two doubles.
The final takes place on Thursday 8th May at 7.30 pm at the Brotherhood Hall.
* In  Division One of the League, Nomads Panthers defeated Nomads Cougars 8-2, a win that confirms them as worthy champions of the Division for a second season. Gill Locke's good form continued with an unbeaten three but Sam Hume had two excellent victories for the losers, over Colin Webber and, in one of the shocks of the season, 11-7, 11-9, 11-9 against James Denyer. It was Denyer's first defeat of the season.
Nomads Lions have fought hard despite having only two regular players since Christmas but they couldn't quite manage to avoid defeat against Windsor Hawks, going down 6-4. Windsor's John Barton sealed the win by beating John Fenton 302 (6-11, 11-6, 11-13, 11-9, 13-11).
Relegation-threatened Brotherhood B will feel pleased that Walton D could only field a two-player side, the three 'free' points enabling them to draw a match for the first time this season. Kevin Gowlett was unbeaten for Walton whilst it was good to see Stewart Murray back in action for Brotherhood and enjoying a victory over Paul Woolnough.
In Division Two Windsor Kestrels failed to win for only the second time this season, having to settle for a share of the spoils with Windsor Harriers. But the Kestrels tottered on the edge of defeat, Dave Martin taking his maximum but only just getting the better of Ferdy Rodriguez 3-2 (4-11, 11-4, 10-12, 12-10, 11-9). Rodriguez and Isabel Barton had a surprise 11-9, 11-7, 11-9 doubles win over Martin and Graham Bunce.
But the Kestrels made no mistake in their second match of the week against Windsor Owls, winning 8-2. Frank Burbidge of the Owls had good victories over Martin and Bob Sawyer but Graham Bunce stayed firm to remain unbeaten for the Kestrels.
There was no Gary Stallwood in the Windsor Ravens' line-up but Brotherhood F were still good value for their 6-4 win. Elliott Atrill's hat-trick included a see-saw 3-2 (11-9, 11-8, 7-11, 4-11, 11-4) success over John Harvey, whilst Barry Allen won two and lost 11-5 in the decider to Harvey.
Brotherhood G moved up to second place in Division Three after a comfortable 9-1 victory over Windsor Kites. Chris Simson took the Kites' point with a 3-1 (11-8, 13-11, 8-11, 14-12) win against Mark Trayhorn.
It was also 9-1 as Windsor Penguins defeated Windsor Ospreys. Lucy Burton's 11-5 in the decider victory over Jackie Bunce was the losers' sole success.
Three for Alan Dockerill and two each for John Houghton and John Bowers saw Nomads Pumas to an 8-2 win against Nomads Wildcats. Harry Barlow and Andrew Cawley picked up a win apiece for the Wildcats, Barlow involved in the closest match of the evening when he defeated Bowers 3-2 (9-11, 12-10, 9-11, 17-15, 11-8).
Debra Found and Morgan Harvey won two singles each and shared a doubles victory as Brotherhood L, playing with a guest player, drew with Nomads Leopards. But Dan Malinowski took the eye for the Leopards with a 7-11, 11-13, 11-5, 11-9, 11-6 victory over the ever-improving Harvey.
RESULTS
Handicap Cup: Semi-finals
Walton B 5 Windsor Eagles 2;
Windsor Hawks 5 Walton C 3.
League
Division 1
Nomads Lions 4 Windsor Hawks 6;
Nomads Cougars 2 Nomads Panthers 8;
Walton D 5 Brotherhood B 5.
Division 2
Windsor Ravens 4 Brotherhood F 6;
Windsor Harriers 5 Windsor Kestrels 5;
Windsor Owls 2 Windsor Kestrels 8.
Division 3
Windsor Kites 1 Brotherhood G 9;
Windsor Penguins 9 Windsor Ospreys 1;
Nomads Leopards 5 Brotherhood L 5;
Nomads Wildcats 2 Nomads Pumas 8.
To view all tables, click here
by Tony Oswick (April 7, 2014)