The senior Worcestershire schools individual table tennis competition was held at St Egwin's School in Evesham and Bromsgrove School. The players provided some fantastic table tennis.
The U19 girls competed in a round-robin format with all six girls coming from Bromsgrove. Whilst Sanniva Chang, Natalie Po, Jenna Wong and Cherry Fung from the lower 6TH year put in an admirable effort, it was left between Mill Sibunruang and Katie Ho of the upper 6th year to decide the title. Sibunruang was able to celebrate with a hard fought win. Sibunruang bt Ho 3-1.
Winner: Mill Sibunruang; Second: Katie Ho; Third: Cherry Fung
The U19 boys also drew 6 competitors. Ali Witheford, Jonny Lyons, Fin Smith and Ed Sommers of Prince Henry's High School, Evesham and Solomon Wong and Grigorii Rodionov from Bromsgrove. As with the girls the format was round- robin. Ed Sommers showed his early intentions by defeating his good friend Jonny Lyons 3-2 in a five game tussle. He then went one better when he beat the competition favourite Ali Witheford 3-2 in another five game battle. Brimming with confidence, he went onto breeze through the rest of the competition to become champion.
Winner: Ed Sommers; Second: Ali Witheford; Third: Jonny Lyons
The U16 girls drew nine girls from Prince Henry's and Bromsgrove.
Group A went to form with Jade Ngan Lok Yee of Bromsgrove topping the group with Anna Cole and Rebecca Arrandale of Prince Henry's in second and third. Aida Rahim of Bromsgrove came fourth.
Group B produced a titanic struggle for the top three places between Abi Ingles, Sophie Arrandale and Emily Grove of Prince Henry's, whilst Saki Tsubouchi and Elsa Tsia from Bromsgrove played for fourth and fifth spot.
With Arrandale beating Ingles 3-2, Grove beating Arrandale 3-0 and Ingles beating Grove 3-1 all three girls were on three wins. The order was decided on games won in the group overall, which left Ingles in top spot, Grove second, and Arrandale third. Tsubouchi finished in fourth with Tsia in fifth.
Ngan Lok Yee eased through her quarter final 3-0 against Tsubouchi; Rahim was no match for Ingles losing 3-0; Rebecca Arrandale took some consolation for her sister's loss against Grove beating her 3-0. Anna Cole and Sophie Arrandale provided a brilliant quarterfinal match. After going two games down Cole fought back to level the match 2-2. Arrandale regained her composure to win the deciding game for a 3-2 win.
In the first semi final Ngan Lok Yee proved too strong for Rebecca Arrandale winning 3-0. The second semi final was a repeat of the first round match between Abi Ingles and Sophie Arrandale. This time Ingles was able to turn the tables on her opponent winning 3-1.
In the final Ingles gave everything she had, however, had no answer to the elegance and power of Ngan Lok Yee's stylish play. Ngan Lok Yee bt Ingles 3-0. Third place was taken by Sophie Arrandale 3-0 with victory over sister Rebecca. Aida Rahim took the consolation final medal. Rahim bt Tsubouchi 3-1.
Winner: Jade Ngan Lok Yee; Second: Abi Ingles; Third: Sophie Arrandale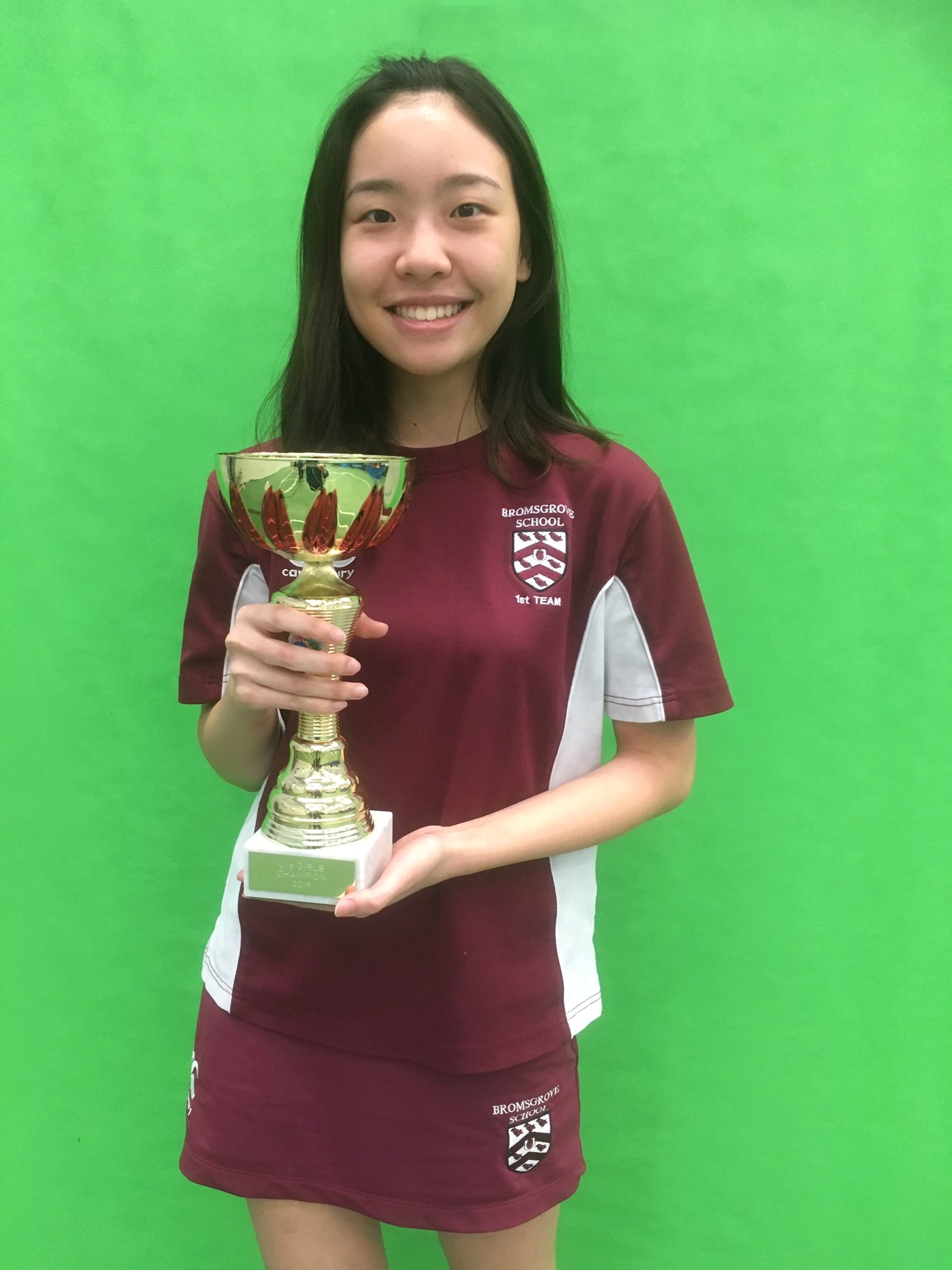 The U16 Boys' event drew 15 boys from schools across Worcestershire.
In the first semi final Alex Emms of Prince Henry's bt Murat Shafigullin of Bromsgrove 3-0 and in the second semi final Darren Hui of Bromsgrove bt Luke Fisher of Prince Henrys 3-0.
The final got off to a pulsating start with Emms taking a hard fought first game 11-9. Realising that he needed to change his game plan, Hui, began to vary the pace of his returns. With some clever short play and devastating forehand top- spins he won the next three games 11-8, 11-7, 11-7. John Tait from Droitwich High School won the consolation final medal.
Tait bt Donald Li of Bromsgrove 3-0.
Winner: Darren Hui; Second: Alex Emms; Third: Murat Shafigullin
Darren Hui's super performance throughout the day earned him the trophy for Player of the Tournament.