London Academy and Northfield School & Sports College, Billingham will represent the English Schools' Table Tennis Association (ESTTA) in the International School Sport Federation (ISF) World Schools' Table Tennis Championships to be held in Clermont-Ferrand, France from 4th/10th April 2014. Both schools are currently ESTTA Under 16 Butterfly National School Team Champions.
London Academy will be represented by Gabriel Achampong, Charlie Austen, Karim Khassal and Omar Khassal and Northfield by Katie Barlow, Hannah Clark, Eleanor Davison and Amy Webster in the nominated School Team competition. They will be joined by Tin-Tin Ho (City of London School for Girls), Emma Torkington (King's School, Canterbury), Maria Tsaptsinos (The Abbey School, Reading) and Yuki Wat (Bede's Senior School, Haisham) in the Girls' Nationally Selected Team and Marcus Giles (Hollyfield School, Surbiton), Tom Jarvis (Skegness Grammar School), Danny Lawrence (Grantham College) and Helshan Weerasinghe (The Judd School, Tonbridge) in the Boys' Nationally Selected Team.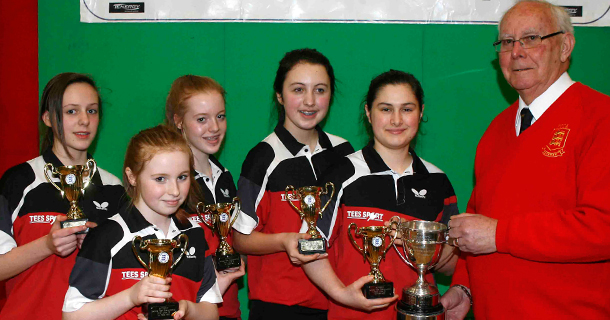 Provisional entries suggest teams from Armenia, Belgium French Community, Bulgaria, China PR, Chinese Taipei, Croatia, Czech Republic, England, France, Germany, Greece, Guatemala, Ireland, Israel, Luxembourg, Puerto Rico, Slovak Republic and Turkey will take part.
It was a Patronage event organised by ESTTA in 1993 in Birmingham that persuaded the ISF to add the sport of Table Tennis to its regular biennial calendar of some 13sports.
This six day team and individual event, including Opening and Closing Ceremonies together with a cultural visit and activities,compliments the ESTTA programme of Team, Individual and Home Country International Championships.
ESTTA Chairman and Head of Delegation John Blackband, speaking at the Press Release, said he was very excited at the prospect of working with this squad and thought there was enough talent to repeat or even improve upon the bronze medal gained two year's ago in Sardinia.
Written by John Arnold MBE, President/Development Officer ESTTA (November 26, 2013)