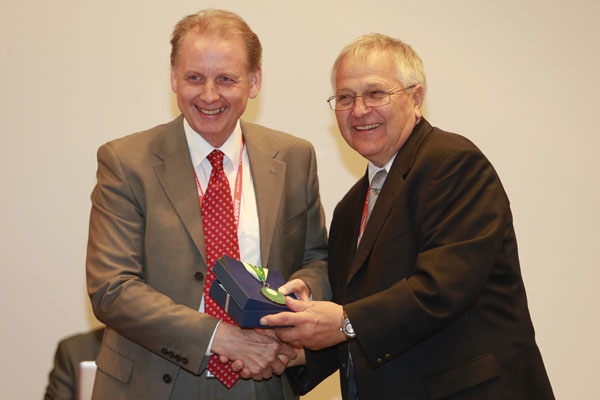 The English Table Tennis Association's Chief Executive, Richard Yule, has been recognised for his long and glittering career in table tennis with the International Table Tennis Federation's Merit Award at a ceremony held at the recent World Championships in Paris, France.
The award, as explained by the ITTF: 'is granted to those who have rendered distinguished service to table tennis, either nationally or internationally.'
Mr Yule's association with table tennis encompasses both a successful playing career and post-career leadership at the highest level. After winning eight Scottish Men's Singles titles and representing his country 285 times, he went on become a board member and former Chairman (2005-11) of the Games and Sport Division of the Sport and Recreation Alliance while also becoming the Chief Executive of the ETTA since 1995.
With his retirement announced for the end of May, it brings to an end 18 years of commitment to English table tennis and rightly his dedication to the sport has been recognised by his international peers.
There have only ever been two former Scottish winners of the award: Ben Dawson and B. Denis George, while previous English winners are made up of: A.K Bill Vint OBE, Ron Crayden, Johnny Leach, Colin Clemett and Alan Ransome.
To see the full list of previous winners click the link below: