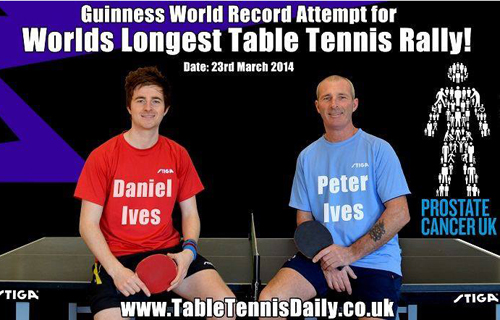 Dan and Peter attempt to break the world's longest table tennis rally!
On Sunday the March 23rd 2014 Dan Ives, TableTennisDaily Founder, and his father Peter, will attempt to break the Guinness World Record for the longest table tennis rally to raise funds for Prostate Cancer UK Charity.
The current record stands at 8 hours, 30 minutes and 6 seconds by Max Fergus and Luke Logan, but Dan and Peter will attempt a staggering 10 hours of play, which will be screened LIVE on the TableTennisDaily website.
You can watch the event unfold Sunday morning live here.
You can donate to the Prostate Cancer UK Charity on their Just Giving page here: https://www.justgiving.com/tabletennisdaily