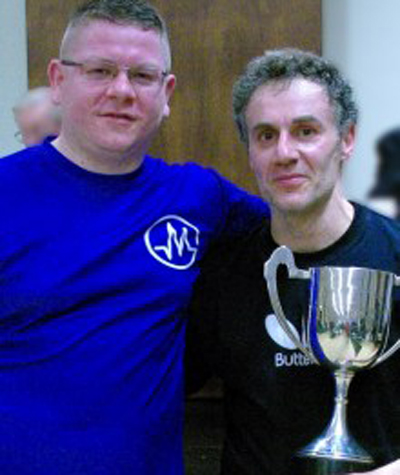 Costas Papantoniou regained the Men's Singles title at the Wembley & Harrow Table Tennis League Closed Championships last week but it was a close-run thing.
Costas, who plays for the Apollo club, triumphed in a very close fivesetter against Jason Sugrue (Microlease) with no-one in the large crowd able to predict the winner. He had almost been knocked out in the semi-final too, as 16-year-old Mitchell Jones had four match points to beat him, but Costas used his experience, speed of reaction and determination to good effect.
On an exciting night of table tennis, at which most of the event finals were played, Hiba Feredj of London Academy retained her Ladies' Singles crown with a 3-1 victory over Sally Bax. There were two double-winners in the junior events: Claudiu Andrei of Greenhouse City Academy won the Cadet and Junior Boys' events whilst club-mate Sarah Menghistab triumphed in both the Cadet and Junior Girls' Singles.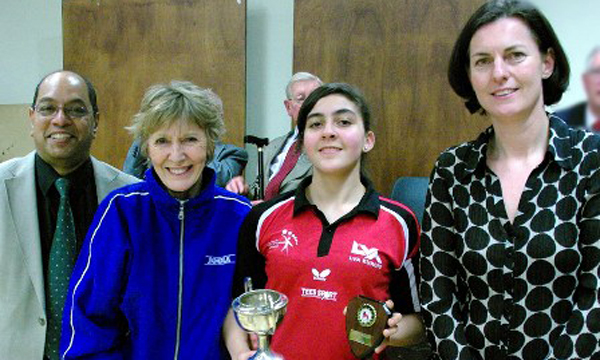 Mitchell Jones overcame his disappointment to team up with Roger Pyle (both Lowlands) to win the Men's Doubles against Jason Sugrue and Laikram Persaud (London Academy), but Laikram went on to defeat Gary Morgan (Vagabonds) to win his first Veteran Men's Singles.
The prizes on Finals Night were presented by Sara Sutcliffe, the Chief Executive of the English Table Tennis Association, to whom we are most grateful. The whole Championships were well-supported over three weeks and our thanks go to Tony Dias, the organizing committee and all the volunteers for making the event a success.
Results
Men's singles:
Semi finals:
Jason Sugrue (Microlease) beat Dmytri Bardysh (London Academy) 3-0 (11-6, 11-6, 11-4)
Costas Papantoniou (Apollo) beat Mitchell Jones (Lowlands) 3-2 (10-12, 11-9, 6-11, 12-10, 11-3)
Final:
Costas Papantoniou beat Jason Sugrue 3-2 (11-13, 11-8, 11-13, 11-7, 11-9)
Ladies' singles:
Hiba Feredj (London Academy) beat Sally Bax (Sudbury Hill) 3-1 (11-6, 10-12, 14-12, 11-6)
Men's doubles:
Mitchell Jones & Roger Pyle (Lowlands) beat Jason Sugrue (Microlease) & Laikram Persaud
(London Academy) 3-2 (12-10, 4-11, 8-11, 14-12, 11-5)
Mixed Doubles:
Hiba Feredj & Eren Gozcu (London Academy) beat Sally Prowen (Juice) & Radovan Živković
(Lowlands)
Veteran men's singles:
Laikram Persaud (London Academy) beat Gary Morgan (Vagabonds) 3-1 (10-12, 11-8, 11-4, 11-5)
Intermediate Singles:
Branislav Živković (Lowlands) beat Steve Pascoe (Lowlands)
Minor singles:
Ciprian Bizgan (IFSport) beat Alex Zanuncio (Hillingdon) 3-1 (11-13, 11-7, 14-12, 11-9)
Junior boys' singles:
Claudiu Andrei (Greenhouse CCA) beat Sirat Ahmad (Wembley & Harrow) 3-0 (11-6, 11-6, 11-6)
Junior Girls' Singles:
Sarah Menghistab (Greenhouse CCA) beat Mya Sultan (Greenhouse CCA)
Junior doubles:
Claudiu Andrei & Tendai Davis-Smith (Greenhouse CCA) beat Sammy Kaye & Joe Kaye (Maccabi)
11-4, 9-11, 11-6, 11-6
Cadet boys' singles:
Claudiu Andrei (Greenhouse CCA) beat Siddhant Rawal (Lowlands) 9-11, 11-8, 3-11, 11-8, 15-
13
Cadet girls' singles:
Sarah Mengbistab (Greenhouse CCA) beat Mya Sultan (Greenhouse CCA) 11-6, 11-9, 11-8
Steve Leven
(March 5, 2014)