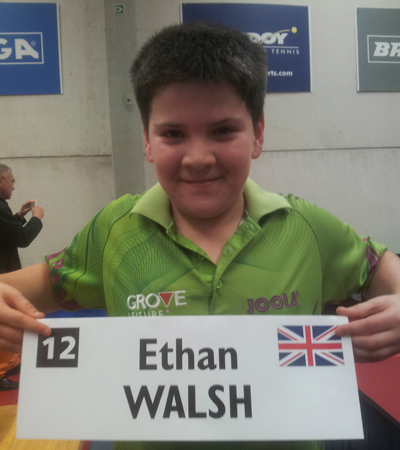 Ethan Walsh overcomes injury
After playing well at the Euro Minichamps in Strasbourg, France, Ethan was invited to play in the European Mini Masters in Blegny, Belgium on October 19-20, 2013.
Unfortunately Ethan's preparation was disturbed as he injured his toe, while playing football the day before travelling to Belgium. The toe seemed to play up more while walking, than playing table tennis, as Ethan did well competing against the best under 12's in Europe. Not once did Ethan complain about his toe.
Ethan was ranked number 12 in this competition and with three wins he finished strong in 11th position. From Ethan's results in both the Euro Minichamps and the Mini Masters you can see that Ethan has potential to be a top 10 junior player in Europe. Playing in these events is a step on the path to fulfil Ethan's dream: to become a professional table tennis player.

Many thanks to the sponsors, BATTS TTC, the ETTA Eastern Region, Groove and Bribar who made it possible for Ethan to play in Europe.
Ethan's coach for the weekend was BATTS head coach Aad Kwakkelstein.
The results for the Mini Masters can be found on the website: http://www.leping.be/evenements/stiga-masters-minimes/