Maria Tsaptsinos reached the Under-21 Women's Singles semi-finals at the US Open, and teamed up with Tin-Tin Ho to reach the Women's Doubles last four.
The pair were the only English players in the senior competitions in Orlando and would have been frustrated to not be able to play their doubles semi because of difficulties re-arranging flights.
The pair were the top two seeds in the Under-21s and both reached the quarter-finals. Ho was edged out in five, but Tsaptsinos continued through to the last four, where she was beaten by Xu Nuo of the host nation.
In the senior Women's Singles, both were seeded into the main draw, but Tsaptsinos fell at the first hurdle and Ho at the second.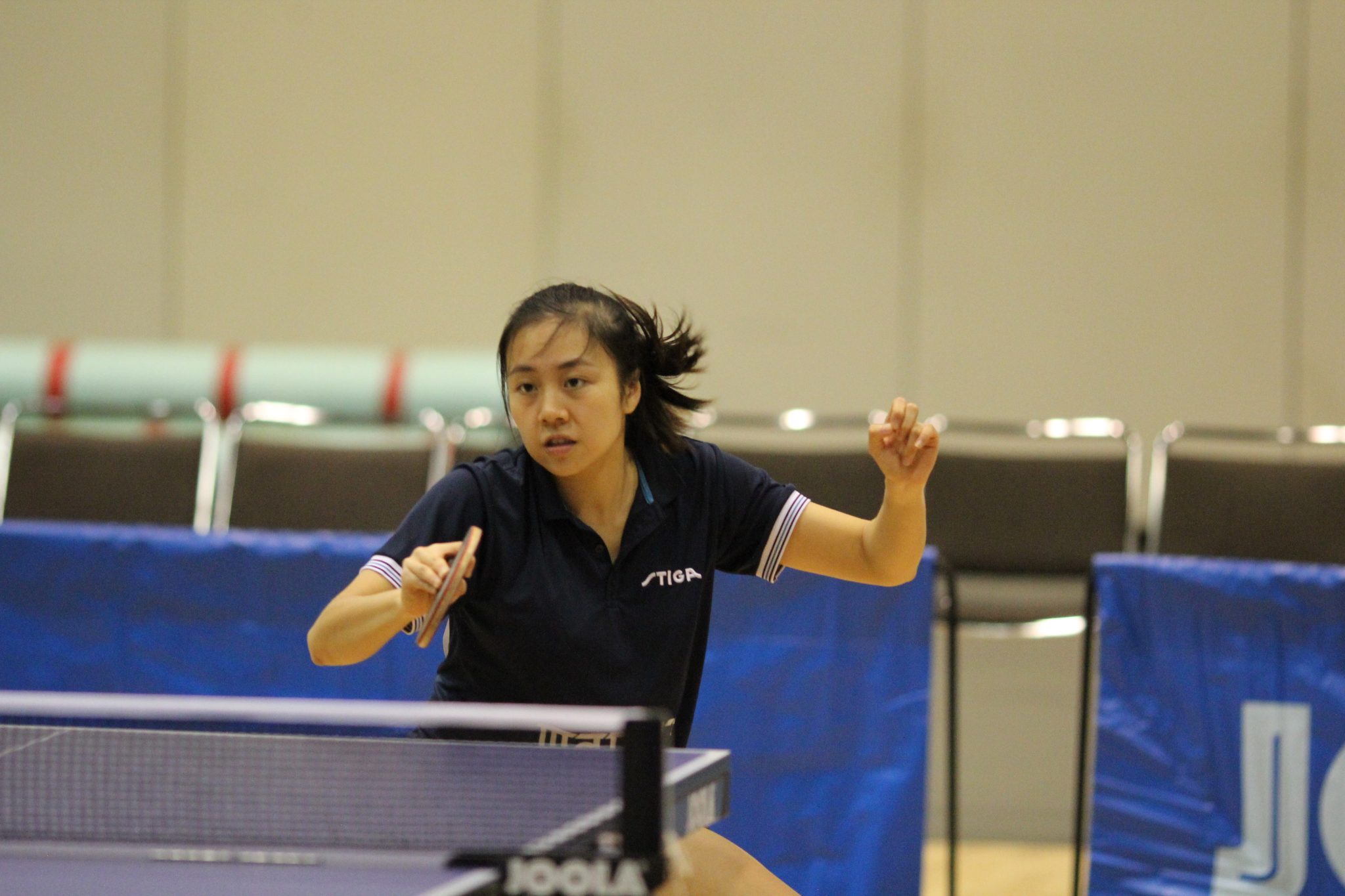 In the Cadet and Junior competitions, both Darcie Proud and Ruby Chan were representing England. Proud qualified for the main draw with two group victories in the Junior Girls' Singles and was then beaten in the last 32.
She also made it through in the Cadet Girls, where she was knocked out in the last 16. Chan was seeded into the main draw in the Cadets and reached the quarter-finals.
She also reached the quarters in the Cadet Mixed Doubles alongside Alfredo Sanchez of Costa Rica, beating Proud and her partner Mudit Mahajan of the host nation 3-1 in the last 16. It was the same outcome when the pairs met in the last 32 of the Junior Mixed, Sanchez & Chan going on to be beaten in the next round.
Results
Women's Singles
Round of 32
Tin-Tin Ho bt Wang Chen (USA) 4-3 (11-13, 13-11, 5-11, 8-11, 11-9, 11-9, 11-6)
Jia Jun (CHN) bt Maria Tsaptsinos 4-1 (9-11, 11-7, 11-7, 11-3, 11-4)
Round of 16
Kyoka Kato (JPN) bt Ho 4-1 (11-9, 11-5, 12-10, 11-13, 11-5)
Women's Doubles
Round of 16
Tin-Tin Ho & Maria Tsaptsinos bt Wang Yi Miao (USA) & Wang Jiaran (CHN) 3-0 (11-7, 11-7, 11-5)
Quarter-finals
Ho & Tsatptsinos bt Wang Shuang & Xu Nuo (USA) 3-0 (11-7, 11-8, 11-8)
Semi-finals
Yuki Matsumoto & Eka So (JPN) bt Ho & Tsaptsinos w/o
Mixed Doubles
Round of 16
Chi Ge & Tian Ye (USA) bt Matthew Lehmann (CAN) & Tin-Tin Ho 3-1 (11-5, 11-7, 3-11, 11-3)
Under-21 Women's Singles
Round of 16
Tin-Tin Ho bt Ivy Tai (USA) 3-0 (11-8, 11-6, 11-8)
Maria Tsaptsinos bt Angie Tan (USA) 3-1 (11-6, 13-11, 11-13, 11-7)
Quarter-finals
Jiaqi Lin (USA) bt Ho 3-2 (11-7, 5-11, 12-14, 11-9, 11-6)
Tsaptsinos bt Yi-Wei Liu (USA) 3-1 (11-7, 11-9, 7-11, 14-12)
Semi-finals
Xu Nuo (USA) bt Tsaptsinos 3-0 (11-1, 14-12, 11-3)
Cadet Girls' Singles
Group 6
Darcie Proud bt Emilia Cabrera Mallette (CAN) 3-2 (11-8, 11-7, 8-11, 7-11, 12-10)
Sherlyn Barvie-Perez (USA) bt Proud 3-2 (11-8, 3-11, 11-9, 6-11, 11-7)
Proud bt Alahia Medina Garcia (PUR) 3-0 (11-5, 11-5, 12-10)
Round of 16
Kelly Zhao (USA) bt Proud 3-0 (14-12, 11-5, 11-6)
Ruby Chan bt Sabrina Zhu (USA) 3-1 (6-11, 11-5, 11-9, 11-8)
Quarter-finals
Swathi Giri (USA) bt Chan 3-1 (11-6, 5-11, 11-4, 11-5)
Cadet Girls' Doubles
Quarter-finals
Daymar Castro Melendez & Brianna Rodriguez (PUR) bt Darcie Proud & Ruby Chan 3-0 (11-7, 11-4, 13-11)
Cadet Mixed Doubles
Round of 16
Alfredo Sanchez (CRI) & Ruby Chan bt Mudit Mahajan (USA) & Darcie Proud 3-1 (14-12, 11-7, 9-11, 11-7)
Quarter-finals
Kai Zarehbin & Sabrina Zhu (USA) bt Sanchez & Chan 3-1 (13-11, 5-11, 11-8, 11-7)
Junior Girls' Singles
Group 3
Sophie Gauthier (CAN) bt Ruby Chan 3-0 (11-8, 11-6, 11-8)
Neha Saju (USA) bt Chan 3-1 (3-11, 11-6, 13-11, 11-5)
Chan bt Daymar Castro Melendez (PUR) 3-2 (8-11, 6-11, 12-10, 11-0, 11-9)
Group 5
Emily Tan (USA) bt Darcie Proud 3-1 (11-9, 11-3, 6-11, 11-7)
Proud bt Nicole Malave (PUR) 3-1 (11-8, 11-9, 7-11, 11-6)
Proud bt Emilia Cabrera Mallette (CAN) 3-0 (11-7, 11-9, 11-9)
Round of 32
Jiaqi Li (USA) bt Proud 3-0 (11-6, 12-10, 11-3)
Junior Girls' Doubles
Round of 16
Sophie Gauthier & Emilia Cabrera Mallette (CAN) bt Darcie Proud & Ruby Chan 3-2 (11-6, 2-11, 11-8, 6-11, 11-5)
Junior Mixed Doubles
Round of 32
Alfredo Sanchez (CRI) & Ruby Chan bt Mudit Mahajan (USA) & Darcie Proud 3-1 (10-12, 11-9, 11-5, 11-6)
Round of 16
Emilia Cabrera Mallette & Edward Ly (CAN) bt Sanchez & Chan 3-1 (8-11, 11-7, 11-8, 11-7)