Halton Table Tennis Club was the surprise destination for a group of Tomahawks to call home last week during a boisterous session at the club.
However, rather than hosting a collection of weapons from the old wild west, Halton instead was the venue for the USA Rugby League team – nicknamed 'The Tomahawks', who held their table tennis championships during an over 50s session.
Halton Borough Council have welcomed the USA team to the area during their Rugby League World Cup (Oct 26 – Nov 30) campaign and the tournament's underdogs were enjoying a team-bonding session at the club ahead of their first World Cup clash with Cook Islands on Wednesday night.
Filming the squad in action were the BBC who have created a documentary on the little-known side which is made up of Australian-based players and part-timers.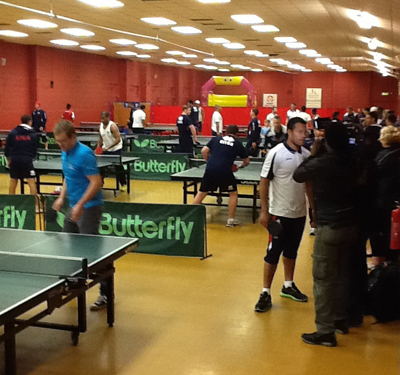 Halton were more than happy to help out the plucky newcomers and have even donated a table for the team to use at their hotel. Club member Jordan Abbott, a volunteer who recently played for the North West at the Sainsbury's School Games, was given the chance to play the competition victor at the end of the day.
To watch the BBC film click here
Written by Russell Moore (October 30, 2013)