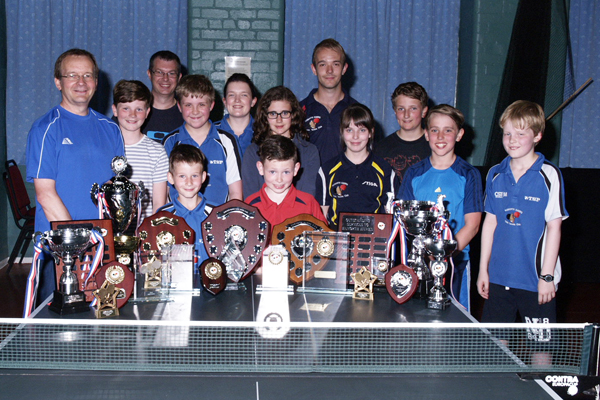 At Haworth Hawks' inaugural presentation evening last weekend, junior and adult players alike walked away clutching a shining array of shields and cups.
The ceremony, held at Keighley Table Tennis Centre in South Street, saw fourteen awards presented, with titles such as 'Positive Role Model Award' and 'Best Attitude Award' joining the more conventional prizes like 'Most Improved Player' and 'Individual Merit Award'.
Yorkshire regional coach Sally Shutt was there to present the award for the highest ranked Haworth Hawks member, which went to youngster Joshua Poulsen, aged 10. Joshua was delighted to receive his honour in front of the 70 club members who attended. The other awards, sponsored by club officials and local businesses such as Custom Table Tennis, Cloud Free IT and Clubzz, were presented by Haworth Hawks' senior coaches and committee members.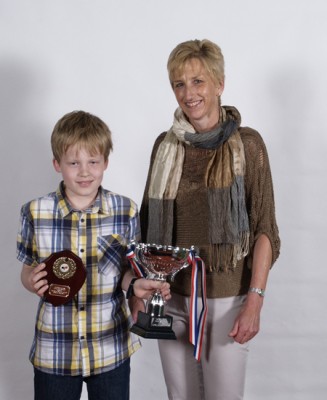 Organiser Adam McKay said: "The evening marks a huge stepping stone in the club's history. It demonstrates how far we have come since 2007 and it's also significant that so many juniors and their parents attended. It shows that table tennis is a growing sport among young people."
The evening had a celebratory feel, with a big hamper full of goodies being raffled off, and some delicious food served after the award ceremony.  The other two organisers were Haworth Hawks committee members Doreen Yorke and Gaynor Kilminster.
– – –
Keighley Table Tennis and Recreation Centre is on the 2nd Floor of Keighley Business Centre, South Street, BD21 1SY. For more information please contact the centre on 01535 872029 or email [email protected]