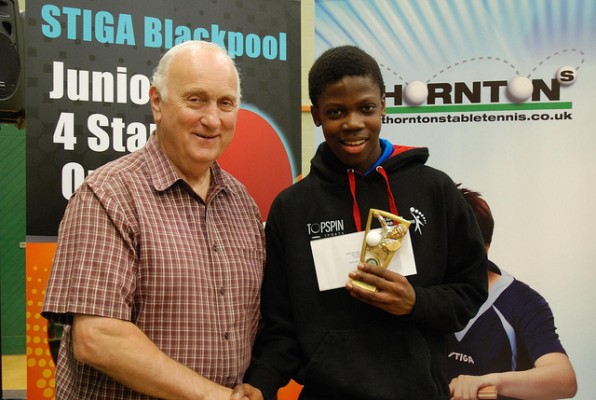 131 Junior and cadet players from afar afield as London and Scotland recently attended the Stiga Blackpool Junior 4 Star held at Blackpool Sports Centre, Lancashire over 18th & 19th May 2013. In the Junior events London Academy's Gabriel Achampong (Mi) took the Junior Boys title over fellow club member Omar Khassal (Mi) winning 4, -10, 11, 13 in the final. Hibah Feredj (Mi) beat Bethany Farnworth (La) 4, 9, -6, 8 to win the Junior Girl's event.
Click the links to view copies of the results from both days: Saturday, Sunday.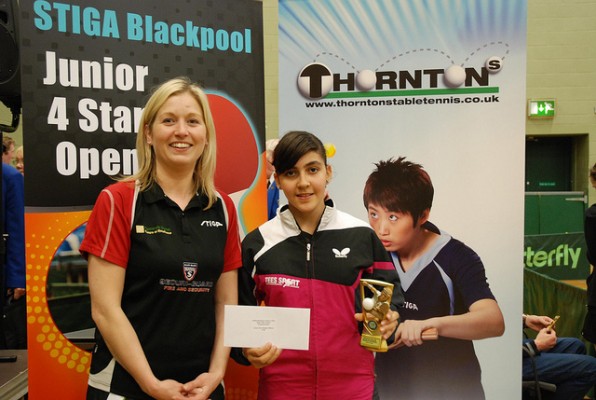 Click here to view photos from the event.
| | | |
| --- | --- | --- |
| | Players | Result |
| Junior Boys Singles | Gabriel Achampong (Mi) bt Omar Khassall (Mi) | 4, -10, 11, 13 |
| Junior Girls Singles | Hibah Feredj (Mi) bt Bethany Farnworth (La) | 4, 9, -6, 8 |
| Junior Boys Band 1 | Liam Rowson (Li) bt Adam Jepson (Ca) | -4, 9, 6, 9 |
| Junior Girls Band 1 | Soffi Jenkins (WAL) bt Bethany Farnworth (La) | 8, 10, 5 |
| Junior Boys Band 2 | Chris Clifford (He) bt Sean Drewry (IOM) | 8, 5, -5, 4 |
| Junior Girls Band 2 | Chloe Ireland (La) bt Lyndsey Simpson (La) | 2, 4, 2 |
| Cadet Boys Singles | Omar Khassal (Mi) bt Robert Barker (La) | 9, 5, 10 |
| Cadet Girls Singles | Katy Nixon (Y) bt Zahna Hall (Mi) | 14, -8, 11, -7, 9 |
| Cadet Boys Band 1 | Joshua Harland (Cv) bt Amirul Hussain (La) | 7, 7, 7 |
| Cadet Girls Band 1 | Soffi Jenkins (WAL) bt Katie Barlow (Cv) | 7, 8, -10, 9 |
| Cadet Boys Band 2 | Che Marshall (Mi) bt Sean Drewry (IOM) | -7, 11, 3, 8 |
| Cadet Girls Band 2 | Jenny Yang (SCO) 1st, Amber Basford (St) 2nd | Gp |
| U13 Boys | Alex Ramsden (Np) bt Olly Tyndall (Gs) | 6, 4, 5 |
| U13 Girls | Amy Blagbrough (Ha) bt Megan Dillon (La) | 9, -7, 9, 6 |