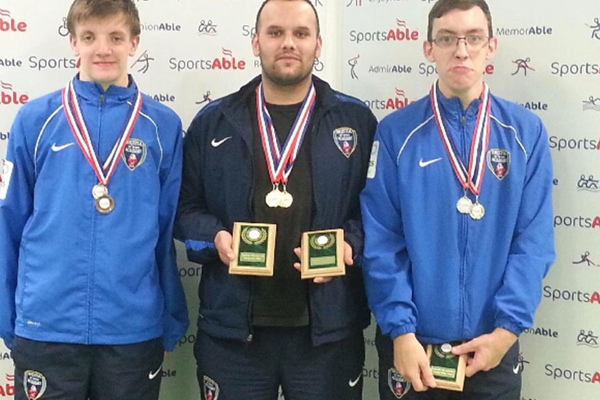 SportsAble hosted the first ever major disability table tennis grand prix competition at Slough from November 23-24th 2013. All three SGS College Academy players from Bristol, Rajan Waterman, Craig Allen and Lee Wilkinson, had tremendous success.
On day one there was immediate success when Rajan Waterman won gold in the Standing singles by beating Joshua Morgan who is a GB international with world ranking no.50 in class 10. Rajan continued by teaming up with Lee Wilkinson to win the Standing doubles category, defeating Mike and Billy Shilton in the final. On day two of the tournament, Rajan followed his great opening day with success in the Band A open event by beating four different GB international players including the world ranked no. 20 Adam Thompson in class 11 and class 6 Paralympian David Wetherill.
Craig Allen, who lost to Rajan in the quarter-finals, then rallied to beat Timothy Fields to clinch a bronze medal in the singles. However, he gained a second medal, silver in Band B, losing out in a very close match to Joshua Morgan (ranked no. 30 in England open class) of Wales in the final.
Lee had probably the best win of his career to date by beating Martin Perry, who is a GB international (no. 2 player in class 6). His successful run came to an end with a tight loss 3-1 to Paralympian David Wetherill, but he came away with a silver medal to add to his gold from his doubles event.
By Eddie Roofe (December 6, 2013)