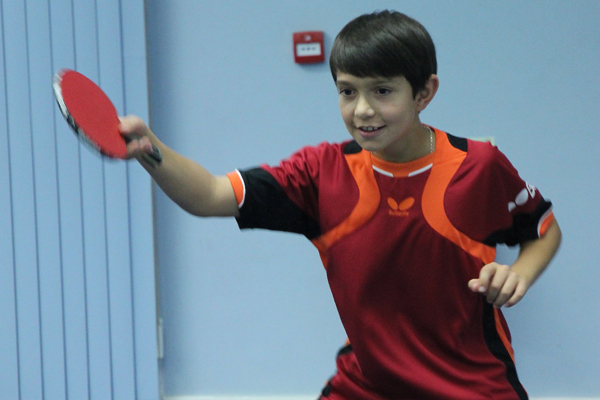 Sunday's Gloucestershire Open attracted 128 entries, with the English players having to face up to a strong challenge from both Wales and Denmark. Most successful of the Oxfordshire contingent were Under 13s Reece Chamdal, Vicky Coll and Josh Selby.
Reece had wins over Stanley Shilton (Gloucs), Tafari Clachar (Middx) and Louie Evans (Wales), while Josh beat Mathew Pearce (Wales) and Tom Mercer (Devon). Thus, amid all the international competition, they amazingly faced one another in the quarter-final, renewing their fierce local rivalry.  On this occasion the younger player, Reece (11), came out on top over four very close games. This took him into a semi-final encounter with the top ranked Under 13 player in England, James Smith, which Reece lost 3-0 (11-7, 11-7, 11-5).
Meanwhile Vicky was gathering momentum in the counterpart girls' event, scoring a fine 3-1 win over the talented Danielle Kelly (Surrey) and following that up with wins over Megan Allaway (Herts), Emily Haskell (Devon) and Estelle Kelly (Surrey). But she lost out to the two top ranked English players, 0-3 to Jemma Walker (ranked 10), the first two games both going to deuce in what was largely a pushing duel; she then played a more open counter-hitting game in losing 1-3 to Katie Holt (ranked 6) – in fact she had a game point to win the first, won the second, but lost the third and fourth very narrowly.  Thus Vicky had to be content with third place overall.
Written by John Birkin (November 11, 2013)