Liam Pitchford exacted revenge on Nigeria's Bode Abiodun as England enjoyed a great day at the Commonwealth Games in Australia.
Abiodun was the key player as Nigeria stunned England 3-2 in the Men's Team semi-final, coming from 2-0 down to defeat Pitchford and going on to defeat Sam Walker in the deciding match.
But there was to be no repeat today as, after Abiodun had levelled the match at 1-1, Pitchford exerted his class on the match to go through 4-1 (13-11, 9-11, 11-7, 11-4, 11-7).
Pitchford said: "I think Monday (the team semi) was poor really, I was disappointed in myself. I didn't give myself the chance to play my game and was quite hard on myself. I saw the draw and I was prepared. There was no way I was going to lose to him a second time. It still wasn't great but a 4-1 win, I'm happy with that. I moved a lot better and tactically I was a lot better.
"I just played a lot better. Monday . . . it happens sometimes, you have a bad day. Today I made amends and I'm really happy with that."
He was joined in the last 16 by Paul Drinkhall and Sam Walker, who had 4-0 victories over Ashley Robinson of Northern Ireland and Canada's Antoine Bernadet respectively.
Pitchford will next play Scotland's Gavin Rumgay, who went through by defeating Buwaneka Jayasingha Mudiyanselage of Sri Lanka 4-0,while Walker also faces a Home Nations opponent in Paul McCreery, who won 4-0 against Shao Feng Ethan Poh of Singapore.
Scotland's Craig Howieson went out to Gao Ning of Singapore in four and Owen Cathcart of Northern Ireland was eliminated by Abiodun in the Round of 64.
Kelly Sibley was the first English athlete to go through in the singles today, overcoming Canada's Alicia Cote in four straight in the last 32. She was followed into the last 16 by both Tin-Tin Ho and Denise Payet, who also had 4-0 victories.
There are some tough ties ahead tomorrow for the English athletes – Sibley has to play Madhurika Patkar of India, who beat Ho in the team semi-final earlier in the competition, while Ho also faces Indian opposition in Mouma Das. Payet's tie is against Mo Zhang of Canada.
In the doubles competitions, the two men's pairings of Drinkhall & Pitchford and Walker & David McBeath went through to the last 16 with no alarms. Believe it or not, Pitchford and Abiodun meet again in the next round tomorrow, Abiodun playing alongside Olajide Omotayo, while Walker & McBeath next face Rumgay & Howieson.
Three English mixed pairings also moved safely into the last 16. Sibley & McBeath next play Indian pair Sharath Achanta & Mouma Das. After their victory today, Sibley said: "It was a really good performance and I'm feeling confident moving into the next round. I'm feeling quite pumped and looking forward to what the mixed doubles, the ladies doubles and singles – let's see what happens."
Pitchford & Ho face Trent Carter & Tracy Feng of Australia, while the opponents for Walker & Payet are Malaysia's Javen Choong & Karen Lyne.
The Women's Doubles last 16 is also tomorrow. Sibley & Payet meet Cote & Zhang of Canada, while Ho & Maria Tsaptsinos will play Anolyn Lulu & Priscilla Tommy of Vanuatu.
There were wins in the group stage of the Para competitions for Kim Daybell and Ross Wilson, though both were tight matches. Daybell overcame Mohamad Azwar Bakar of Malaysia 3-1 (6-11, 11-9, 14-12, 13-11), while Wilson had to come from 2-1 down to defeat South Africa's Theo Cogill 3-2 (11-7, 10-12, 9-11, 11-9, 11-7). In the same group as Daybell, Wales' Josh Stacey beat Ian Kent of Canada 3-0.
Wilson, a Class 8 athlete playing against an opponent from two classes higher, said: "He is a great player. He is really consistent and really puts me under pressure so I had to play my best game today and luckily I did."
Felicity Pickard, a Class 6 player, had a tough encounter against Class 10 opponent Melissa Tapper of Australia, who is also part of the host nation's able-bodied squad, and was beaten in three straight.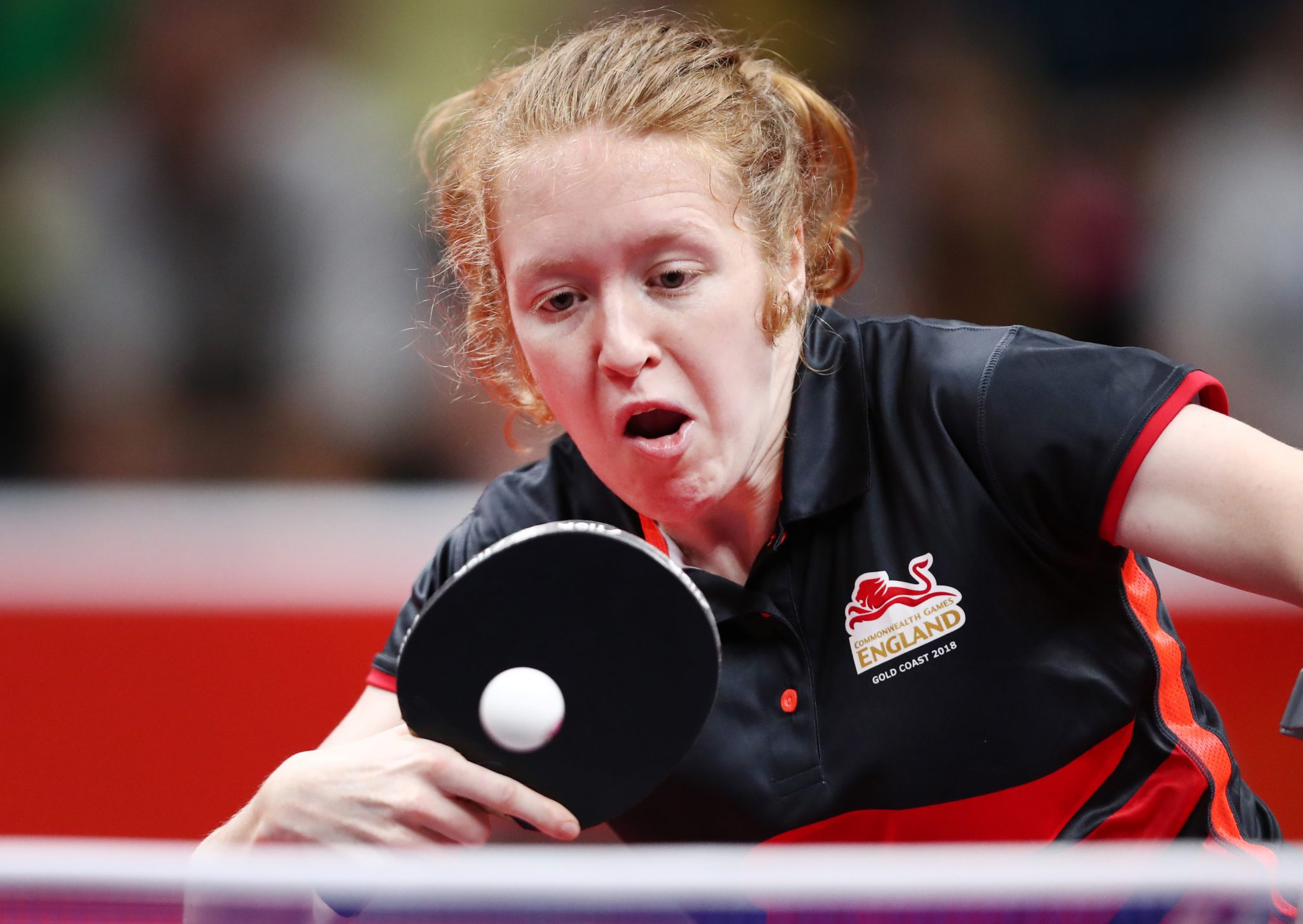 Of the other Home Nations athletes, Craig Howieson & Gavin Rumgay of Scotland overcame Northern Irish pair Owen Cathcart & Zak Wilson 3-2 in the last 32 of the Men's Doubles. The other Irish pair, Paul McCreery & Ashley Robinson, made it through with a 3-0 win over Kalton Melton & Tulimanu Vaea of Tuvalu.
Chloe Thomas of Wales was beaten 4-0 in the last 32 of the Women's Singles by the host nation's Tracy Feng, while Charlotte Carey lost 4-2 to Ying Ho of Malaysia.
Results
Men's Singles
Round of 32
Liam Pitchford bt Bode Abiodun (NGR) 4-1 (13-11, 9-11, 11-7, 11-4, 11-7)
Sam Walker bt Antoine Bernadet (CAN) 4-0 (11-7, 11-5, 11-8, 17-15)
Paul Drinkhall bt Ashley Robinson (NIR) 4-0 (11-4, 11-8, 11-4, 11-5)
Women's Singles
Round of 32
Kelly Sibley bt Alicia Cote (CAN) 4-0 (11-3, 11-5, 11-4, 11-1)
Tin-Tin Ho bt Hansani Kapugeekiyana (SRI) 4-0 (11-8, 12-10, 11-2, 11-5)
Denise Payet bt Grace Yee (FIJ) 4-0 (11-4, 11-3, 11-2, 11-7)
Men's Doubles
Round of 32
David McBeath & Sam Walker bt Terry Su & Devesh Hukmani (BIZ) 3-0 (11-3, 11-2, 11-2)
Liam Pitchford & Paul Drinkhall bt Derek Abrefa & Felix Lartey (GHA) 3-0 (11-2, 11-6, 11-9)
Mixed Doubles
Round of 64
Sam Walker & Denise Payet bt Gary Nuopula & Lalmah Sifi (SOL) 3-0 (11-6, 11-3, 11-0)
Round of 32
David McBeath & Kelly Sibley bt Muhammad Ashraf Haiq Rizal & Ai Xin Tee (MAS) 3-0 (11-9, 11-6, 11-5)
Walker & Payet bt Christy Bristol & Godfrey Sultan (SEY) 3-0 (11-3, 11-3, 11-6)
Liam Pitchford & Tin-Tin Ho bt Beh Kun Ting & Zhang Wanling (SGP) 3-1 (11-3, 12-10, 10-12, 11-6)
Women's TT6-10 Singles
Group 1
Melissa Tapper (AUS) bt Felicity Pickard 3-0 (11-6, 11-2, 11-1)
Men's TT6-10 Singles
Group 1
Kim Daybell bt Mohamad Azwar Bakar (MAS) 3-1 (6-11, 11-9, 14-12, 13-11)
Group 2
Ross Wilson bt Theo Cogill (RSA) 3-2 (11-7, 10-12, 9-11, 11-9, 11-7)