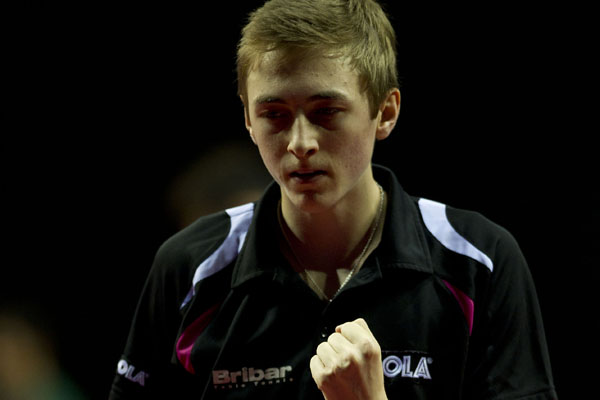 Nineteen-year-old Liam Pitchford is aiming to secure his maiden Men's Singles title at the 54th English Senior National Table Tennis Championships in Sheffield this weekend.
The youngster from Derbyshire has already been a beaten finalist twice to fellow London 2012 Olympic Games team-mates Paul Drinkhall, 23 from Loftus, and Andrew Baggaley, 30 from Milton Keynes.
However, Pitchford's rivals will be keeping a close eye on the new English no. 1 at Ponds Forge after the teenager recorded yet another international shock when he beat Korea's Kim Minseok, ranked 34 in the world, last week at the ITTF World Tour Qatar Open.
His reputation for giant-killing is starting to precede the world no. 124 following a catalogue of victories over some of the world's biggest stars, including world no. 9 Vladimir Samsonov, no. 20 Alexey Smirnov, no. 32 Robert Gardos and no. 51 Dimitrij Prokopcov.
Pitchford, however, remains bashful over his own success and doubts his rivals are fearful of his fledgling career. He said: " I don't really know to be honest, I guess people will be doing their homework before they play me but I don't think they fear me that much just yet. Hopefully they will soon!"
His international success hasn't been replicated on the domestic stage with just a single Men's Doubles and Men's Under-21s title to his name, but he hopes that this year he can master the added pressure that comes from playing at home.
He said: "I guess there is a sort of pressure that comes with it, it's always more difficult playing against teammates, but at the end of the day it's just another tournament that everyone is fighting to win.
"I've lost in the final twice now, of course it would be great to win and that is the main goal, so I'll be taking each match at a time and see how it goes."
The youngster, who plays professionally in Germany for Champions League side TTF Liebherr Oschenhausen, hasn't had the ideal preparation over winter with a hip injury sidelining him for the start of the year.
He explained: "I was out for five weeks and only started getting back into full practice a couple of weeks ago but I think it has been good for me to have that break.
"I had some great help from the doctors and physios down at Isokinetic in London and everything felt good in Qatar so it's just about keeping on top of it now so it doesn't happen again.
I don't think it will affect me at the Nationals. I chose not to play in the Under 21s due to my hip and having to play so many matches, it was a difficult choice but the main goal is to win the Men's Singles so it was something I thought was best for me."
Should the 19-year-old be successful in Sheffield he'll continue his chase for medals at the Commonwealth Championships in New Delhi, India (5-10 May), where the England team have a great chance of medaling once more.
He said: "The main aim after the Nationals is the Commonwealth Championships. I think there is a massive possibility to come away with medals like we proved at the Games in Delhi. After that will probably be the World Championships, hopefully I can go further than last time."
Tickets for the English Senior National Table Tennis Championships are available on the door at Ponds Forge, Sheffield (1-3rd March) with free entry on the Friday, while Saturday prices are £6 for adults and £3 for concessions and Sunday prices are £8 for adults, £4 for concessions.
You can alternatively follow all the action LIVE with coverage from the English Table Tennis Association. Regular twitter updates from @ettatabletennis will be supplemented by a livestream service of table 1 during the weekend. More details to appear on the ETTA website on Friday.
To view the full 2012/13 English Senior National Table Tennis Championships Draw click here
By Russell Moore