Steve Joslin – top seed in M&G Investments Chelmsford & District Table Tennis League Mens Singles Championship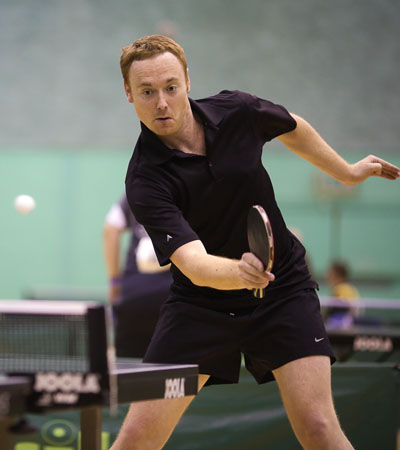 With Alex Abbott, the Mens Singles Champion for the last two years not defending his title Steve Joslin is the no. one seed in the Mens Singles in the 2014 M&G Investments Chelmsford & District Table Tennis League Closed Championships which take place over the weekend of Friday / Sunday 7/9 February 2014 at the Hylands School, Sports Hall, Hatfield Grove, off Forest Drive, Chelmsford, CM1 3DF. Joslin – Champion in 1995 and 1996 but Runner-Up for the last three years will certainly hope to go one better this time.
Other players who will be out to make their mark are the second seed – 2013 Colchester Mens Singles Champion Keiran Lally, who was Chelmsford Champion
in 2003 and the joint third seeds – Dave Cole (Champion four times – in 1986, 2005, 2006 and 2009) and the highly-rated Tony Halling. The joint fifth seeds – James Denyer, Peter Hayden, Paul Davison and Gary Young will also be out to make their presence felt whilst players of the calibre of Rik James, Michael Andrews, Mindaugas Sinkas, Ben Warner, George Reeeves and Brandon Crouchman are amongst those seeded in the nine to 16 range. If all goes to plan Steve Joslin will play Tony Halling and Keiran Lally will oppose Dave Cole in the staged Semi-Finals on Finals Night on Monday 17 February 2014 at Old Chelmsfordians Association, Lawford Lane, Chelmsford.
Every year the Mens Singles manages to produce one group which is particularly strong. This year group seven takes on this mantle. The seeded Ben Warner will face John Cleasby, Terry Dowsett and Paul Nicol.
Julie Johnson will be attempting to win the Ladies Singles for an amazing 21st time and she is seeded to meet Linda Attridge in the Final. Dawn Baldry who played so well in last year's Ladies Singles Final will be out to prevent this.
James Denyer could be one of the stars of the Tournament, not only does he have a high seeding in the Mens Singles and Mens Doubles but he is also top seed in the Junior Boys Singles and second seed, behind the holder – Robert Shrimpton in the Under 21 Singles. Daniel Berry, Ryan Gooday and Chris Denyer (no relation) are amongst the players who should oppose James in the later rounds of the Junior Boys Singles. The Under 21 Singles is by no means a two – horse race and Brandon Crouchman, Scott Dowsett and Chris Denyer will all be out to progress to a Finals Night outing.
The Mens Doubles is often one of the most fiercely contested of events. Top seeds Steve Joslin/Michael Andrews (Champions in 2011 and 2012) are due to face a new pairing – Dave Cole and Peter Hayden in the Final. Other pairings who cannot be discounted are Keiran Lally/James Denyer, Kevin Gowlett/Paul Davison, George Reeves/Paul Cuming and Alistair Hill/Rik James.
David Cole/Julie Johnson are odds-on-favourites to capture the Mixed Doubles for the ninth time. A new combination – Lin Attridge/Peter Hayden should be their Final opponents on Finals Night.
David Cole will be attempting to win the Veterans Singles for an impressive fifth time. His Final opponent is scheduled to be Peter Hayden whilst Kevin Gowlett and Gary Young are seeded to reach the semi-finals.
The holder- Terry Dowsett is the top seed in the Over 50s Singles and he is seeded to play Chris Jacob in the Final. George Reeves and John Cleasby are the players who should make it through to the Semi-Finals in this event. George Reeves, the winner in 2011 could well be the player to beat in this competition.
Chris Jacob will have an even better chance of winning in the Over 60s Singles where he is due to play John Cleasby in the Final. Hamish Innes and Ian Whiteside are expected to make the penultimate round.
Again the holders – Gary Young / Steve Kerns are the top seeds in the Veterans Doubles and their Final opponents are expected to be Peter Hayden/Kevin Gowlett whilst David Cole/James Hicks and George Reeves/Paul Cuming are pairings who cannot be discounted.
Two players who have shown massive improvement – Daniel Berry and Ryan Gooday are the top rated players in the Under 16 Singles whilst the Junior Girls Singles will be contested by Sarah Austin, Emily Wood and Jennie Crapnell.
Sunday's play is dominated by the Divisional Singles and the Division two Competition looks like being a good one. Scott Dowsett, with a record of 22 wins out of 29 in League matches is the top seed with James Hicks seeded no. two and the two leading third division players – Steve Nortcott and Rob Burton seeded joint no. three. Not surprisingly, Burton and Northcott are expected to battle out the Division three Final.
Daniel Berry (who boasts a very impressive record of 35 wins out of 39 in League matches) is the top rated player in the Division four Singles Competition and he is expected to play Frank Hodge in the Final. In the Division five singles Peter Windley and Ian Austin are expected to battle their way through to the Final.
The action commences at 19.00 hours on Friday 07 February 2014. Admission is free and it is hoped that many former players will pop into view the event over the weekend.
Steve Kerns
Press & Publicity Officer
Chelmsford & District Table Tennis League (February 2, 2014)