Loughborough defended their Bromfield Trophy title and Plymouth won a medal in all four sections at the English Leagues Cup Competitions finals.
Plymouth's success in winning one gold, one silver and two bronzes is believed to be a unique achievement, with bronze medals a relatively recent addition since the advent of positional play-offs.
The players representing their leagues qualified for the finals at Westfield TTC in Wellingborough having won through zonal qualifying stages. Group matches were played before the final knockout matches to decide champions and positions.
Photos by Richard B Hudson.
Wilmott Cup (Senior Men)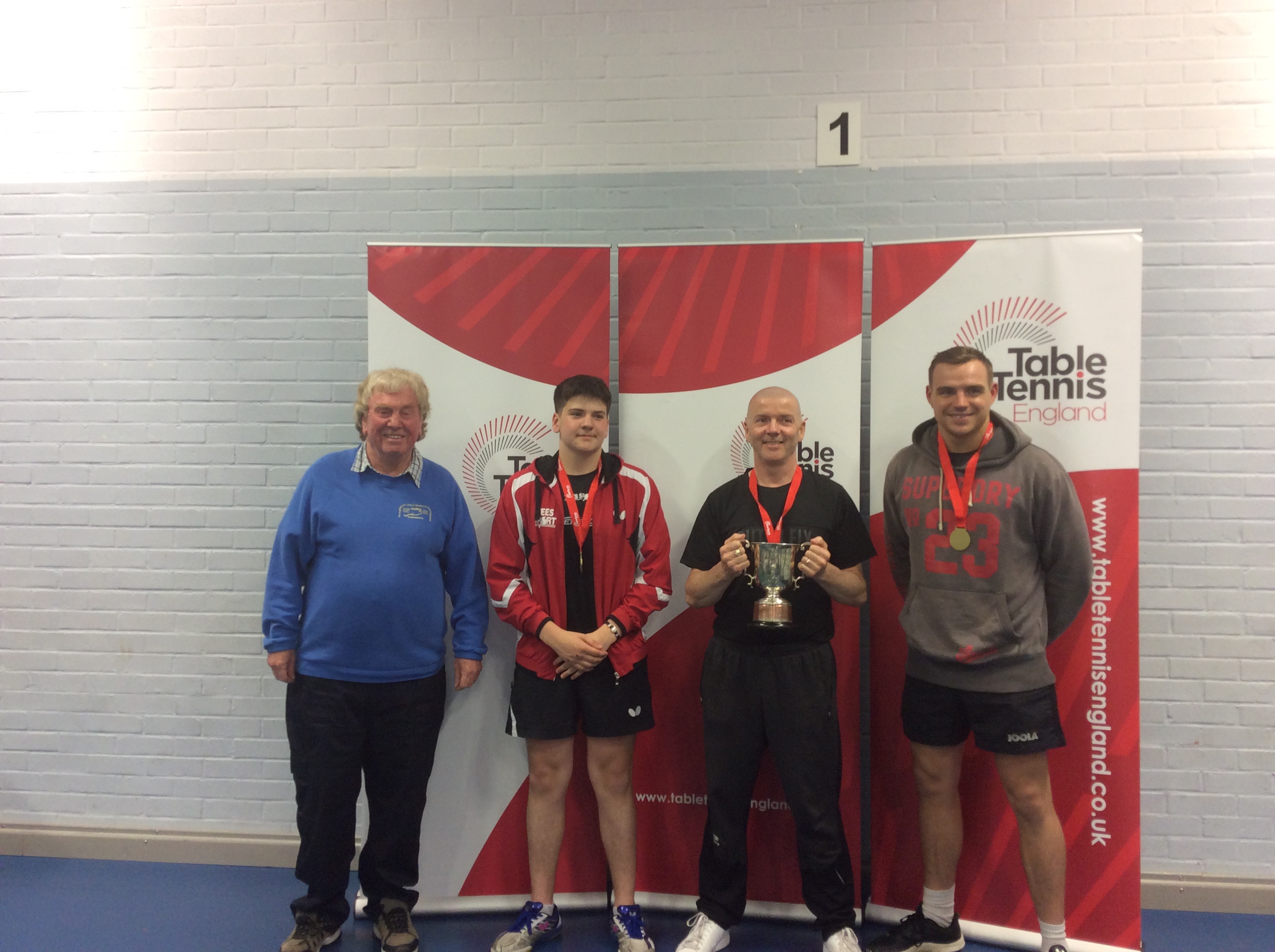 North Herts were winners in the final against Leeds as Adam Nutland, Ethan Walsh and Jimmy Walsh were too strong for the Leeds players Mike Fraser, Shahriar Masoudi and Simon Noutch, winning 3-0.
All the matches were decided in three straight, as Nutland set North Herts on their way with an 11-5, 11-6, 14-12 victory over Noutch. Ethan Walsh then defeated Masoudi 8, 7, 4 and Nutland & Walsh teamed up to take the doubles 7, 7, 9 against Noutch & Fraser.
Third place went to Plymouth's Oliver Cornish and Paul Whiting, who beat Central London's team of Emil Erekov, Fabien Mauroy and Miguel Boca Perez.
Final placings: 1 North Herts, 2 Leeds, 3 Plymouth, 4 Central London, 5 Nottingham, 6 Norwich A, 7 Walsall 8, Crawley & Horsham.
JM Rose Bowl (Senior Women)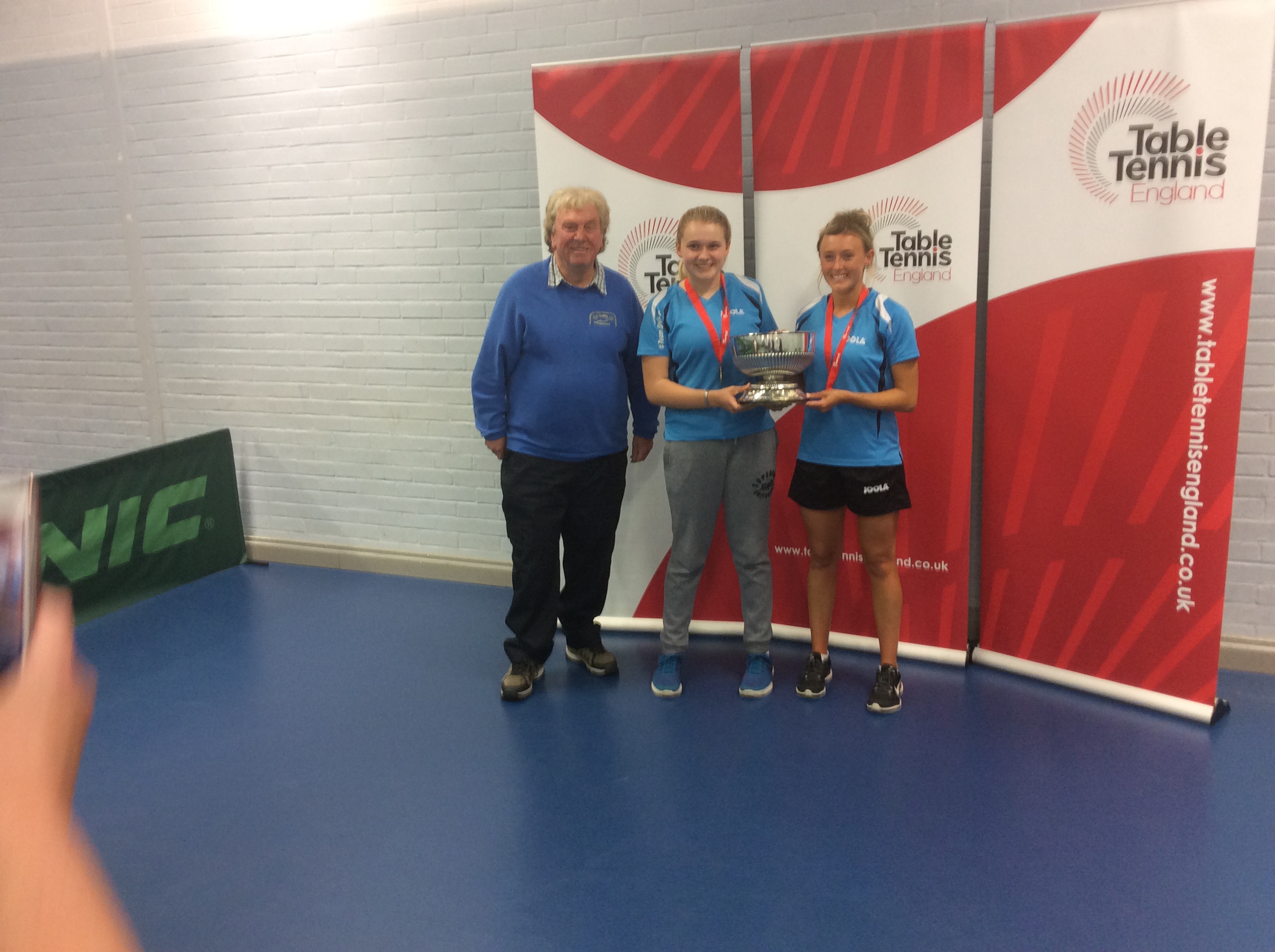 Plymouth and Leicester emerged from the Group matches to play an excellent exciting final with Plymouth's Gemma Kerr and Rachel Trevorrow just pipping Leicester's Lois Peake and Karen Smith 3-2.
Plymouth were never behind, taking the lead when Kerr defeated Smith 3-2 (11-6, 11-7, 6-11, 5-11, 11-8). Peake beat Trevorrow 3-0 (12-10, 11-6, 11-6) but Plymouth restored their lead by taking the doubles 3-1 (12-10, 9-11, 11-7, 11-9).
Peake levelled again, overcoming Kerr 3-0 (11-7, 11-4, 11-2), but Trevorrow won the trophy for Plymouth as she defeated Smith in four (8-11, 11-9, 11-4, 11-9).
Third place went to Central London's Jane Ji and Tiana Dennison who beat Warrington's team of Rachel Baker, Annie Hudson and Paulina Orzechowska.
Final placings: 1 Plymouth, 2 Leicester, 3 Central London, 4 Warrington, 5 North Herts, 6 Leamington, 7 Staines, 8 Cambridge.
Carter Cup (Junior Boys)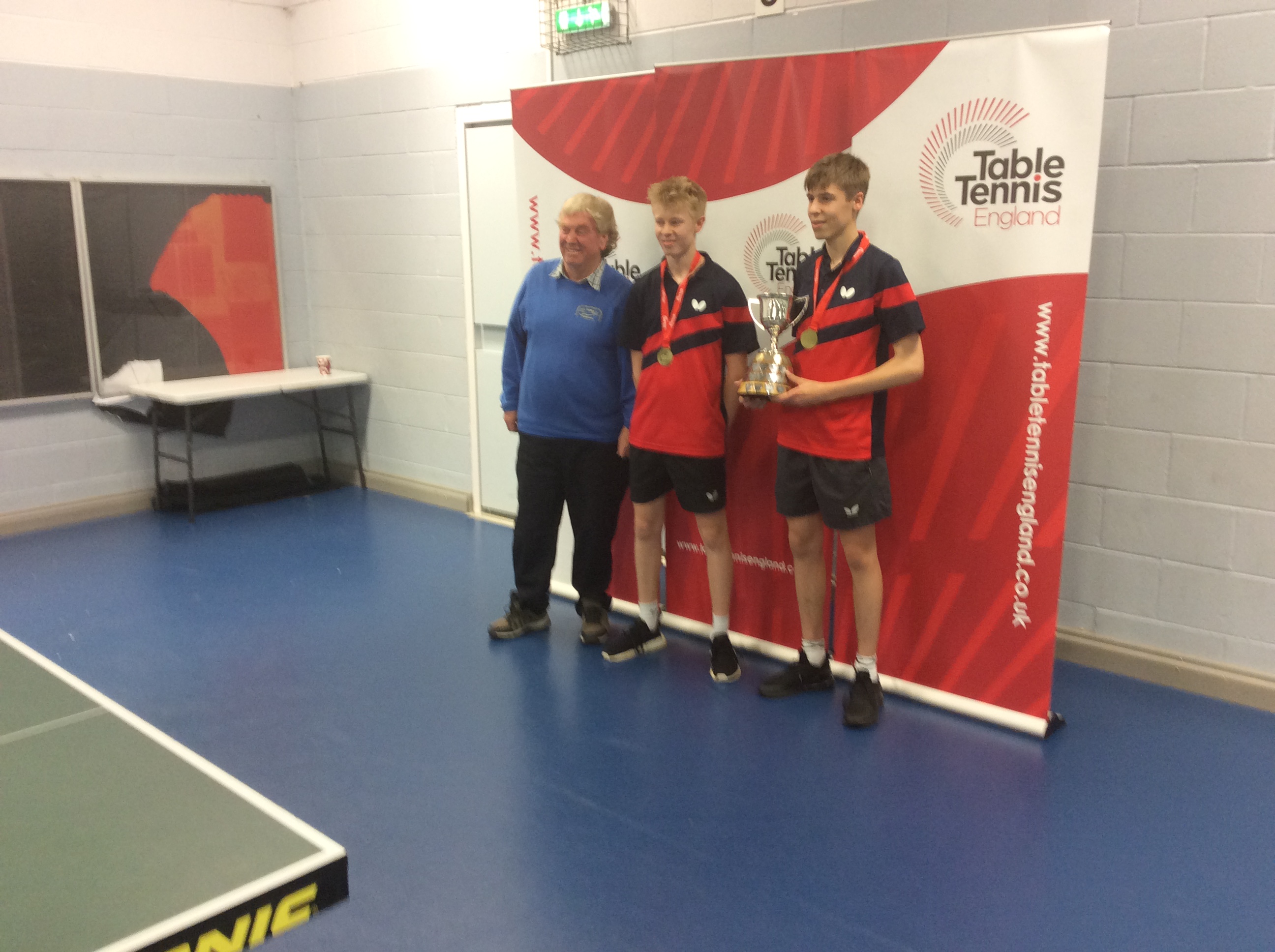 Nottingham's team of brothers Harry and Max Stevens were victorious in the final, beating Liverpool's Rhys Davies and Ogi Kirstov 3-2 in another fine match.
Max Stevens put Nottingham in front by defeating Kostov 3-1 (11-6, 12-14, 11-5, 11-9) but it was 1-1 when Davies overcame Harry Stevens 3-0 (11-2, 11-5, 11-7).
Nottingham claimed the doubles 3-2 (11-8, 8-11, 11-9, 8-11, 11-9) but Liverpool were again level as Davies beat Max Stevens 3-1 (9-11, 11-4, 11-6, 11-7). It was left to Harry Stevens to clinch victory, triumphing 3-0 (11-5, 11-5, 11-4) over Kostov.
Third place went to Plymouth's Uther Kingdom and Leon Zacharkiw, who beat Crawley & Horsham B's Owen Brown and Fraser Kent.
Final placings: 1 Nottingham, 2 Liverpool, 3 Plymouth, 4 Crawley & Horsham, 5 Loughborough, 6 Leamington, 7 Central London, 8 Leicester.
Bromfield Trophy (Junior Girls)
In a round-robin of the four teams, Loughborough retained their title when Helena Dicken and Erin Green won 4-1 against Plymouth's Mari Baldwin and Emily Haskell, who finished second.
Third place went to Walsall's Amillia Baker and Kirsty Maull, with Grantham's Jodie Morris and Stefania Popa fourth.
Final placings: 1 Loughborough, 2 Plymouth, 3 Walsall, 4 Grantham.
Many thanks to the competition team of referees, organisers, umpires, local helpers and Table Tennis England staff.
Membership fees help us fund vital work at a grassroots level in this sport, including contributing towards the cost of competitions, which members of all ages and abilities compete in every season.
Even if you do not partake in these competitions, they are a big part of the Governing Body's remit and are important for the future health and growth of the sport.
 That's why we say that when you buy a membership with us you become more than a player – you become part of a bigger picture. To find out how affiliation fees support you and the sport you love, click here.