Liam Pitchford and Tin-Tin Ho won their singles matches at the European Championships today to move into the last 32, while Pitchford & Paul Drinkhall, and Sam Walker, are into the last 16 of the doubles.
Ho overcame 32nd seed Deborah Vivarelli, losing the first game to an Italian opponent ranked 11 places above her at No 89 in the world, but coming back strongly and conceding only 19 points as she won the next four. She now faces Russia's Polina Mikhailova, the 13th seed, in the last 32 at 1.50pm UK time tomorrow.
Pitchford saw Nandor Ecseki of Hungary fight back from 3-0 down to 3-2 in their last-64 clash, but the England No 1 took the sixth against an opponent ranked 115 in the world.
Pitchford now faces Joao Geraldo of Portugal, the world No 106, who beat world No 64 Cedric Nuytinck of Belgium 4-2. The last-32 match is at 7pm UK time tomorrow.
Walker was also in the last 64 and up against Slovakia's Wang Yang, the world No 69 and 30th seed here, and was beaten in four straight.
The winner was drawn to face either Callum Evans of Wales or Germany's Ricardo Walther, and that tie went as expected, with world No 42 and 14th seed Walther winning in four straight against the Welsh youngster, whose current world ranking is 435.
Meanwhile, Pitchford & Paul Drinkhall survived a scare to take their place in the last 16 of the men's doubles – and Walker followed them into the same stage.
The Commonwealth Games champions, seeded sixth in Alicante, looked to have found their range when from 1-0 and 8-4 down they reeled off seven points in succession and then took the next two games in the unusual best-of-seven format.
However, Bulgarian opponents Teodor Alexandrov & Denislav Kodjabashev had other ideas and fought back to level at 3-3. Liam and Paul led 9-6 and were pegged back to 9-9 in that decider but eventually shook off their stubborn opponents and now face Russian 13th seeds Kirill Skachkov & Alex Shibaev at 11.15am UK time tomorrow in the last 16.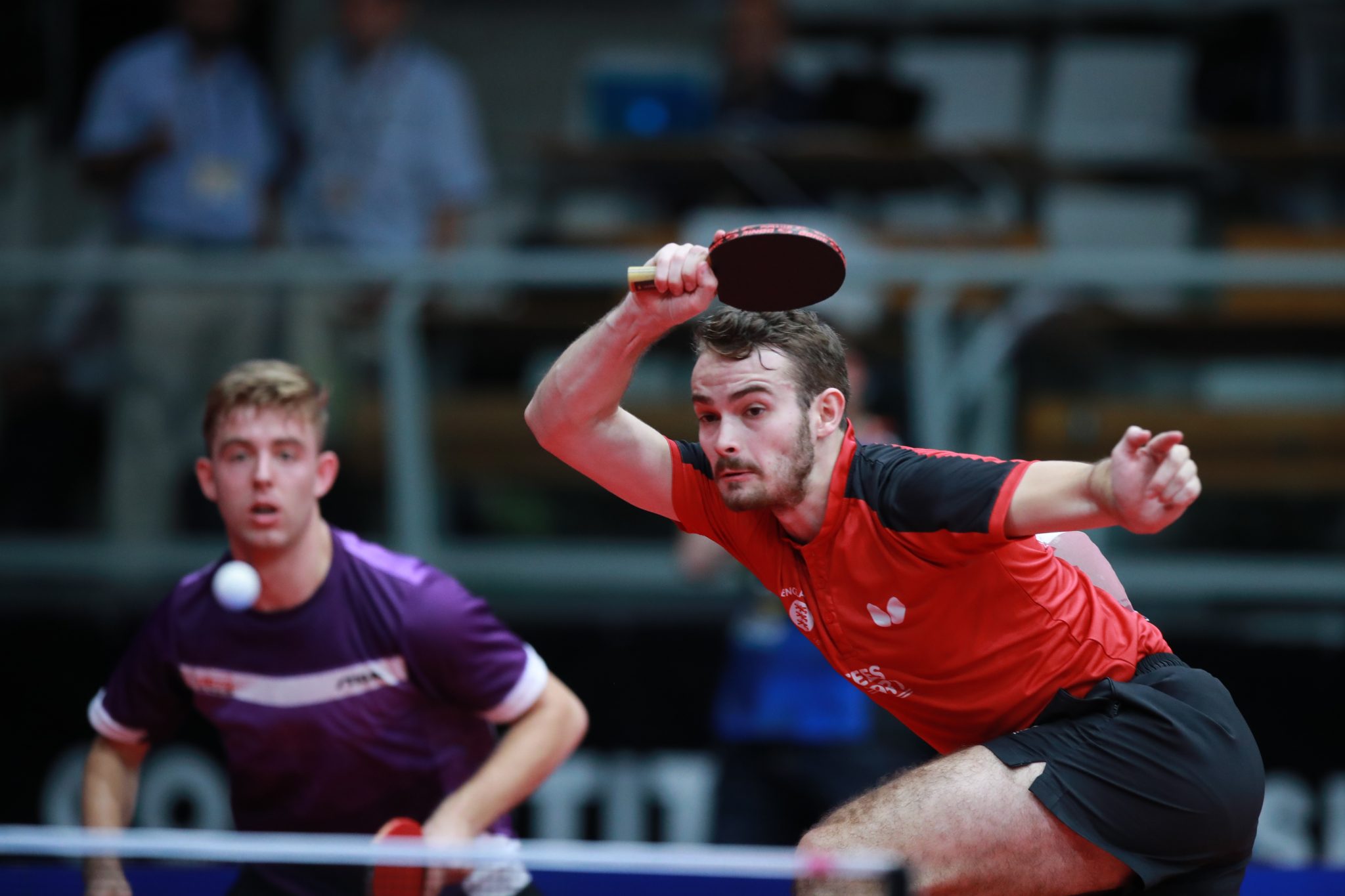 Walker and his Danish partner Tobias Rasmussen also 'won it twice' – opening up a normally victorious 3-1 margin over Slovenian 15th seeds Bojan Tokic & Darko Jorgic before eventually taking a close match 4-2. Their next opponents are the fifth seeds from Hungary, Nandor Ecseki & Adam Szudi, at 10.30am UK time tomorrow.
But Pitchford & Tin-Tin Ho were knocked out of the mixed doubles in the last 16, despite closing from 2-0 down to third seeds Alvaro Robles & Galia Dvorak of Spain to force a decider – this competition over a more conventional five games. However, it was the Spaniards who prevailed 11-8 in the last.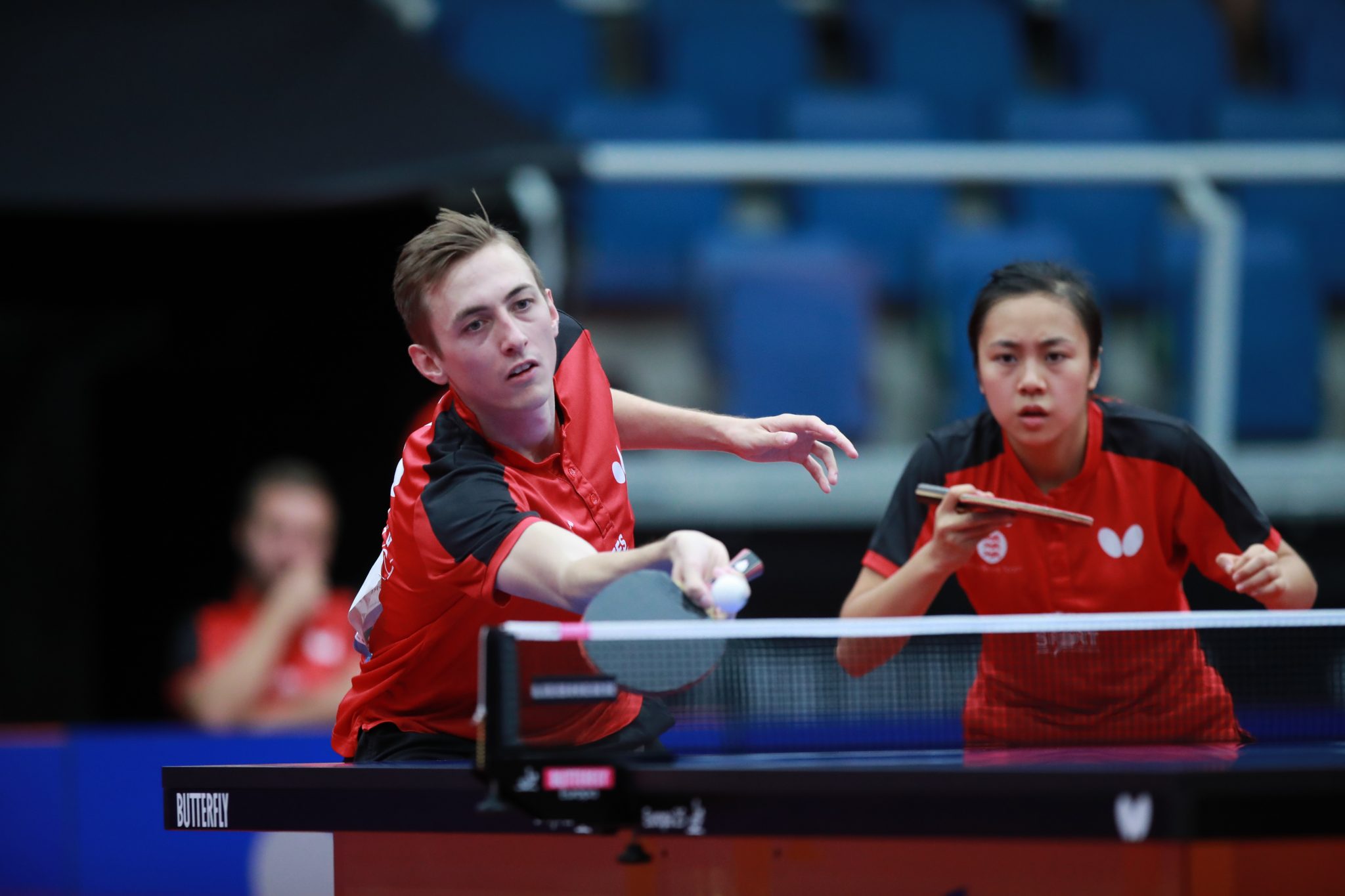 Results
Men's Singles
Round of 64
Liam Pitchford bt Nandor Ecseki (HUN) 4-2 (11-5, 11-7, 11-6, 5-11, 8-11, 11-6)
Wang Yang (SVK) bt Sam Walker 4-0 (11-6, 11-4, 11-5, 11-4)
Women's Singles
Round of 64
Tin-Tin Ho bt Debora Vivarelli (ITA) 4-1 (9-11, 11-6, 11-3, 11-6, 11-4)
Men's Doubles
Round of 32
Liam Pitchford & Paul Drinkhall bt Teodor Alexandrov & Denislav Kodjabashev (BUL) 4-3 (7-11, 11-8, 11-5, 11-9, 8-11, 7-11, 11-9)
Sam Walker & Tobias Rasmussen (DEN) bt Bojan Tokic & Darko Jorgic (SLO) 4-2 (11-7, 12-10, 12-14, 11-9, 7-11, 11-9)
Mixed Doubles
Round of 16
Alvaro Robles & Galia Dvorak (ESP) bt Liam Pitchford & Tin-Tin Ho 3-2 (11-7, 13-11, 9-11, 9-11, 11-8)