Only 11 players took part in the 6th Topspin Sports Horsham Spinners Veterans and Senior 1 Star Ratings tournament on 19th May at the home of Horsham Spinners Table Tennis Club, Farlington School.
There were six players in both the vets and the seniors, giving five matches per player. However, in these tournaments, we endeavour to provide at least seven matches per player, so there were some play-off matches between the seniors and the vets, which will count for senior ranking points.
The top two from each age category went into a top group, the next two went into a middle group and the final two went into the bottom group. Once in the new groups, players played just the two players from the other age group who they had not already played.
This gave all players seven matches, except for No 1 seed Rory Scott (IRL), who played in both age groups and had 10 matches, and the runners-up in both age groups, who played six matches each, as they had both already played Scott.
Scott won all 10 of his matches, playing with reverse rubbers both sides to win both the seniors and the veterans. Charlie Usher (Sx) and Ken Lewis (E) were the runners-up in the Seniors and Veterans respectively.
Seniors
Scott lost three ends against three different opponents in his five matches, but was generally untroubled. Second seed, Usher, lived up to his billing, losing one end in his four victories and getting the silver.
Adrian Fandache (Bd) came third with three wins, Kirk Reed (Sx) came fourth with two wins, Brett Holt (Sx) finished fifth with one win and Darius Mayhew (Sx) was sixth. None of the 15 matches went to the fifth game and only five went to four games.
Veterans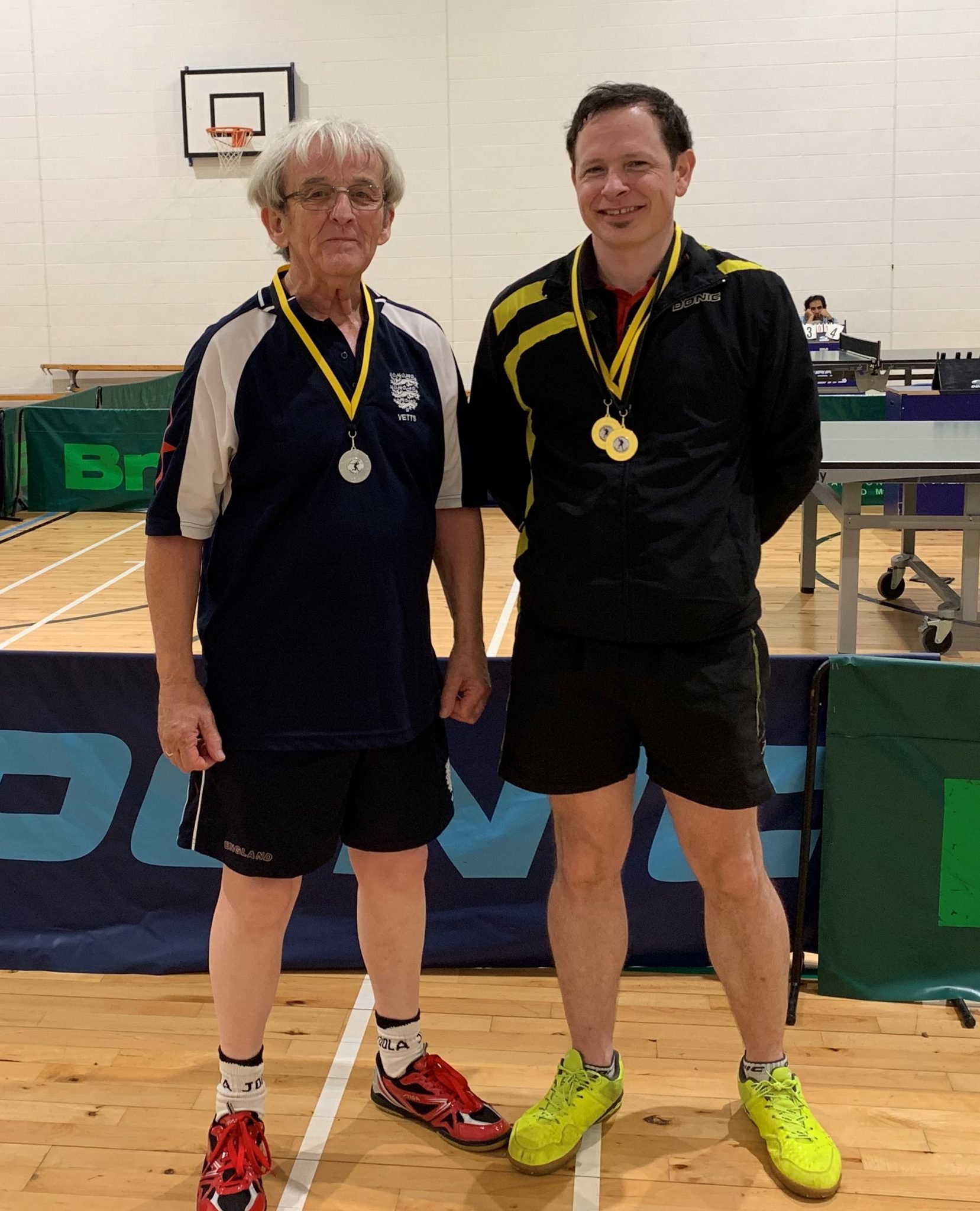 Scott was taken to four sets by three opponents but had a very tough time against Chris Pullinger (Sy), losing the fourth game 1-11! However, he regrouped in the fifth game to win 11-6. Interestingly the only player Scott defeated 3-0 was the runner-up.
As with the seniors, the second seed justified his seeding, as Lewis won four encounters to get the silver. Ken did not have things his own way though, as he was extended to five games by both Pullinger and Mehrdad Amini (Sx), beat Jonathan Chernett (Sy) 3-1 and took out Faldie Adams (Sx) in three close games.
Adams got third place in the group, with three straight-game victories. Pullinger finished in fourth place having lost two five-setters. Amini won once and came fifth.
Crossover matches
As mentioned, more matches were played after the initial groups to give the players more matches. In all nine crossover matches, the veterans defeated the seniors. There was only one match in 'Group A', as Scott could not play against himself and had already played the other two, so the other two played each other and Lewis defeated Usher 3-0, the first two games being 11-9.
In Group B, both Adams and Pullinger beat both Fandache and Reed, Pullinger dropping two ends and Adams winning both 3-0. In Group C, Amini defeated both Holt and Mayhew 3-0, while Chernett beat Holt 3-0, but had to recover from 0-2 down in games to overcome Mayhew.
Remaining Senior/Veteran tournaments in Sussex for the rest of the season are as follows:
Saturday 22nd June Burgess Hill Senior/Vet 2 Star
Saturday 29th June & Sunday 30th June The Burgess Hill Sussex Open (A Senior 2 Star similar to a Grand Prix).
Final Placings
Seniors: 1) Rory Scott (IRL), 2) Charlie Usher (Sx), 3) Adrian Fandache (Bd), 4) Kirk Reed (Sx), 5) Brett Holt (Sx), 6) Darius Mayhew (Sx)
Veterans: 1) Rory Scott (IRL), 2) Ken Lewis (E), 3) Faldie Adams (Sx), 4) Chris Pullinger (Sy), 5) Mehrdad Amini (Sx), 6) Jonathan Chernett (Sy)