The second Jarvis Sports Horsham Spinners TTC 2 Star of the 2017-18 season at the College of Richard Collyer, Horsham. There was an entry of 57 players for this one.
The U12s, U14s and U16s were played in the morning and the U13s, U15s and U18s in the afternoon. Bertie Kelly (So) excelled to win both of his age groups, while two others, Valerio Bucci (Mi) and Ollie Maric-Murray (Sy), won a gold and a silver each.
Under-12
There were 10 players in this age group in two groups. The groups proceeded without any big upsets. In the semi-finals top seed Joe Hunter (Mi) beat Sayan Jetha (Mi) 3-0 and Eduard Lakatos (Ha) upset No 2 seed, Troy Williams (Ha) 3-1.
Hunter won the final 3-0 and Williams won the bronze medal match 3-1. Damon Brown (Sx) beat Brighton City TTC club-mate Louis Treffel (Sx) 3-2 in the consolation final.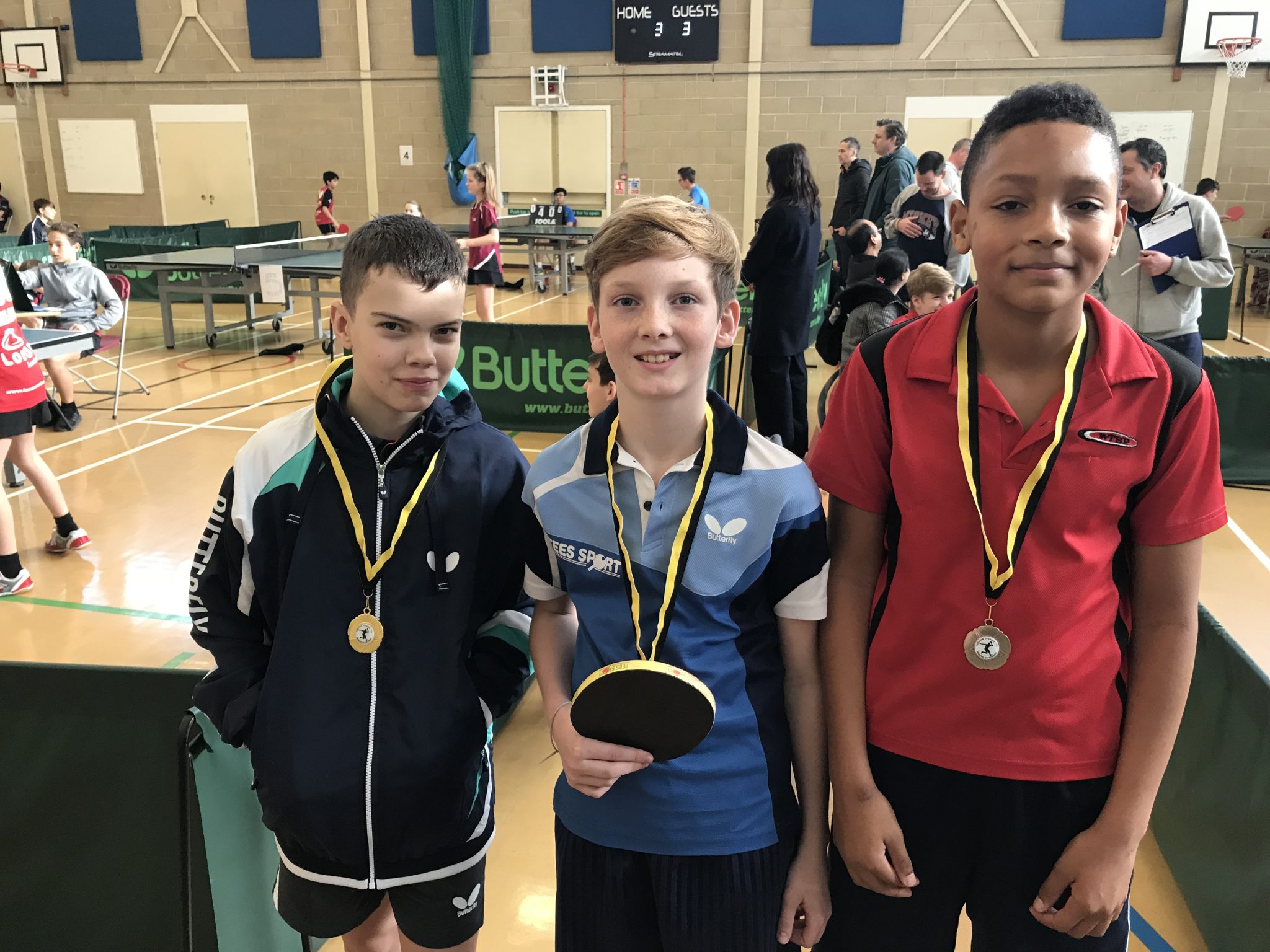 Under-13
There were 18 players in this category in five groups. All of the seeds won their groups. In the quarters Maric-Murray beat Jetha in three, Octavian Aparaschivei (Mi) beat No 4 seed Abbie Hurley (K) in four, Ben Poulter (Ha) beat Max Wilson (Sx-Brighton City TTC) in five and Harry Yip (Sx-Horsham TTC) beat Lakatos in four.
In the semis, Maric-Murray beat Aparaschivei 3-0 and Yip beat Poulter 3-2. Maric-Murray went on to defeat Yip 3-1 in the final. Poulter won the bronze medal match in straight sets.
Treffel made up for his loss in the U12s consolation final by beating club-mate Kian Mulenga (Sx-Brighton City TTC) 3-1 in the U13s consolation final.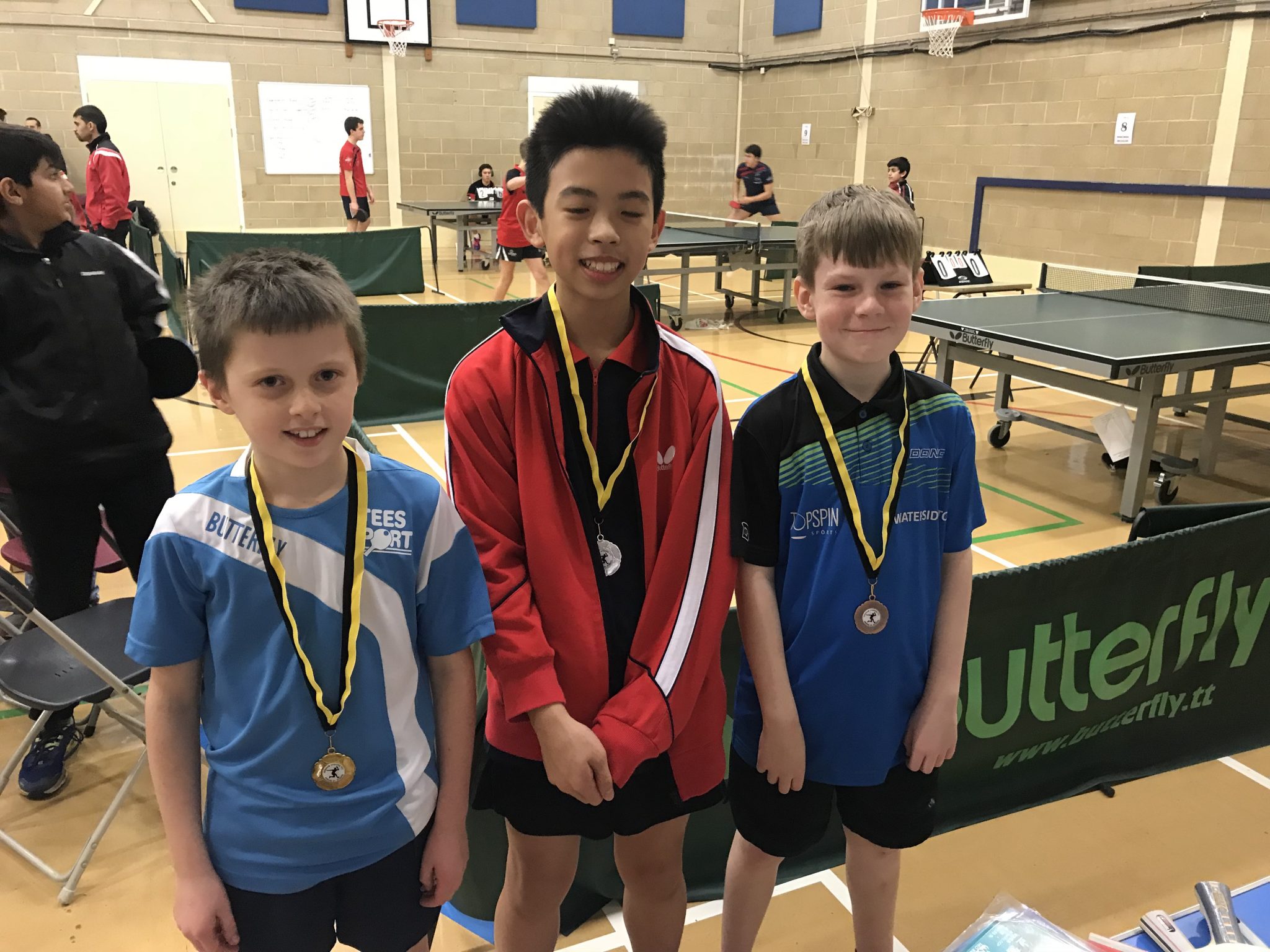 Under-14
This consisted of 25 players in seven groups. At the group stage Sajad Ali (Mi) had a couple of good wins to come second in his group and there was a mini upset when seventh seed, Henry Maric-Murray was defeated by the eighth highest player, Barney Mindlin (Mi).
In Round 1, there were a couple of interesting results, with Aparaschivei achieving a massive win over fifth seed Zach Hodges (Sx-Horsham Spinners TTC), over 400 points above him, by 3-1 (12-10, 12-10, 9-11, 12-10), while Ali pushed Mindlin to the deciding end.
In the quarter-finals top seed Kelly knocked out Isabel Webb 3-0, Yip accounted for Aparaschivei 3-0, Poulter overturned fourth seed Ollie Michell (Sx-Horsham Spinners TTC) 3-0 and Maric-Murray came through vs Mindlin over five ends.
Kelly took out Yip 3-1 in the semi-final and Maric-Murray won in three vs Poulter in the bottom half. Kelly was too strong in the final, winning in straight games. Yip won the bronze medal in three. Leo Sochor-Grethe (Mi) beat Isaac Egginton (K) 3-1 in the consolation final.
Under-15
20 players contested the U15s in five groups. Every match at the group stage went according to ranking. In round 1 Jodie Morris (Sx-Brighton City TTC) did well to push Mihnea Dascalu (Mi) to five sets.
In the quarters top seed Charlie Graham-Adams (Sx-Horsham Spinners TTC) beat Yacine Boubekeur (Mi) 3-0, Jacob Evans (Sx-Horsham Spinners TTC and Horsham TTC) overcame the slightly higher ranked Angus Norman (Sy) in five games, Jon-Vai Chung (Sy) knocked out John Strang (Sx-Warden Park TTC) 3-1 and Kelly defeated Dascalu 3-0.
In the semis Evans beat club mate Graham-Adams surprisingly easily 3-0 (11-3, 11-5, 12-10) and Kelly beat Chung 3-0 (12-10, 11-9, 11-8).
The final was a very close three-setter, which Kelly won 17-15, 15-13, 11-8. Evans had a number of game points in the first two games. Graham-Adams won the third/fourth place play-off vs Chung 3-0. In the consolation final Mindlin overcame Ollie Nutting (Sy) in a close five-game match.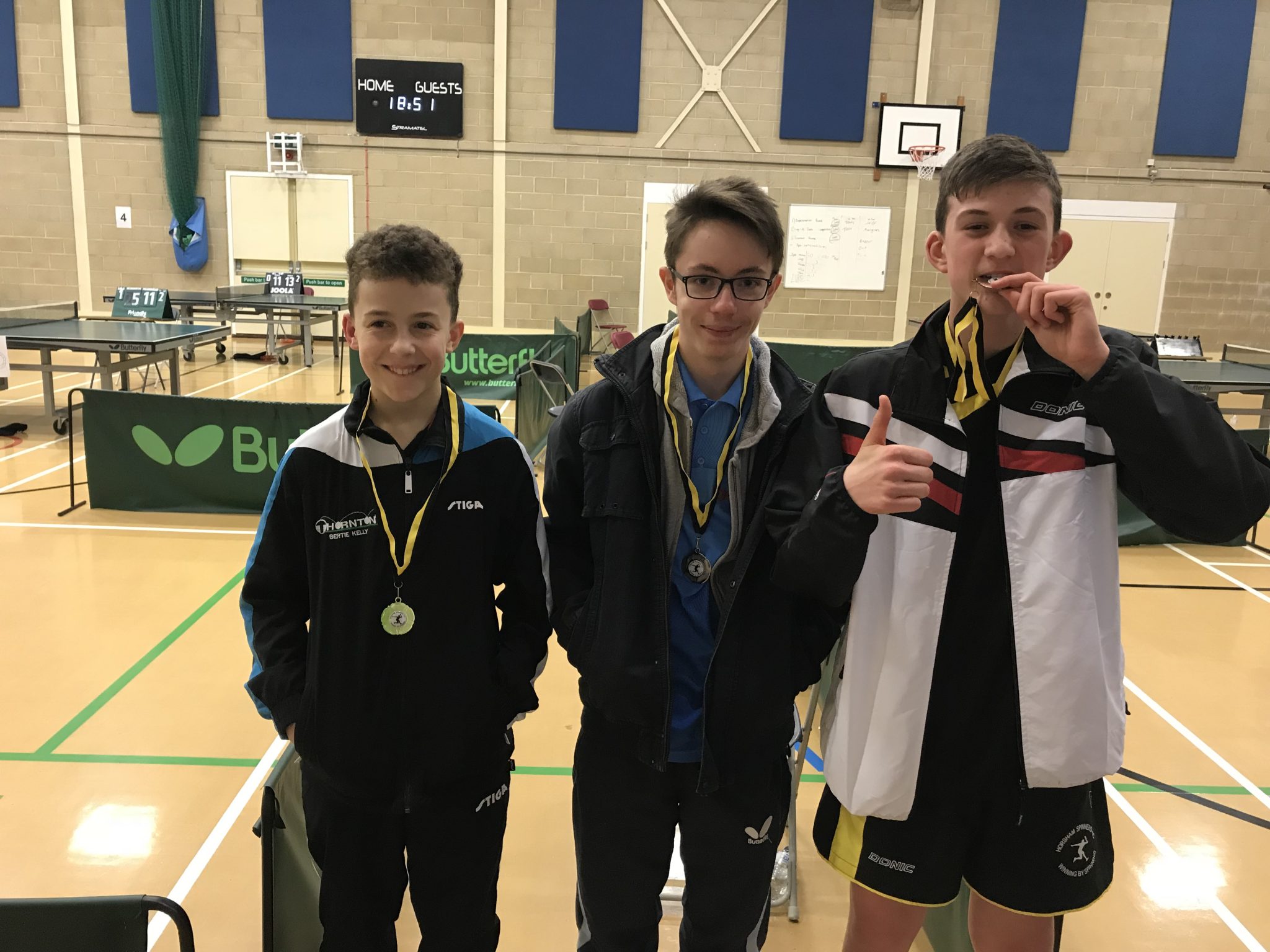 Under-16
16 players took part in the U16s in four groups. In Group 1, the top seed Will Michell (Sx-Horsham Spinners TTC) struggled to find his form, only beating Alessio Marrocco (Sx-Brighton City TTC) in five sets and losing in four to Dascalu. In Group 2, second seed Graham-Adams scraped the win 12-10 in the fifth vs Norman.
In Group 3, third seed Alejandro Ito-Aramendia surprisingly lost all three of his matches in a very strong group. Chung won the group with Natalia Ianau (Mi) in the runners-up spot and Hunter third in the group. In Group 4, Strang achieved a max win over Evans in straight sets and also beat the higher ranked Ed Cozens (Sx-Horsham Spinners TTC) 3-2. Cozens also lost to Evans in five.
In the quarters Norman knocked out Dascalu in four, Bucci overpowered Ianau in three, Chung eased past Strang 11-9 in the fifth and Michell beat team-mate Graham-Adams in four. Bucci then beat Norman 3-1 in the semis, while Michell accounted for Chung 3-1 in the bottom half.
Bucci was victorious in the final 3-2 (8-11, 12-10, 8-11, 11-6, 11-9) to deny Michell a first gold medal at a 2 Star. Chung defeated club-mate Norman in the bronze medal match 3-0. Boubekeur had a good win over Evans in the consolation final 3-1.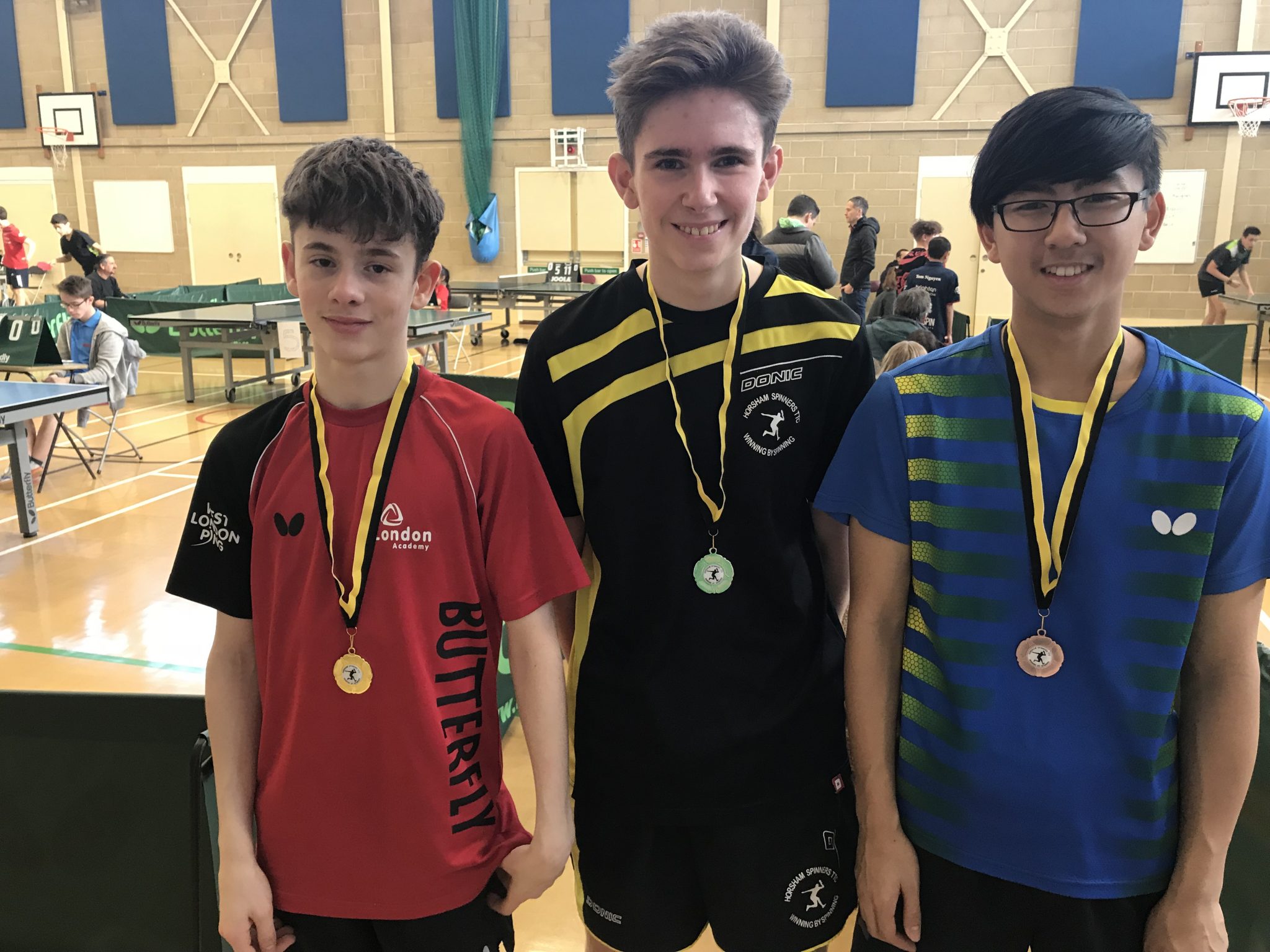 Under-18
There were just 10 players in the U18s in two groups of five. In Group 1 Billy Keegan (Sx-Brighton City TTC) beat the higher ranked Ito-Aramendia to get second place in the group after top seed Will Michell. Group 2 was won by the unranked (at the time) Reiss Vydelingum (Sy), who beat second seed Will Poulter (Ha) 11-8 in the fifth leg and Bucci 3-1.
In the semis Bucci again overcame Michell again in five sets and Vydelingum beat Keegan in three close games.
Vydelingum repeated his 3-1 win over Bucci in the final. Keegan, who had lost to Michell in the group in five ends, overturned the result to win the bronze medal. Brandon Bennett (Sx-Brighton City TTC) had some good wins to win the consolation event, including beating Poulter and team-mate Matt Johnson (Sx-Brighton City TTC) both by 11-9 in the 5th set.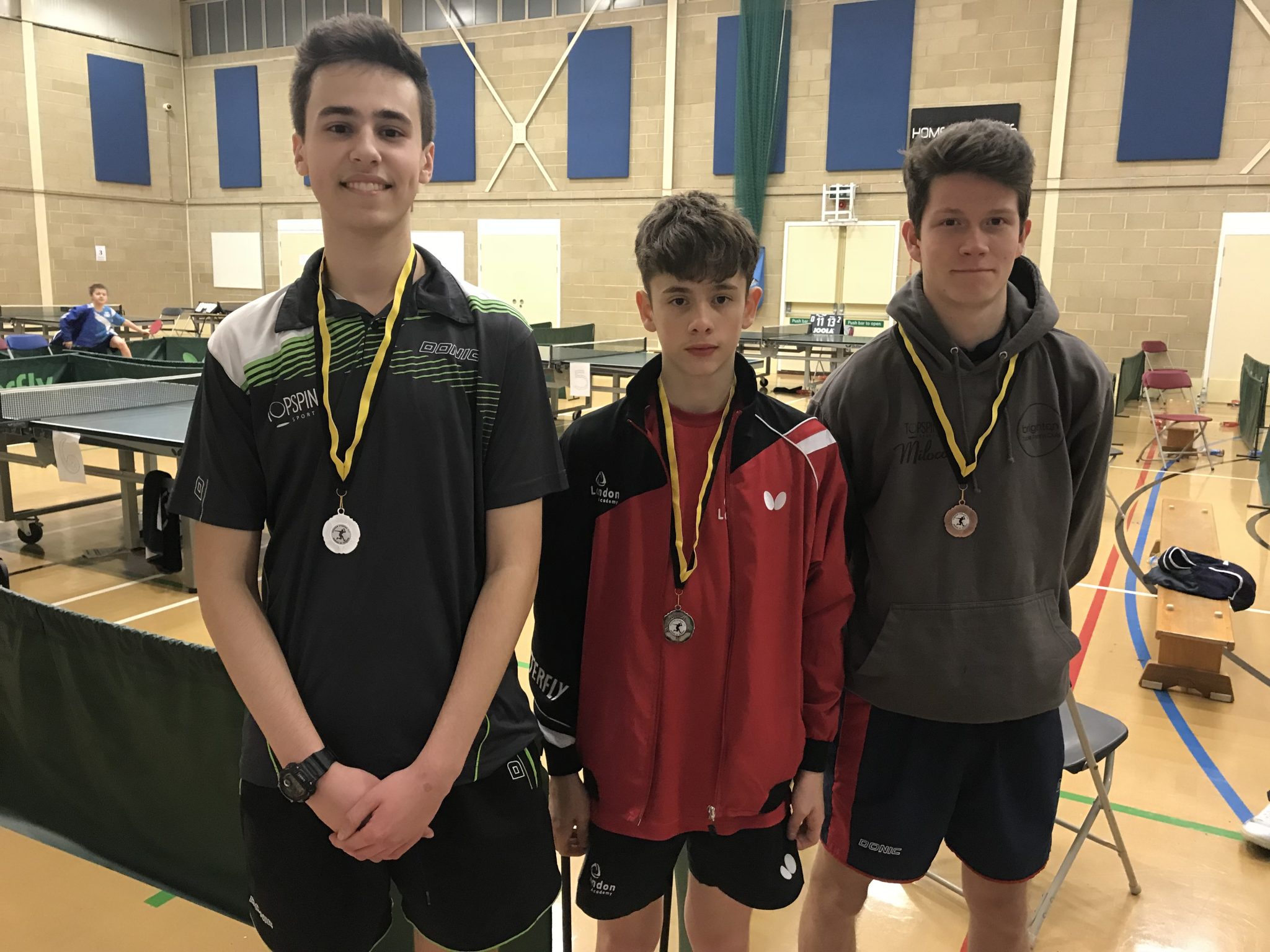 The next cadet/junior two stars in Sussex will be on Saturdays 21st April and 12th May, both at the Triangle Leisure Centre in Burgess Hill. Entry forms are available on the Table Tennis England website.
Results
Under-12
Main: Joe Hunter (Mi) beat Eduard Lakatos (Ha) 3-0 (16-14, 11-8, 11-7)
Consolation: Damon Brown (Sx) beat Louis Treffel (Sx) 3-2 (11-4, 4-11, 10-12, 11-9, 11-8)
Under-13
Main: Ollie Maric-Murray (Sy) beat Harry Yip (Sx) 3-1 (11-7, 11-5, 7-11, 11-9)
Consolation: Louis Treffel (Sx) beat Kian Mulenga (Sx) 3-1 (11-5, 11-5, 11-13, 11-8)
Under-14
Main: Bertie Kelly (So) beat Ollie Maric-Murray (Sy) 3-0 (11-5, 11-7, 12-10)
Consolation: Leo Sochor-Grethe (Mi) beat Isaac Egginton 3-1 (11-9, 8-11, 11-9, 15-13)
Under-15
Main: Bertie Kelly (So) beat Jacob Evans (Sx) 3-0 (17-15, 15-13, 11-8)
Consolation: Barney Mindlin (Mi) beat Ollie Nutting (Sy) 3-2 (11-8, 9-11, 12-10, 5-11, 11-8)
Under-16
Main: Valerio Bucci (Mi) beat Will Michell (Sx) 3-2 (8-11 12-10, 8-11, 11-6, 11-9)
Consolation: Yacine Boubekeur (Mi) beat Jacob Evans (Sx) 3-1 (11-8, 7-11, 11-9, 11-4)
Under-18
Main: Reiss Vydelingum (Sy) beat Valerio Bucci (Mi) 3-1 (11-9, 11-4, 6-11, 11-5)
Consolation: Brandon Bennett (Sx) beat Matt Johnson (Sx) 3-2 (11-9, 14-16, 11-9, 8-11, 11-9)