Liam Pitchford was the star of the show at the ITTF World Tour Polish Open in Spala but his campaign ended in heartbreak after he was denied an appearance in his first-ever Under-21s final at the penultimate stage.
The 20-year-old from Chesterfield had already produced one of the performances of the tournament by downing top seed Patrick Franziska (GER, wr 38) 4-1 in the quarter-final on Saturday morning to set up a meeting with Jin Takuya (JPN, 175).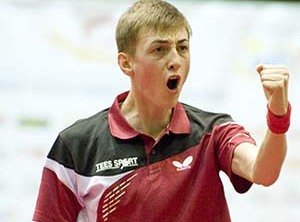 However, the reigning National Champion found his luck deserting him as he fell to defeat with three successive ends going against him in deuce with his Japanese opponent establishing a tense 3-0 lead. Although Pitchford fought back in the fourth game 11-9, his efforts were halted with an 11-8 fifth game which saw Takuya progress to the final in his place.
Up until that point the tournament had gone well for the English No. 1 who had also made the last 32 of the Men's Singles after a fine 4-2 victory over Iran's Noshad Alamiyan (55).
Although he experienced a nervy first group game against Ondrej Bajger (CZE, 484) in which he only scraped a 4-3 victory, he quickly settled against Sanil Shetty (IND, 310) to win his group with a 4-0 triumph. He repeated the 4-0 scoreline in the pre-rounds against Admir Duranspahic (BIH, 224) before his first big win against Alamiyan.
Ultimately he would be halted by Japan's Kenta Matudaira (wr 18) in a five-game encounter but the Englishman can still be proud of his achievements in Poland.
There was less success for Pitchford's English compatriots, however, as only Andrew Baggaley managed to make it through his Men's Singles group. The 30-year-old edged past Simon Pfeffer (AUT, 690) 4-3 in his first match but fell by the same scoreline to German Benedikt Duda (248) in the pre-rounds.
Meanwhile both Daniel Reed (beaten by Kohei Sambe, JPN) and Sam Walker (beaten by Yang Zi, SIN) failed to emerge from their groups although Walker did later partner Pitchford to a doubles victory over French youngsters Enzo Angles and Tristan Flore before losing to Chinese duo Fan Zhengdong and Zhou Yu.
You can watch Pitchford's two incredible matches against Noshad Alamiyan and Patrick Franziska at the links below:
ITTF World Tour Polish Open, November 6-10, Spala, Selected Results
Men's Singles:
Group 8:
Sam Walker (338) bt Vitor Ishiy (BRA) 4-0 (12-10, 11-9, 11-7, 15-13)
Yang Zi (SIN, 81) bt Sam Walker 4-1 (11-8, 13-11, 9-11, 11-3, 11-7)
Group 17:
Liam Pitchford (125) bt Ondrej Bajger (CZE, 484) 4-3 (9-11, 11-8, 11-4, 11-7, 5-11, 6-11, 11-7)
Liam Pitchford bt Sanil Shetty (IND, 310) 4-0 (11-6, 11-6, 11-9, 11-8)
Group 27:
Andrew Baggaley (151) bt Simon Pfeffer (AUT, 690) 4-3 (11-6, 12-14, 10-12, 11-3, 11-8, 16-18, 11-4)
Andrew Baggaley bt Nima Alamian (IRI, 270) 4-1 (11-2, 9-11, 11-9, 11-7, 11-7)
Group 47:
Daniel Reed (213) bt Aly Walaa El-Din (EGY, unr) 4-0 (11-8, 11-6, 11-5, 11-2)
Kohei Sambe (JPN, 194) bt Daniel Reed 4-0 (12-10, 11-9, 11-8, 12-10)
Pre-round:
Liam Pitchford bt Admir Duranspahic (BIH, 224) 4-0 (11-6, 11-4, 11-9, 11-7)
Benedikt Duda (GER, 248) bt Andrew Baggaley 4-3 (12-10, 5-11, 11-6, 8-11, 11-7, 11-13, 11-7)
First Round:
Liam Pitchford bt Noshad Alamiyan (IRI, 55) 4-2 (11-4, 11-6, 11-4, 16-18, 9-11, 11-7)
Last 32:
Kenta Matsudaira (JPN, 18) bt Liam Pitchford 4-1 (11-9, 11-8, 6-11, 12-10, 11-9)
Under-21s Boy's Singles:
Group 11:
Sam Walker bt Ivan Proano (ECU, 822) 3-1 (11-3, 7-11, 11-5, 11-3)
Tamas Lakatos (HUN, 266) bt Sam Walker 3-2 (3-11, 8-11, 12-10, 11-6, 11-8)
Last 32:
Liam Pitchford bt Harmeet Desai (IND, 263) 3-0 (11-7, 11-4, 15-13)
Last 16:
Liam Pitchford bt Romain Lorentz (FRA, 187) 3-1 (11-8, 13-11, 5-11, 11-9)
Quarter-Final:
Liam Pitchford bt Patrick Franziska (GER, 38) 4-1 (8-11, 11-9, 11-6, 11-5, 11-7)
Semi-Final:
Jin Takuya (JPN, 175) bt Liam Pitchford 4-1 (12-10, 12-10, 13-11, 9-11, 11-8)
Men's Doubles:
Pre-rounds:
Liam Pitchford/Sam Walker bt Matias Contreras/Felipe Olivares 3-1 (11-13, 11-9, 13-11, 11-5)
Andrew Baggaley/Daniel Reed bt Vitor Ishiy/Eric Jouti (BRA) 3-1 (11-5, 11-7, 6-11, 11-8)
Liam Pitchford/Sam Walker bt Enzo Angles/Tristan Flore (FRA) 3-0 (11-7, 11-5, 11-7)
Anthony Amalraj/Nitin Vasanth Phillips (IND) bt Andrew Baggaley/Daniel Reed 3-1 (7-11, 11-7, 14-12, 11-6)
Fan Zhendong/Zhou Yu (CHN) bt Liam Pitchford/Sam Walker 3-0 (12-10, 11-8, 11-8)
Watch back:
Liam Pitchford vs Noshad Alamiyan
Liam Pitchford vs Patrick Franziska
Written by Russell Moore (November 9, 2013)