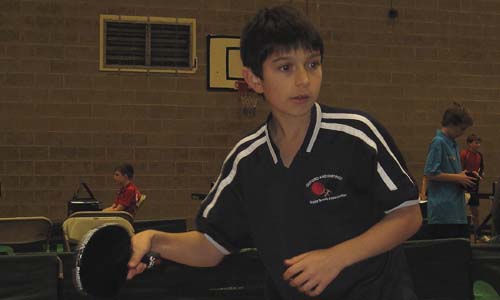 The Oxford Cadet (Under 15) team of Luke Jobling, Kristelle Brook, Kavan Warrender and Reece Chamdal took part in the third round of the Heart of England Cadet League at Warwick on Saturday.
Evesham B are bottom of the 12 competing teams and this proved to be a very easy opening match for Luke, Kavan and Reece (10-0). Next up were Hamstead, Birmingham, a different kettle of fish entirely, who held the lead throughout a very tight encounter up to 5-4, at which point Reece put up a tremendously resilient performance to win his second singles at 11-8 in the fifth, having survived the fourth at 16-14. This fantastic effort (Reece is only 10!) gained us a draw, with two wins also from Luke and one from Kristelle.
In our final fixture, Coventry were too strong for us and won 7-3, but we have probably held on to our fourth place in the league table, with just Sutton Coldfield and Walsall left to play next month.