Three girls and one boy are unbeaten at the end of the first day of the Cadet National Cup at Corby Smash TTC.
The top two girls, Ruby Chan and Anaya Patel, won five out of five matches, as did No 4 seed Mari Baldwin. The only clash between the top seeds saw Patel defeat No 3 Millie Rogove in the first round.
Rogove won her next four matches to retain an interest in the medal picture on a day when there were no unexpected results in the girls' competition.
All photos by Michael Loveder
There were several in the boys, notably at the hands of Thomas Rayner, who beat four higher-ranked players including second seed Naphong Boonyaprap and third seed Connor Green.
But no one could knock top seed Louis Price off his stride and he ended the day on a 100% record, one win ahead of Rayner and Boonyaprapa.
Four rounds of matches remain to be played on Sunday and with the top seeds all to play each other, the destination of the medals is not yet certain.
Girls
No upsets in the first round, though No 8 Kirsty Maull had to fight her way into her match against No 10 and fellow Wednesbury player Amilia Baker. Trailing 1-0, she edged the protracted second game 17-15 and was then able to pull away to ensure it went with seeding.
Top seed Ruby Chan had a mostly routine 4-0 win over No 9 Helena Dicken, and the higher seeds won the other matches against players ranked just below them, including No 2 Anaya Patel against No 3 Millie Rogove, which ended 4-2.
Fourth seed Mari Baldwin defeated No 5 Erin Green and Amy Marriott (#6) beat Scarlett Anders (#7), both 4-1.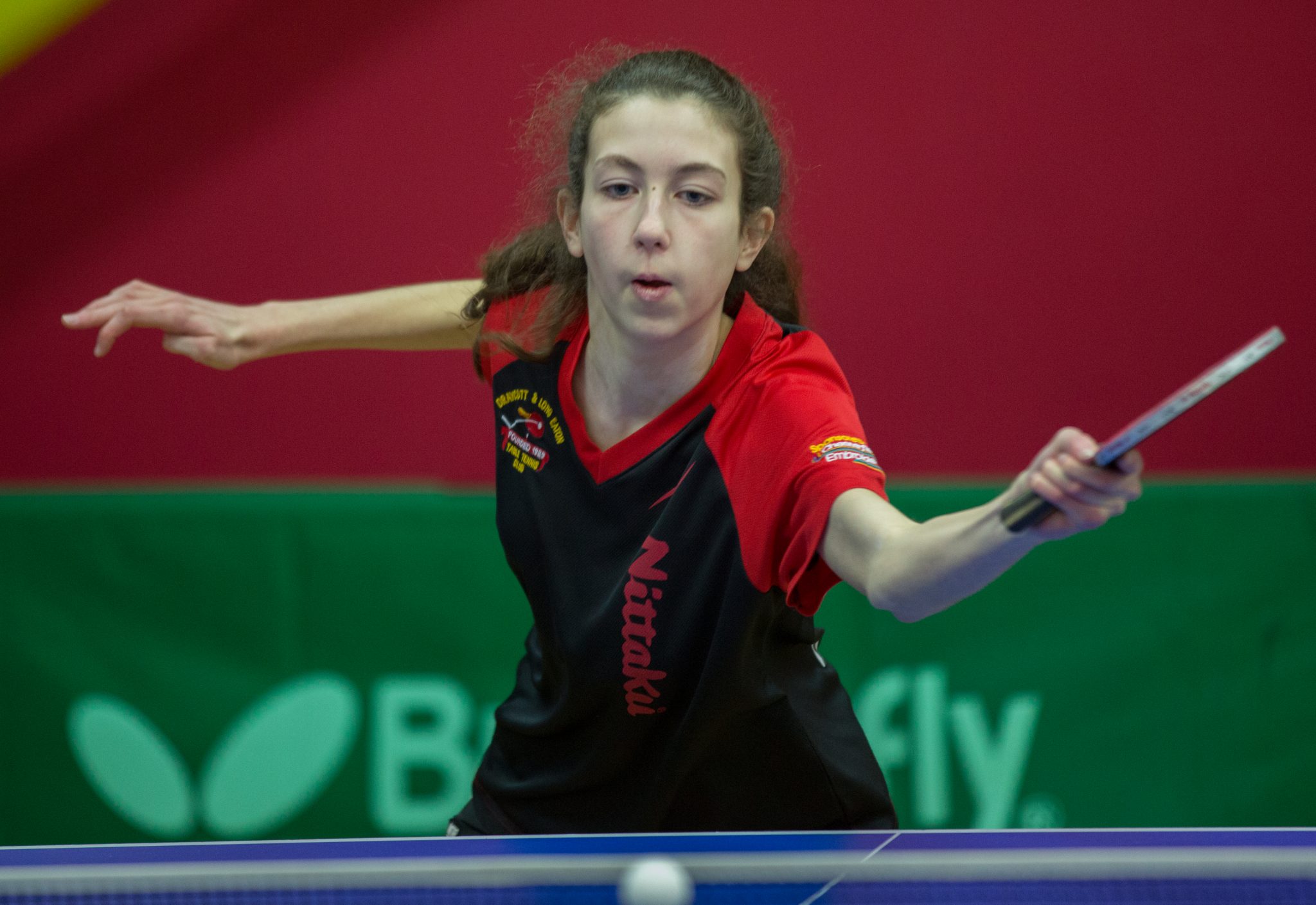 Rogove got her tournament off the ground in Round 2, losing the first against Maull but then winning the next four, including a pivotal third game 14-12.
Green also got on the board, overcoming Marriott in four straight, and it was also 4-0 for Baldwin against Anders.
Chan and Patel also won their second matches, the top seed 4-2 against Baker and Patel 4-1 in a close match against Dicken, three of the sets going to deuce.
The three undefeated players all had comfortable 4-0 wins in Round 3 – Chan over Maull, Baldwin against Dicken and Patel versus Anders.
Green registered her second victory, though she found Baker a stubborn opponent before prevailing 4-2, as did Rogove in five against Marriott.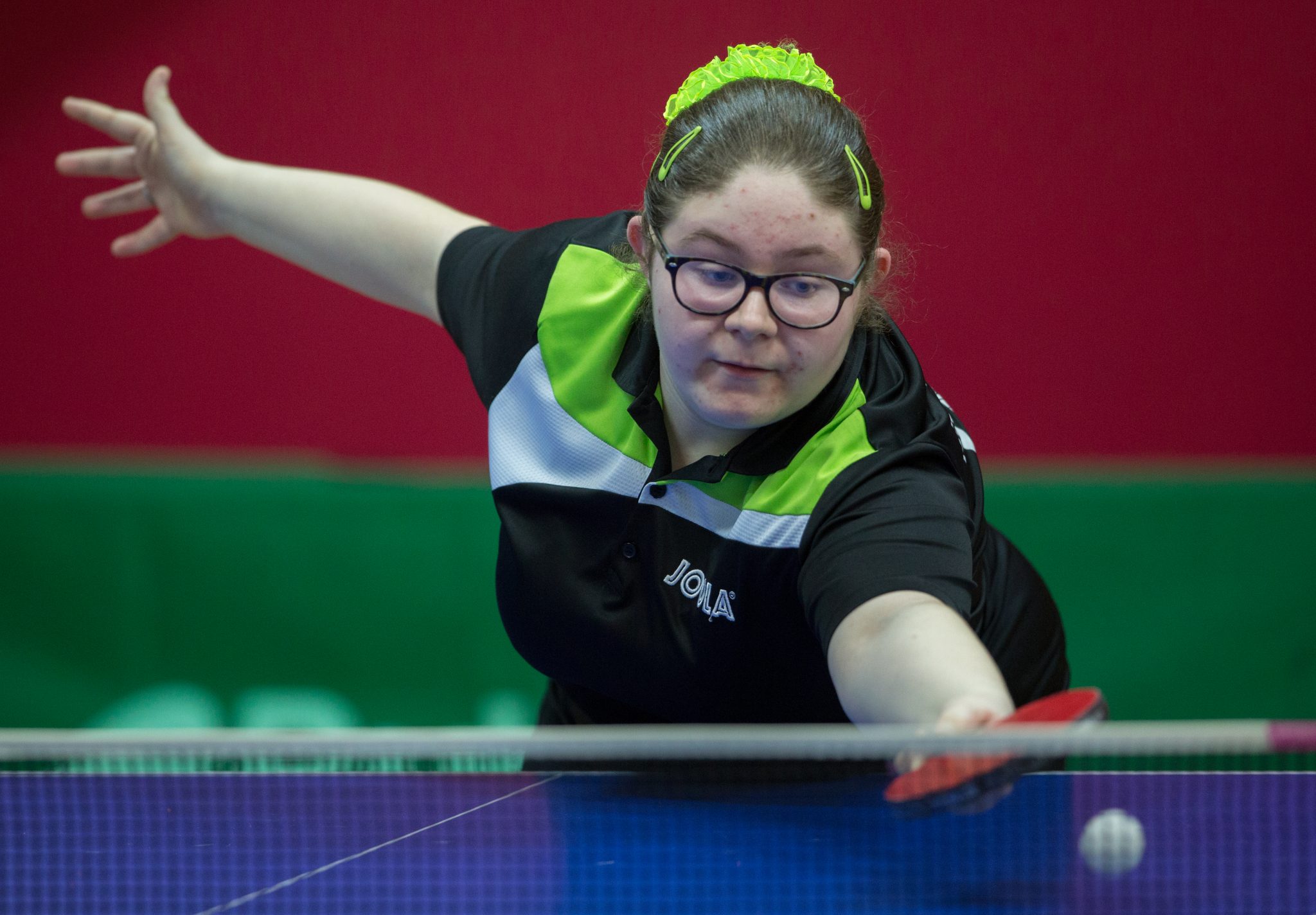 There was more of the same for the unbeaten trio in Round 4, though only just in the case of Baldwin, who trailed 2-0 and 3-1 against Marriott before mounting a comeback and winning a decider 11-6.
By contrast, Chan had a third successive 4-0 scoreline, against Anders, and Patel needed five to defeat Maull.
There was a first win for Dicken, who overcame Baker in five, and the last match to finish went the distance, Rogove winning the decider against Green, but only after seeing her opponent save three match points in the sixth to level up at 3-3, having been 3-1 down.
If it was a case of crisis averted for Baldwin in Round 4, it was mini-crisis averted for both Patel and Chan in the next round.
Both trailed 2-1 before recovering to register 4-1 victories – Patel over Green and Chan against Marriott.
Baldwin ended her day with a routine 4-0 win over Baker to ensure three girls take a 100% record into tomorrow.
Rogove maintained her medal hopes, defeating Anders 4-1 to end the day on four wins, while Maull notched her second victory, 4-1 against Dicken.
Results
Round 1
Kirsty Maull bt Amilia Baker 4-1 (9-11, 17-15, 11-5, 11-5, 11-6)
Amy Marriott bt Scarlett Anders 4-1 (11-3, 11-9, 15-13, 6-11, 11-6)
Mari Baldwin bt Erin Green 4-1 (11-7, 11-7, 11-9, 9-11, 13-11)
Anaya Patel bt Millie Rogove 4-2 (11-8, 11-5, 3-11, 11-3, 8-11, 11-8)
Ruby Chan bt Helena Dicken 4-0 (11-2, 12-10, 11-7, 11-1)
Round 2
Rogove bt Maull 4-1 (9-11, 11-8, 14-12, 11-4, 11-9)
Patel bt Dicken 4-1 (13-11, 11-8, 11-13, 11-6, 12-10)
Green bt Marriott 4-0 (11-6, 11-7, 14-12, 11-7)
Chan bt Baker 4-2 (11-4, 11-6, 6-11, 11-5, 9-11, 11-4)
Baldwin bt Anders 4-0 (11-5, 11-8, 11-5, 11-6)
Round 3
Chan bt Maull 4-0 (11-4, 11-5, 11-4, 11-6)
Patel bt Anders 4-0 (11-9, 11-7, 11-9, 11-8)
Baldwin bt Dicken 4-0 (11-5, 11-5, 13-11, 11-4)
Green bt Baker 4-2 (11-5, 12-14, 11-9, 11-8, 10-12, 11-9)
Rogove bt Marriott 4-1 (11-9, 11-9, 10-12, 11-6, 11-3)
Round 4
Patel bt Maull 4-1 (11-4, 11-9, 11-5, 7-11, 11-6)
Dicken bt Baker 4-1 (8-11, 11-8, 12-10, 11-7, 11-4)
Chan bt Anders 4-0 (13-11, 11-4, 11-6, 11-7)
Rogove bt Green 4-3 (9-11, 11-7, 11-8, 12-10, 10-12, 11-13, 11-4)
Baldwin bt Marriott 4-3 (7-11, 6-11, 11-7, 9-11, 11-4, 11-5, 11-6)
Round 5
Baldwin bt Baker 4-0 (11-7, 11-7, 11-7, 11-3)
Rogove bt Anders 4-1 (11-3, 12-10, 11-2, 6-11, 12-10)
Chan bt Marriott 4-2 (13-11, 9-11, 8-11, 11-7, 11-9, 11-9)
Patel bt Green 4-2 (7-11, 11-8, 9-11, 11-8, 11-9, 15-13)
Maull bt Dicken 4-1 (9-11, 11-7, 11-3, 11-9, 11-9)
Boys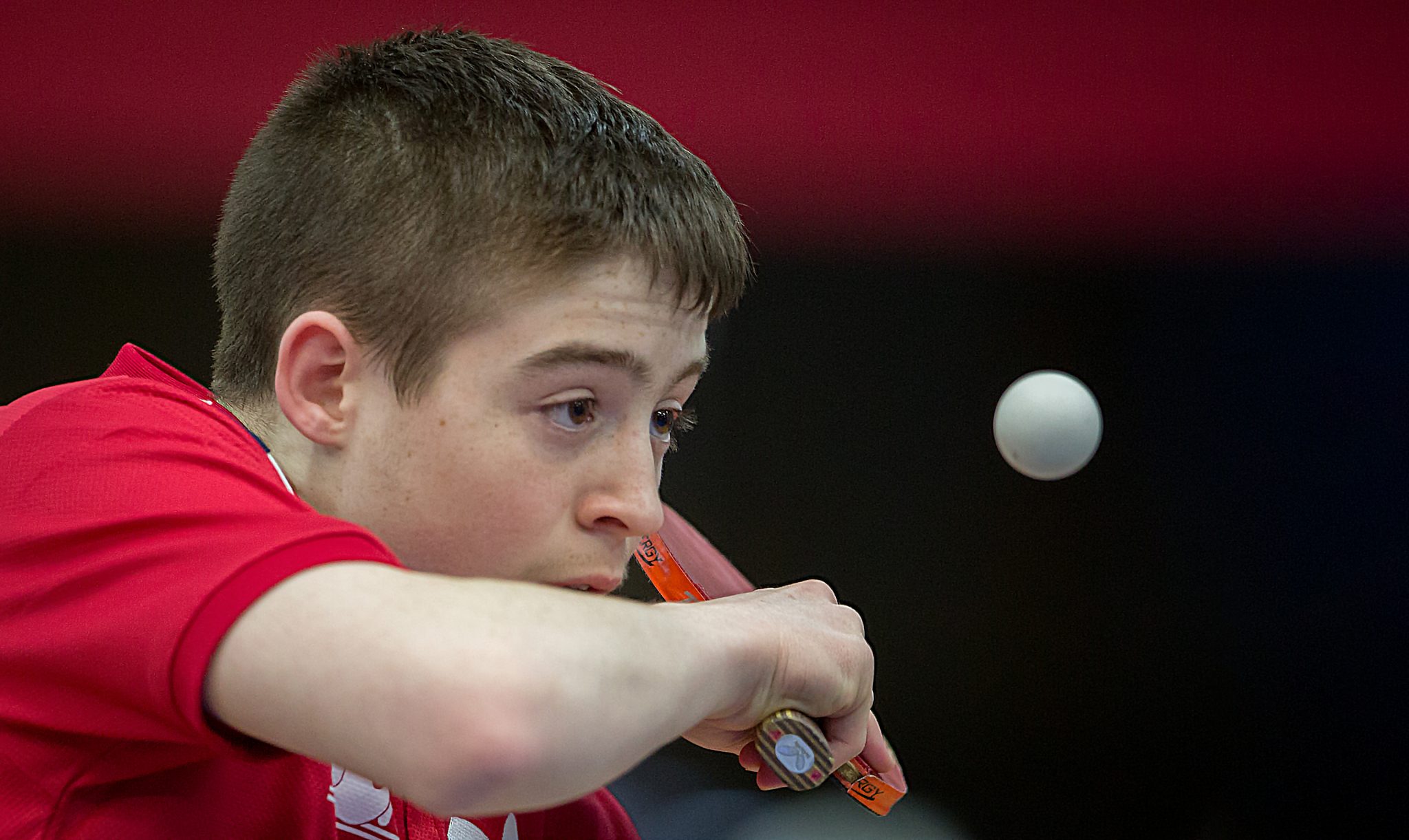 There were two minor upsets in the first round – and almost a third. No 5 Rhys Davies overcame No 4 Jie Fu Tham in six, while the other two matches concerned were between club-mates and both went the distance.
The all-Ormesby clash between Thomas Rayner, ranked No 7, and Ben Piggott, one place above him, saw Rayner looking good at 3-1 up. But Piggott clawed his way back to level it and Rayner was relieved to get over the line 11-7 in the decider.
Meanwhile, No 2 Naphong Boonyaprapa narrowly avoided an upset against Draycott team-mate Connor Green, ranked at three. This was a more up-and-down match as Green led 1-0 and 2-1 and Boonyaprapa was 3-2 up. Green forced a decider, which went with seeding by an 11-8 margin.
The other matches saw 4-0 wins for top seed Louis Price, over No 9 Bertie Kelly, and for Felix Thomis (#8) against Ollie Maric-Murray (#10).
Rayner again triumphed against a higher-ranked player in Round 2 as he recovered from dropping the first game to post a 4-2 victory against Tham.
Piggott again went the distance and again the outcome was the same, though not for the want of trying in a high-quality match against Davies. Piggott twice trailed but battled back to lead 3-2. Davies pegged it back to 3-3 and the match was typified by a blistering, 27-stroke first point of the decider – see below. It was Davies who took both that point and the game, 11-7.
Green got his first win on the board, though only after holding off Thomis, who close from 3-0 to 3-2 before Green closed it out.
The top two seeds both won again – Price in four against Maric-Murray and Boonyaprapa in five against Kelly.
Rayner kept up his 100% record in fantastic style in Round 3, coming from 2-0 down to upset Boonyaprapa 4-2.
There were first wins for Tham, who recovered a 3-1 deficit to beat Kelly 4-3, and for Piggott, whose 4-0 scoreline against Green gave him some reward for the high level he had shown in defeat in the first two rounds.
Davies and Price kept up their unbeaten runs – Davies in four against Maric-Murray and Price twice coming from a set down to win 4-2 against Thomis in the battle of the left-handers.
Two unbeaten records ended in Round 4, though both were according to seeding and both were 4-0. First, Price ended Rayner's run and then Green brought an end to Davies' maximum points haul, all of which left Price out on his own at the top.
Maric-Murray picked up his first victory in four close games against Kelly, while Piggott went to the seventh yet again, this time coming from 3-1 down to defeat Tham.
The other match also saw a comeback – Thomis led 2-0 against Boonyaprapa, but the higher-ranked player turned it around with the next four games.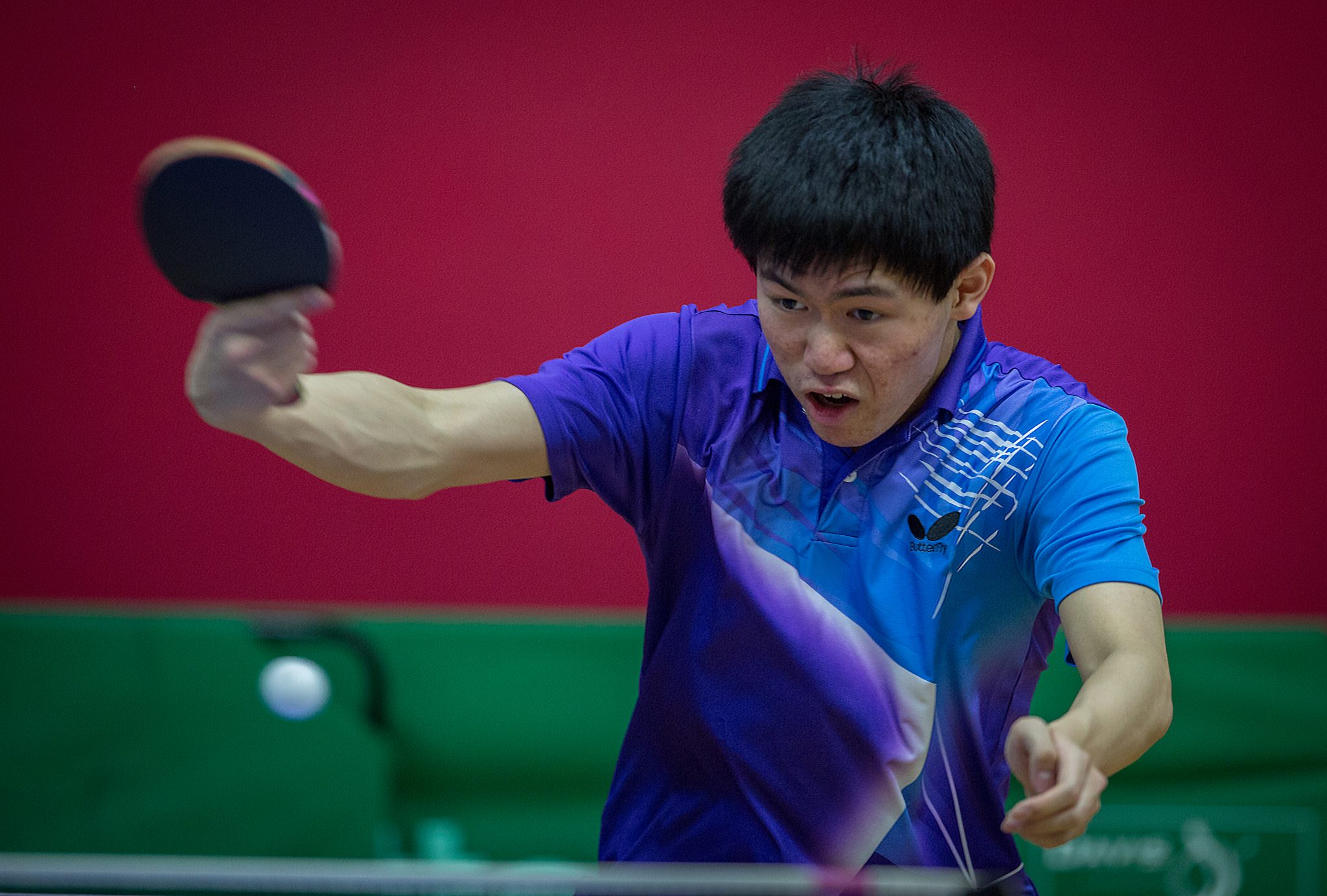 Rayner underlined his day by beating Green 4-2 and coming from 2-0 down to do so, turning it around to such an extent that he only conceded 18 points in those four games.
Price had perhaps his toughest match in the final round of the day against Piggott, but he turned a 2-0 lead into a 4-2 victory as Piggott showed enough to keep it interesting.
A fourth win against a higher-ranked opponent was enough for Rayner to claim a share of second place, and he nearly had it outright, only for Boonyaprapa to see off Davies 4-3 in the last match to finish, another high-quality encounter which could have gone either way.
It looked as if Kelly would get his first win when he led Thomis 2-0, but the left-hander turned the tables to seal a 4-2 triumph. Tham ended his day on a high with a 4-0 win over Maric-Murray.
Results
Round 1
Thomas Rayner bt Ben Piggott 4-3 (11-8, 10-12, 11-9, 11-6, 4-11, 8-11, 11-7)
Felix Thomis bt Oliver Maric-Murray 4-0 (11-8, 11-7, 11-6, 11-8)
Louis Price bt Bertie Kelly 4-0 (11-5, 11-5, 12-10, 11-9)
Rhys Davies bt Jie Fu Tham 4-2 (8-11, 11-2, 11-8, 11-8, 4-11, 11-4)
Naphong Boonyaprapa bt Connor Green 4-3 (9-11, 11-8, 12-14, 11-9, 12-10, 9-11, 11-8)
Round 2
Davies bt Piggott 4-3 (11-6, 8-11, 13-11, 11-13, 4-11, 11-5, 11-7)
Green bt Thomis 4-2 (11-9, 11-8, 11-5, 5-11, 9-11, 11-4)
Boonyaprapa bt Kelly 4-1 (11-8, 6-11, 11-9, 11-8, 11-8)
Price bt Maric-Murray 4-0 (11-6, 14-12, 11-6, 11-3)
Rayner bt Tham 4-2 (10-12, 11-3, 11-8, 11-5, 9-11, 11-9)
Round 3
Davies bt Maric -Murray 4-0 (11-3, 11-3, 13-11, 11-7)
Piggott bt Green 4-0 (11-8, 11-7, 11-7, 11-6)
Price bt Thomis 4-2 (9-11, 11-8, 8-11, 11-7, 11-5, 11-9)
Tham bt Kelly 4-3 (4-11, 11-9, 6-11, 7-11, 14-12, 11-8, 11-7)
Rayner bt Boonyaprapa 4-2 (8-11, 5-11, 11-9, 11-7, 11-9, 11-8)
Round 4
Price bt Rayner 4-0 (11-4, 12-10, 11-8, 11-6)
Maric-Murray bt Kelly 4-0 (11-9, 11-9, 11-8, 11-8)
Piggott bt Tham 4-3 (11-5, 7-11, 9-11, 7-11, 11-5, 11-8, 11-7)
Boonyaprapa bt Thomis 4-2 (10-12, 7-11, 11-4, 11-6, 11-8, 11-9)
Green bt Davies 4-0 (13-11, 11-8, 11-6, 14-12)
Round 5
Tham bt Maric-Murray 4-0 (11-6, 11-8, 11-4, 11-7)
Rayner bt Green 4-2 (9-11, 6-11, 11-6, 11-4, 11-5, 11-3)
Thomis bt Kelly 4-2 (4-11, 5-11, 11-7, 11-7, 11-8, 11-5)
Price bt Piggott 4-2 (11-5, 11-8, 7-11, 11-8, 10-12, 11-9)
Boonyaprapa bt Davies 4-3 (11-9, 11-7, 8-11, 8-11, 9-11, 11-5, 11-9)