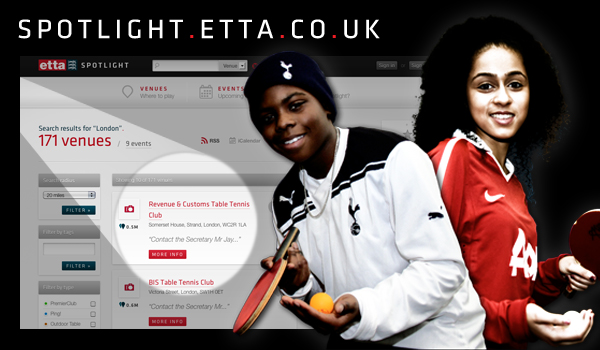 The English Table Tennis Association (ETTA) is proud to announce the brand new update to our   table tennis finder, Spotlight, which now has over 6,000 table tennis venues across the country!
Table tennis participation has been boosted in the last three years thanks to the nationwide Ping! project which has taken table tennis to all parts of the country from Hampshire to Humberside and Brighton to Birmingham.
Now all the Ping! table locations, table tennis venues, schools and leisure centres have been listed on the ETTA's Spotlight table finder.
Just enter your postcode, or let it use your current location, and the website's search engine will find clubs and tables in your local area so that you can start playing immediately!
You can select from thousands of venues and hundreds of events that are updated throughout the year by the ETTA. These events also include UKCC Coaching Courses for people looking to begin a new career in the sport.