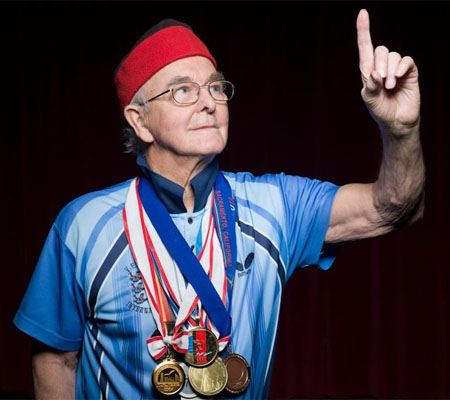 Veteran table tennis player and star of the Ping Pong film, Les D'Arcy has sadly passed away at the age of 91 earlier this month.
Mr D'Arcy, from Lupset, West Yorkshire, was made famous for his leading appearance in the hit table tennis film that was released just last year, following the trials and tribulations of eight octogenarians on their way to the Over 80s World Table Tennis Championships.
D'Arcy only took up athletics at the age of 84 and went on to compete at world level, proving anything is possible and that age is not an issue. This was reflected in the film's tag line: 'Never too old for gold'.
Former Commonwealth Games Champion, and current Times journalist Matthew Syed described the film: "It is about ageing, mortality, friendship, ambition and love. The stories stay with you for hours, weeks, after the credits have rolled. But perhaps its most powerful achievement is to leave us with a more humane conception of sport, and of life itself."
D'Arcy's passion for sport was prominent throughout the documentary, which was produced by film foundation Britdoc.
The former teacher also competed in triathlons and weightlifting as part of his incredible lifestyle, which also saw him carry the Olympic torch through Market Harborough in Leicestershire.
He leaves behind six children, 17 grandchildren and 15 great grandchildren.
His son Paul, 57, said: "Sport was a big part of his life. He was inspirational, he definitely lived life to the full in the right way.
"He has certainly left an impression on the world."