Two English pairs earned bronze medals by reaching the doubles semi-finals at the Swedish Junior & Cadet Open, and there was a consolation singles silver for Mollie Patterson.
Megan Gidney & Denise Payet had an eye-catching 3-2 victory over French second seeds Camille Lutz & Prithika Pavade in the quarter-finals of the Junior Girls' Doubles , but they found the Japanese fourth seeds Kaho Akae & Miwa Harimoto far tougher in the semis as they fell in three straight.
James Smith & Ethan Walsh were also in semi-final action in the boys' event. Having reached that stage thanks to a walkover against the third seeds from Germany, the English pair had to play the top seeds Kun Ting Beh & Yew En Koen Pang of Singapore and, although they levelled at 1-1, they were beaten in four.
Smith and Payet's runs in their respective singles competitions came to an end in the Round of 32 – Smith beaten in four by the top seed Truls Moregard of Sweden and Payet in five by Yuki Tsutsui of Germany.
Click here to read the Day One report
In the consolation events, Patterson won through four rounds to reach the final, where she was beaten by Berenice Marteau of France, who had accounted for Gidney in the semi-finals.
Naphong Boonyaprapa went the furthest of the five English players in the boys' consolation, reaching the semi-finals where he lost in three to Mauro Scharrer of Switzerland. Sam Wilson and Felix Thomis reached the quarter-finals.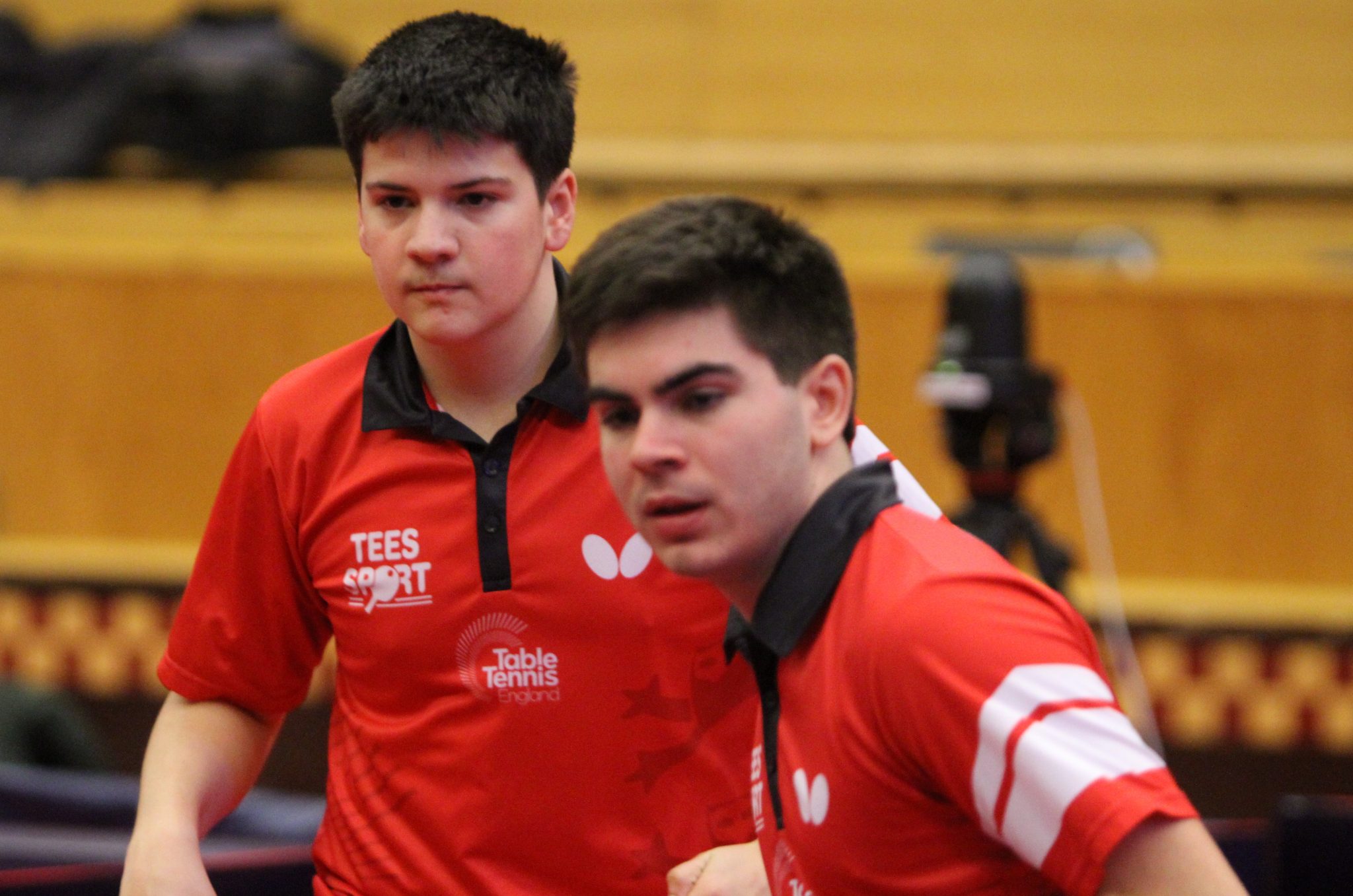 Results
Junior Boys' Singles
Round of 32
Truls Moregard (SWE) bt James Smith 4-0 (11-4, 11-5, 11-3, 11-4)
Consolation Singles
Round of 64
Ben Piggott bt Mohammed Abdulla (UAE) 3-0 (16-14, 11-7, 11-1)
Felix Thomis bt Danon Soh (SGP) 3-2 (9-11, 12-10, 9-11, 11-8, 11-8)
Akito Saeki (JPN) bt Ethan Walsh 3-2 (12-10, 11-9, 7-11, 6-11, 11-8)
Naphong Boonyaprapa bt Andrea Morri (SMR) 3-1 (11-5, 11-8, 9-11, 14-12)
Round of 32
Finn Luu (AUS) bt Piggott 3-1 (11-5, 11-9, 14-16, 11-4)
Thomis bt Henrik Nilsen (NOR) 3-1 (11-4, 5-11, 11-6, 11-5)
Sam Wilson bt Temirlan Kim (KAZ) 3-1 (11-5, 5-11, 11-9, 11-3)
Boonyaprapa bt Oscar Birriel Rivera (PUR) 3-1 (12-14, 13-11, 11-6, 11-9)
Round of 16
Boonyaprapa bt Elliot Lundqvist (SWE) 3-1 (11-7, 8-11, 11-6, 11-3)
Thomis bt Khalid Alshareif (KSA) 3-0 (11-4, 11-6, 15-13)
Wilson bt Yassin Wael (EGY) 3-0 (11-7, 11-7, 11-3)
Quarter-finals
Daniel Lindso (SWE) bt Thomis 3-0 (12-10, 11-9, 11-6)
Jakob Peterson (SWE) bt Wilson 3-2 (11-4, 10-12, 11-9, 10-12, 11-6)
Boonyaprapa bt Kai Jiang (USA) 3-2 (12-10, 12-10, 8-11, 9-11, 11-7)
Semi-finals
Mauro Scharrer (SUI) bt Boonyaprapa 3-0 (11-9, 11-8, 11-6)
Junior Girls' Singles
Round of 32
Yuki Tsutsui (GER) bt Denise Payet 4-1 (11-7, 11-7, 11-8, 10-12, 12-10)
Consolation Singles
Round of 64
Emine Ernst (NED) bt Millie Rogove 3-0 (11-4, 11-7, 11-5)
Round of 32
Dobrila Jorguseska (NED) bt Ruby Chan 3-2 (11-7, 9-11, 11-5, 11-13, 11-6)
Amy Marriott bt Maja Miklaszewska (POL) 3-2 (11-7, 11-9, 1-11, 5-11, 11-6)
Mollie Patterson bt Brianna Burgos (PUR) 3-1 (9-11, 11-9, 11-4, 19-17)
Tia Lynn Hsieh (USA) bt Raquel Sao Pedro 3-2 (10-12, 5-11, 11-4, 11-7, 11-9)
Megan Gidney bt Alvalie Palmbo (SWE) 3-0 (11-8, 11-8, 11-9)
Round of 16
Sarvinoz Mirkadirova (KAZ) bt Marriott 3-1 (11-8, 10-12, 11-9, 11-3)
Patterson bt Jia Qi Koh (SGP) 3-0 (11-8, 13-11, 11-9)
Gidney bt Gaia Smargiassi (ITA) 3-2 (8-11, 11-9, 2-11, 11-4, 11-4)
Quarter-finals
Patterson bt Tia Lynn Hsieh (USA) 3-0 (11-4, 11-4, 14-12)
Gidney bt Kayleigh Cui (USA) 3-0 (11-4, 11-2, 13-11)
Semi-finals
Patterson bt Emily Tan (USA) 3-1 (11-3, 11-8, 7-11, 14-12)
Berenice Marteau (FRA) bt Gidney 3-0 (11-7, 11-8, 11-9)
Final
Marteau bt Patterson 3-0 (11-8, 11-5, 11-5)
Junior Boys' Doubles
Quarter-finals
Smith & Walsh bt Kirill Fadeev & Kay Stumper (GER) 3-0 (w/o)
Semi-finals
Kun Ting Beh & Yew En Koen Pang (SGP) bt Smith & Walsh 3-1 (11-4, 7-11, 11-9, 11-4)
Junior Girls' Doubles
Quarter-finals
Gidney & Payet bt Camille Lutz & Prithika Pavade (FRA) 3-2 (10-12, 11-9, 11-8, 10-12, 11-8)
Semi-finals
Kaho Akae & Miwa Harimoto (JPN) bt Gidney & Payet 3-0 (11-2, 11-6, 11-7)