England youngsters have been competing at two WTT Youth Contender events in Europe, with a number of athletes making it successfully through qualifying into the main draws.
The events in Varazdin (Croatia) and Otocec (Slovenia) are running in parallel, with the girls' events currently ongoing in Croatia and the boys' in Slovenia. When they have finished, the players swap locations later in the week.
Mari Baldwin reached the lats 16 of the Under-19 Girls's Singles, making it through qualifying by coming from 2-1 down to defeat Slovakia's Eliska Stullerova and going on to defeat Daria Mikhailova of Russia in the last 32.
She faced Germany's Naomi Pranjkovic in the last 16 and went down 3-0 (11-8, 11-9, 11-2).
Baldwin also made it through in the Under-17s, winning her group and then her last-32 clash – the latter also against Mikhailova – without dropping a set. However, she was beaten in four by India's Suhana Saini in the last 16.
Erin Green and Anna Green also made it through to the knockouts and both were beaten in four. Amy Marriott and Bethany Ellis went out in the groups.
Anna Green went through in the Under-15s, losing in four to a Romanian opponent in the last 64. Sienna Jetha and Bethany Ellis went out in the groups. In the Under-13s, Jetha was eliminated in the first stage.
In Otocec, four English boys made it through the group stage of at least one age group.
In the Under-19s, Toby Ellis won two of his three group matches and then held off a fightback by Belgium's Alessi Massart in the last 64 to win 3-2 (11-9, 11-9, 4-11, 10-12, 11-7).
He staged an impressive comeback after a slow start in the last 32, but ultimately went down 3-2 (11-3, 11-6, 12-14, 9-11, 11-9) to Maksim Kaburkin of Russia.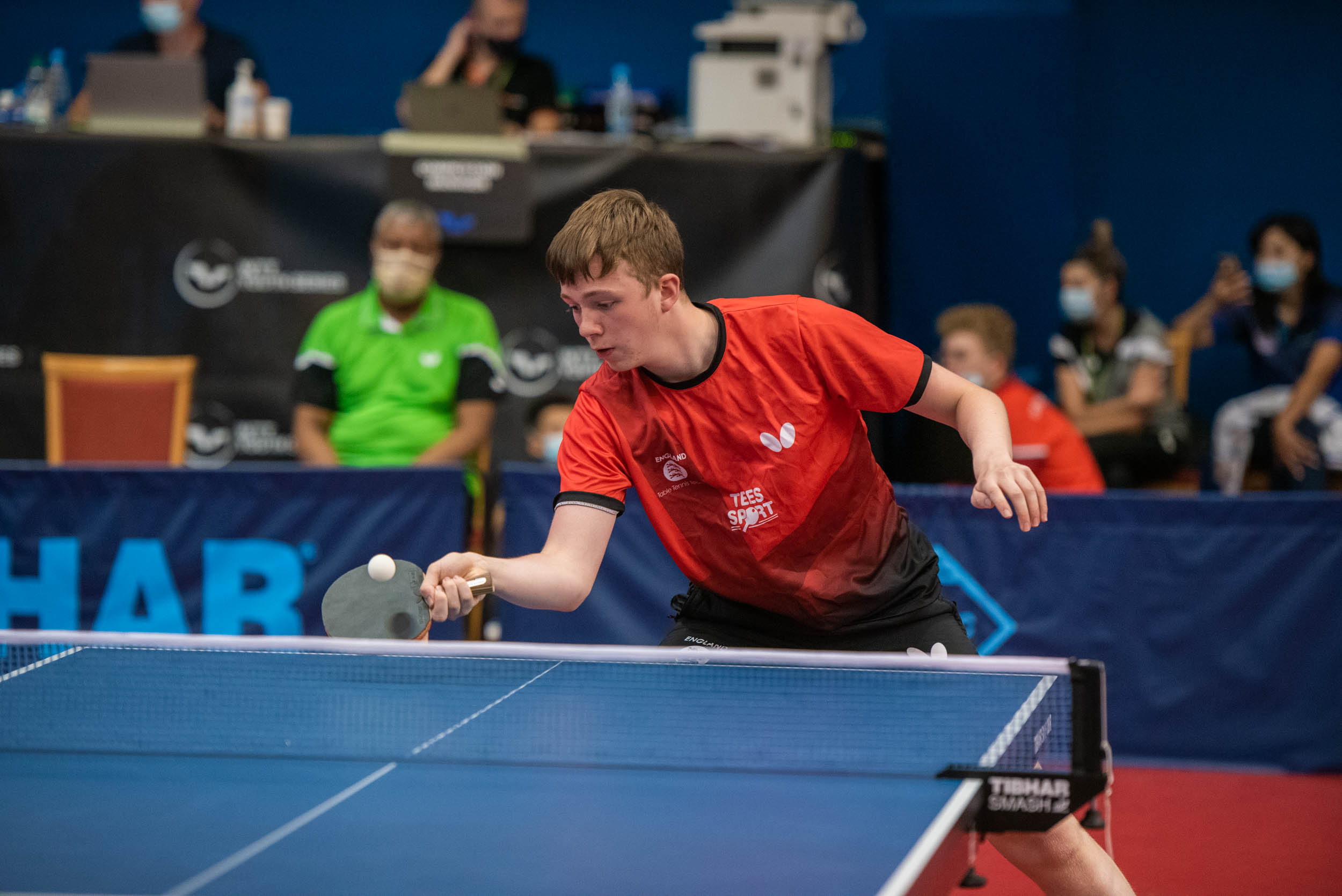 Ben Piggott and Maxim Stevens did not make it out of the groups, but Piggott did go through in the Under-17s, edging a marathon group match against Borek Otahal of the Czech Republic 3-2 (7-11, 13-11, 11-4, 13-15, 18-16).
He went on to win his last 64 match in four against Sean Chen of the USA, before being stopped by Darius Movileanu in the last 32. Connor Green also reached the same stage, losing in four to German opponent Tom Schweiger.
In the Under-15s, Green and James Hamblett both made it out of the groups. Hamblett was knocked out in the last 64 by Kevin Fu of Germany, while Green went one round better before losing to another German, Lleyton Ullmann.
Results
WTT Youth Contender Varazdin
Under-19 Girls' Singles
Qualifying group 3
Diya Parag Chitale (IND) bt Erin Green 3-0 (11-4, 11-7, 11-3)
Laura Kaim (GER) bt Green 3-0 (11-8, 11-5, 11-3)
Qualifying group 8
Reka Bezeg (SRB) bt Amy Marriott 3-1 (12-10, 8-11, 13-11, 11-3)
Anastasiya Radzionava (AUT) bt Marriott 3-2 (11-8, 6-11, 11-6, 9-11, 11-7)
Qualifying group 9
Luciana Mitrofan (ROU) bt Mari Baldwin 3-0 (11-6, 11-6, 11-9)
Baldwin bt Eliska Stullerova (SVK) 3-2 (6-11, 11-6, 4-11, 11-9, 11-8)
Round of 32
Mari Baldwin bt Daria Mikhailova (RUS) 3-0 (11-9, 11-7, 11-8)
Round of 16
Naomi Pranjkovic (GER) bt Baldwin 3-0 (11-8, 11-9, 11-2)
Under-17 Girls' Singles
Qualifying group 4
Ioana Singeorzan (ROU) bt Amy Marriott 3-0 (11-4, 11-5, 11-2)
Ivona Striga (CRO) bt Marriott 3-2 (11-5, 8-11, 11-5, 9-11, 12-10)
Qualifying group 6
Mari Baldwin bt Markhabo Magdieva (UZB) 3-0 (11-6, 11-5, 11-8)
Baldwin bt Enya Moltara (SLO) 3-0 (11-9, 11-8, 11-9)
Qualifying group 9
Mia Griesel (GER) bt Erin Green 3-0 (12-10, 11-9, 11-3)
Green bt Jelena Vukelic (CRO) 3-0 (11-8, 11-9, 11-8)
Qualifying group 11
Suhana Saini (IND) bt Anna Green 3-0 (11-4, 11-3, 11-2)
Green bt Cristina Singeorzan (ROU) 3-2 (6-11, 6-11, 11-9, 12-10, 11-9)
Qualifying group 15
Eliksa Stullerova (SVK) bt Bethany Ellis 3-1 (11-8, 11-7, 5-11, 11-8)
Bruna Borovec (CRO) bt Ellis 3-0 (11-7, 11-5, 11-5)
Round of 64
Alesia Sferlea (ROU) bt Erin Green 3-1 (9-11, 11-9, 11-9, 11-9)
Round of 32
Mari Baldwin bt Daria Mikhailova (RUS) 3-0 (11-9, 11-4, 11-8)
Veronika Matiunina (UKR) bt Anna Green 3-1 (7-11, 11-6, 11-5, 11-6)
Round of 16
Suhana Saini (IND) bt Baldwin 3-1 (11-6, 7-11, 11-3, 11-8)
Under-15 Girls' Singles
Qualifying group 4
Veronika Matiunina (UKR) bt Anna Green 3-0 (11-9, 11-5, 11-4)
Green bt Franka Miskic (CRO) 3-0 (11-8, 11-7, 11-9)
Qualifying group 6
Sara Tokic (SLO) bt Sienna Jetha 3-0 (11-8, 11-3, 11-7)
Kristina Kurilkina (RUS) bt Jetha 3-1 (9-11, 11-6, 11-8, 11-2)
Qualifying group 17
Zrinka Rebic (CRO) bt Bethany Ellis 3-0 (11-3, 11-6, 12-10)
Andreea Baiasu (ROU) bt Ellis 3-0 (11-6, 11-6, 11-7)
Adela Sazimova (CZE) bt Ellis 3-0 (12-10, 11-8, 11-8)
Round of 64
Serena-Maria Jantea (ROU) bt Anna Green 3-1 (9-11, 11-9, 11-8, 13-11)
Under-13 Girls' Singles
Qualifying group 2
Faustyna Stefanska (GER) bt Sienna Jetha 3-0 (11-8, 15-13, 11-0)
Mariia Lytvyn (AUT) bt Jetha 3-0 (11-6, 11-8, 11-9)
WTT Youth Contender Otocec
Under-19 Boys' Singles
Qualifying group 4
Nicolas Degros (BEL) bt Ben Piggott 3-1 (11-5, 11-13, 11-6, 11-6)
Hannes Hoermann (GER) bt Piggott 3-0 (11-9, 11-4, 14-12)
Qualifying group 10
Khalid Alshareif (KSA) bt Maxim Stevens 3-2 (11-9, 7-11, 13-11, 8-11, 11-6)
Mael Van Dessel (LUX) bt Stevens 3-0 (11-9, 11-6, 11-5)
Qualifying group 20
Radim Mravek (CZE) bt Toby Ellis 3-0 (11-5, 11-6, 11-8)
Ellis bt Dejan Jovanovic (SLO) 3-1 (11-3, 8-11, 11-4, 11-7)
Ellis bt Salem Alsuwailem (KSA) 3-0 (11-6, 11-7, 12-10)
Round of 64
Toby Ellis bt Alessi Massart (BEL) 3-2 (11-9, 11-9, 4-11, 10-12, 11-7)
Round of 32
Maksim Kaburkin (RUS) bt Ellis 3-2 (11-3, 11-6, 12-14, 9-11, 11-9)
Under-17 Boys' Singles
Qualifying group 12
Jakub Goldir (SVK) bt Toby Ellis 3-2 (12-14, 6-11, 11-7, 11-9, 11-7)
Alan Kurmangaliyev (KAZ) bt Ellis 3-0 (11-7, 11-5, 11-7)
Qualifying group 13
Vladislav Makarov (RUS) bt Connor Green 3-0 (12-10, 13-11, 11-9)
Green bt Mark Gazvoda (SLO) 3-0 (11-4, 11-4, 11-4)
Qualifying group 15
Horia Ursut (ROU) bt Ben Piggott 3-2 (11-8, 3-11, 11-6, 9-11, 11-6)
Piggott bt Borek Otahal (CZE) 3-2 (7-11, 13-11, 11-4, 13-15, 18-16)
Qualifying group 18
Lleyton Ullmann (GER) bt James Hamblett 3-0 (11-6, 11-8, 11-4)
Leo Vekic (CRO) bt Hamblett 3-1 (8-11, 11-5, 11-5, 11-6)
Round of 64
Connor Green bt Vladislav Bannikov (RUS) 3-1 (11-8, 13-11, 9-11, 11-2)
Ben Piggott bt Sean Chen (USA) 3-1 (11-7, 9-11, 11-8, 11-7)
Round of 32
Tom Schweiger (GER) bt Green 3-1 (12-10, 11-3, 9-11, 11-5)
Darius Movileanu (ROU) bt Piggott 3-0 (14-12, 11-4, 11-5)
Under-15 Boys' Singles
Qualifying group 1
Iulian Chirita (ROU) bt James Hamblett 3-0 (11-6, 11-4, 11-1)
Hamblett bt Bor Brodnjak (SLO) 3-0 (11-2, 11-4, 11-5)
Qualifying group 11
Connor Green bt Amadej Resetic (SLO) 3-0 (11-1, 11-1, 11-1)
Pavel Sokolov (GER) bt Green 3-2 (11-8, 5-11, 14-12, 8-11, 11-9)
Round of 64
Connor Green bt Matej Haspel (GER) 3-0 (11-8, 12-10, 11-5)
Kevin Fu (GER) bt James Hamblett 3-1 (11-9, 6-11, 11-6, 11-7)
Round of 32
Lleyton Ullmann (GER) bt Green 3-0 (11-6, 11-9, 11-7)