None of the England teams competing at the Belgium Junior & Cadet Open were able to make it into the knockout stages, despite some decent individual performances.
Mari Baldwin and Millie Rogove put England B 2-0 ahead against a Canada-Czech composite team, Baldwin beating the 23rd-ranked player Tereza Bartova 3-1 (11-4, 9-11, 11-9, 11-8) and Rogove defeating Crystal Liu 3-2 (9-11, 14-12, 9-11, 11-8, 11-4). However, their opponents fought back to win 3-2 overall, helped by Barova getting the better of Rogove in a decider.
In the Cadet Boys' event, Rhys Davies picked up a good 3-0 (11-7, 11-7, 13-11) win against Peng Jing-You of Chinese Taipei and Thomas Rayner defeated Spain's Daniel Berzosa, the 15th seed in the singles, 3-0 (11-8, 12-10, 11-8).
In the Junior Girls, Charlotte Bardsley and Mollie Patterson got England's points in a 3-2 defeat against the host nation, Belgium coming from 2-1 down and winning the fourth and fifth ties in deciding sets.
In the Junior Boys, Sam Wilson beat Peter Svenningsen 3-1 (11-5, 11-9, 2-11, 11-8) in get England's point in a 3-1 defeat to Denmark-Sweden. Amirul Hussain and Joe Cope played alongside Macedonia's Raif Rustemovski and both picked up a victory – Hussain 3-0 (11-4, 11-6, 11-9) against Spain's Alberto Lillo, the 18th-ranked singles player, and Cope 3-2 (7-11, 11-2, 11-9, 8-11, 11-9) against Lode Hulshof of the Netherlands.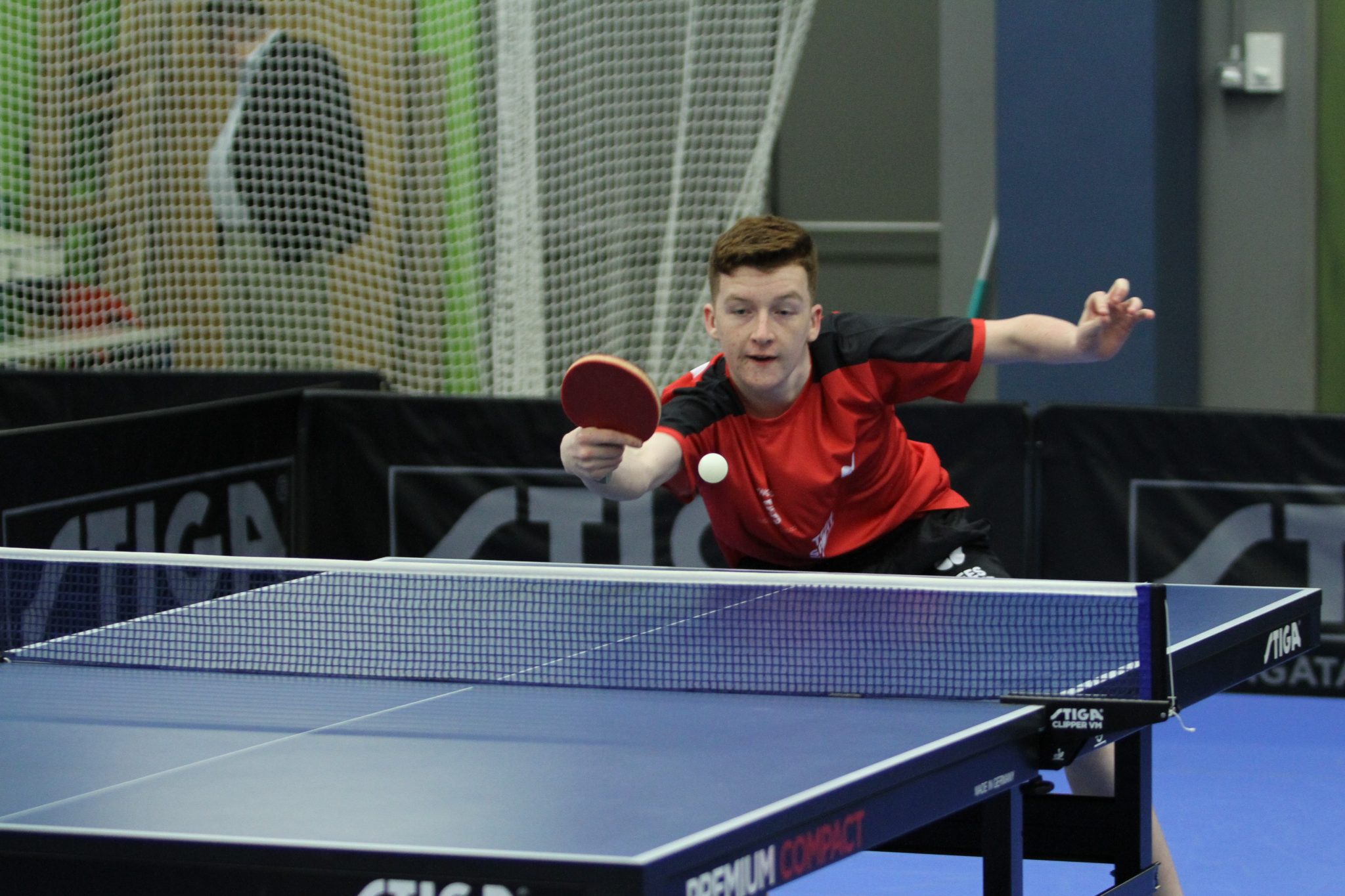 Results
Cadet Girls' Team
Group 1
China 3 England 0
Xu Yi bt Anaya Patel 3-0 (11-6, 11-7, 11-7)
Liang Jiayi bt Ruby Chan 3-0 (11-8, 11-4, 11-8)
Jiayi & Leng Yutong bt Chan & Patel 3-0 (11-6, 11-5, 11-6)
Croatia-Puerto Rico 3 England 0
Hana Arapovic bt Patel 3-0 (11-7, 11-6, 11-5)
Brianna Burgos bt Ruby Chan 3-0 (11-6, 11-3, 17-15)
Arapovic & Burgos bt Chan & Patel 3-1 (11-5, 11-7, 10-12, 11-3)
Group 2
Canada-Czech Republic 3 England B 2
Mari Baldwin bt Tereza Bartova 3-1 (11-4, 9-11, 11-9, 11-8)
Millie Rogove bt Crystal Liu 3-2 (9-11, 14-12, 9-11, 11-8, 11-4)
Bartova & Liu bt Baldwin & Rogove 3-1 (11-8, 8-11, 12-10, 13-11)
Bartova bt Rogove 3-2 (5-11, 11-3, 13-15, 11-8, 11-5)
Liu bt Baldwin 3-1 (4-11, 11-4, 11-5, 13-11)
Chinese Taipei 3 England B 0
Tsai Yun-En bt Baldwin 3-0 (11-2, 11-5, 11-3)
Liu Ru-Yun bt Rogove 3-1 (11-9, 11-6, 10-12, 11-3)
Tsai & Liu bt Baldwin & Rogove 3-0 (11-5, 11-1, 11-4)
Cadet Boys' Team
Group 2
Chinese Taipei B 3 England 1
Yang Tsan-Wei bt Louis Price 3-0 (11-6, 11-6, 11-8)
Rhys Davies bt Peng Jing-You 3-0 (11-7, 11-7, 13-11)
Yang 7 Peng bt Price & Davies 3-1 (13-11, 11-2, 5-11, 11-7)
Peng bt Price 3-0 (11-1, 11-4, 11-6)
China 3 England 0
Chen Yuanyu bt Davies 3-0 (11-5, 11-5, 11-4)
Tao Yuchang bt Price 3-0 (11-5, 11-7, 11-3)
Chen & Lin Shidong bt Davies & Felix Thomis 3-0 (11-7, 11-3, 11-6)
Group 6
Czech Republic B 3 England B 0
Vit Kadlec bt Thomas Rayner 3-1 (6-11, 11-6, 11-6, 11-7)
Stepan Brhel bt Jie Fu Tham 3-2 (12-14, 4-11, 11-6, 11-9, 11-7)
Kadlec & Brhel bt Rayner & Tham 3-2 (10-12, 10-12, 9-11, 14-12, 11-7)
Spain 3 England B 1
Rayner bt Daniel Berzosa 3-0 (11-8, 12-10, 11-8)
Miguel Angel Pantoja bt Tham 3-0 (11-6, 11-2, 11-3)
Berzosa & Pantoja bt Rayner & Tham 3-0 (11-7, 11-9, 11-4)
Pantoja bt Rayner 3-0 (12-10, 11-9, 11-1)
Junior Girls' Team
Group 5
Belgium 3 England 2
Jana Bernard bt Denise Payet 3-1 (11-4, 11-6, 9-11, 11-9)
Charlotte Bardsley bt Estelle Duvivier 3-1 (11-5, 14-12, 7-11, 11-7)
Mollie Patterson bt Awa Sow 3-1 (6-11, 12-10, 11-7, 11-9)
Bernard bt Bardsley 3-2 (11-6, 6-11, 11-6, 8-11, 14-12)
Duvivier bt Payet 3-2 (5-11, 11-8, 9-11, 11-8, 11-8)
Chinese Taipei 3 England 0
Chien Tung-Chuan bt Payet 3-0 (11-7, 11-9, 11-6)
Yu Hsiu-Ting bt Gidney 3-0 (11-3, 12-10, 11-7)
Chang Ju-Chia bt Bardsley 3-0 (11-9, 11-4, 11-3)
Junior Boys' Team
Group 3
Denmark-Sweden 3 England 1
Bruno Nettarp bt Shayan Siraj 3-1 (11-8, 12-10, 8-11, 11-9)
Daniel Simonsen bt James Smith 3-1 (11-5, 11-8, 13-15, 14-12)
Sam Wilson bt Peter Svenningsen 3-1 (11-5, 11-9, 2-11, 11-8)
Simonsen bt Siraj 3-1 (11-3, 10-12, 11-7, 11-8)
Austria-Belgium-Serbia 3 England 0
Maciej Kolodziejczyk bt Smith 3-0 (11-9, 11-8, 11-5)
Dimitrije Levajac bt Wilson 3-0 (12-10, 11-6, 11-8)
David Comeliau bt Siraj 3-1 (11-8, 6-11, 11-8, 11-1)
Group 5
China 3 England-Macedonia 0
Zeng Beixun bt Joe Cope 3-0 (11-8, 11-2, 11-3)
Quen Kaiyuan bt Amirul Hussain 3-0 (11-5, 11-1, 11-3)
Cao Yantao bt Raif Rustemovski 3-0 (11-5, 11-5, 11-6)
Spain 3 England-Macedonia 1
Marc Gutierrez bt Cope 3-2 (7-11, 11-8, 8-11, 11-6, 11-3)
Hussain bt Alberto Lillo 3-0 (11-4, 11-6, 11-9)
Miguel Nunez bt Rustemovski 3-0 (11-7, 11-4, 14-12)
Lillo bt Coper 3-0 (13-11, 11-2, 11-7)
Netherlands 3 England-Macedonia 1
Cope bt Lode Hulshof 3-2 (7-11, 11-2, 11-9, 8-11, 11-9)
Barry Berben bt Hussain 3-0 (11-5, 15-13, 11-9)
Tim Gras bt Rustemovski 3-0 (11-2, 12-10, 12-10)
Hulshof bt Hussain 3-2 (6-11, 9-11, 13-11, 11-9, 11-9)