Samuel Kwan and James Smith were the only England players to reach the main draw at the Czech Youth Open.
Kwan won his Junior Boys' Singles group with three victories out of three, and Smith also reached the knockout rounds, but both were eliminated in the first round. Matthew Daish and Shayan Siraj went out in the groups, though Siraj was on the wrong end of two five-set defeats.
Megan Gidney and Denise Payet were knocked out in the qualifying stage of the Junior Girls' Singles, though Gidney picked up a 3-2 win over Dora Cosic of Bosnia-Herzegovina.
In the doubles, Gidney & Payet went out in the first round but Kwan & Siraj won their first match to join Daish & Smith in the second round – the latter having had a first-round bye. However, both pairs went out, Daish & Smith at the hands of fifth seeds Leo De Nodrest & Jules Rolland of France.
Kwan, Smith and Siraj featured in the team events, where they were beaten by China, Belgium and an Azerbaijan-Canada combination. Although there were some close games, Siraj picked up the only English victory, in the match against Belgium.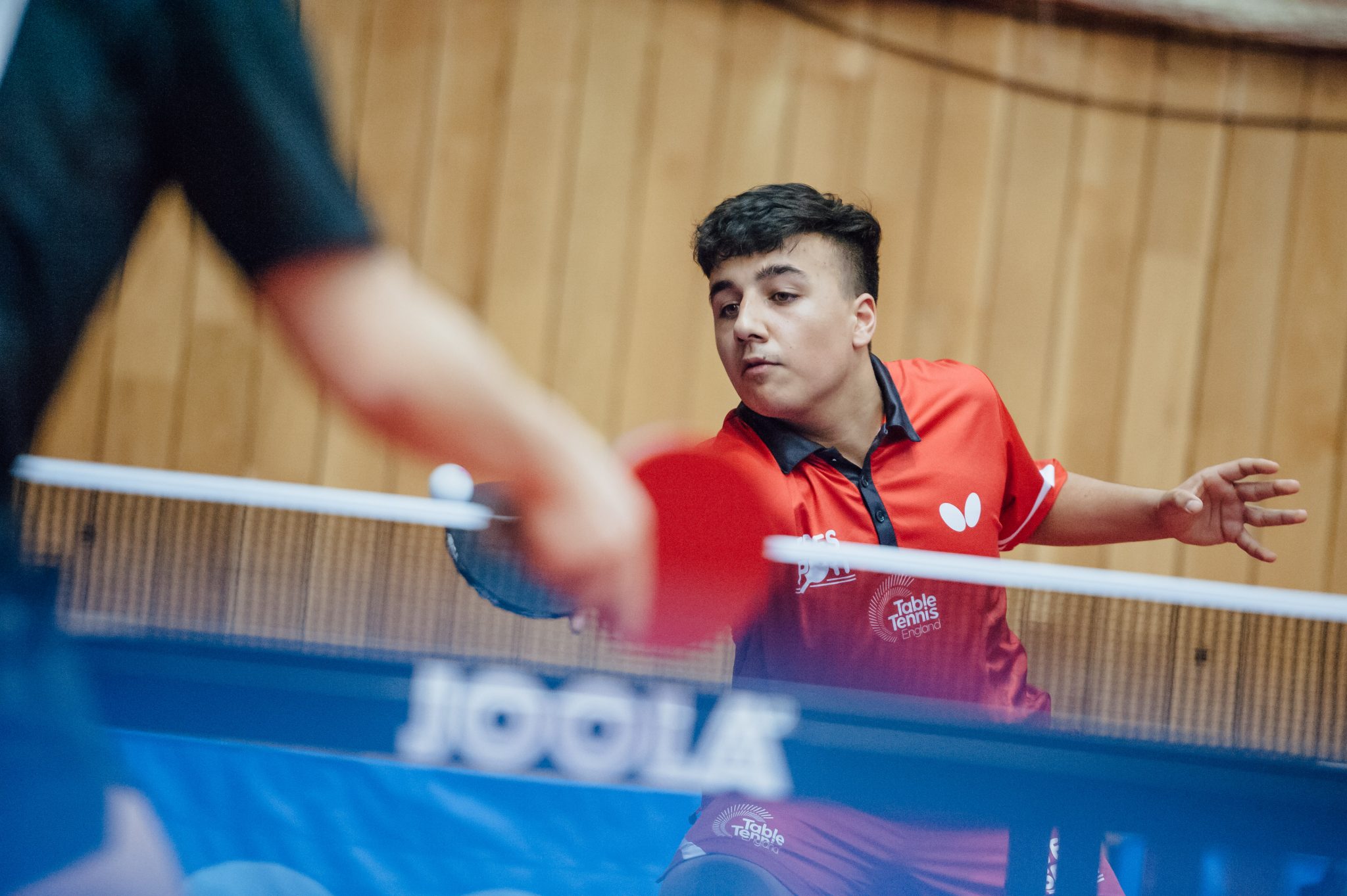 Results
Junior Boys' Singles
Qualifying Group 1
Francisco Miguel Ruiz (ESP) bt Matthew Daish 3-0 (11-5, 11-8, 11-8)
Yaniv Karmazin (ISR) bt Daish 3-1 (11-8, 6-11, 11-7, 12-10)
Group 11
Alex Naumi (FIN) bt James Smith 3-0 (11-2, 11-9, 11-9)
Smith bt Dev Shroff (IND) 3-0 (11-6, 11-4, 11-3)
Group 19
Daniel Orak (SVK) bt Shayan Siraj 3-2 (6-11, 5-11, 11-9, 11-8, 11-7)
Siraj bt Mikhail Rozhkov (RUS) 3-1 (11-9, 9-11, 11-5, 11-7)
Andrea Puppo (ITA) bt Siraj 3-2 (4-11, 11-5, 10-12, 11-4, 11-6)
Group 30
Samuel Kwan bt Maximiliano Huergo (ARG) 3-0 (11-6, 11-1, 11-6)
Kwan bt Pablo Palou (URU) 3-2 (8-11, 4-11, 11-5, 12-10, 11-9)
Kwan bt Uladzimir Belakon (BLR) 3-0 (11-4, 11-6, 11-4)
First round
Francisco Miguel Ruiz (ESP) bt James Smith 4-0 (11-3, 11-3, 11-5, 11-7)
Nicolas Degros (BEL) bt Samuel Kwan 4-0 (11-4, 11-6, 11-1, 11-5)
Junior Girls' Singles
Qualifying Group 20
Gabriela Stepanova (CZE) bt Megan Gidney 3-0 (11-7, 11-8, 11-2)
Gidney bt Dora Cosic (BIH) 3-2 (11-9, 11-9, 9-11, 4-11, 11-4)
Honami Nakamori (JPN) bt Gidney 3-0 (11-6, 11-9, 11-3)
Group 23
Iolanta Yevtodii (UKR) bt Denise Payet 3-1 (8-11, 11-7, 13-11, 11-6)
Camila Kaioji (ARG) bt Payet 3-1 (5-11, 11-8, 12-10, 11-8)
Sarvinoz Mirkadirova (KAZ) bt Payet 3-0 (11-9, 12-10, 12-10)
Junior Boys' Doubles
First round
Samuel Kwan & Shayan Siraj bt Uladzimir Belakon & Viachaslau Belakon (BLR) 3-1 (11-13, 11-5, 11-5, 11-8)
Second round
Leo De Nodrest & Jules Rolland (FRA) bt Matthew Daish & James Smith 3-0 (11-2, 11-7, 11-5)
Lukasz Wachowiak & Jan Zandecki (POL) bt Kwan & Siraj 3-1 (11-7, 6-11, 11-6, 11-5)
Junior Girls' Doubles
First round
Andjela Menger (SRB) & Ivona Petric (MNE) bt Megan Gidney & Denise Payet 3-2 (11-8, 11-8, 8-11, 3-11, 11-9)
Junior Boys' Team
Qualifying Group 6
Azerbaijan-Canada 3 England 0
Yu Khinhang bt James Smith 3-1 (11-2, 9-11, 11-4, 11-5)
Yang Xinyu bt Shayan Siraj 3-1 (13-11, 11-6, 5-11, 12-10)
Jeremy Hazin bt Samuel Kwan 3-0 (13-11, 11-7, 11-9)
China 3 England 0
Yu Heyi bt Siraj 3-0 (11-8, 11-6, 11-7)
Xu Yingbin bt Kwan 3-0 (14-12, 11-6, 11-4)
Cao Yantao bt James Smith 3-2 (8-11, 11-2, 14-12, 9-11, 11-7)
Belgium 3 England 1
David Comeliau bt Smith 3-0 (11-8, 11-9, 11-4)
Quentin Jacques bt Kwan 3-0 (11-8, 11-5, 11-3)
Siraj bt Boris Dobbelstein 3-0 (11-6, 11-6, 12-10)
Jacques bt Smith 3-0 (11-8, 11-6, 11-6)