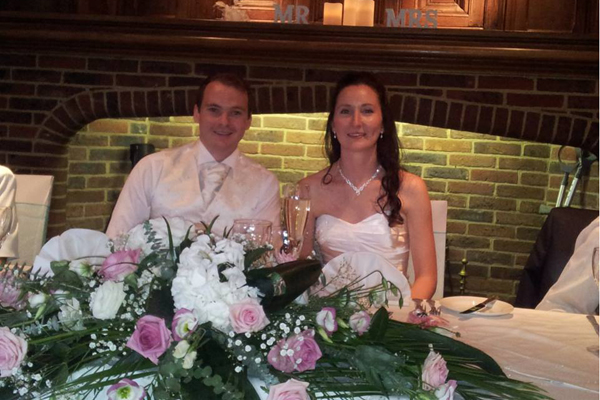 Four-time English National Senior Men's Champion, Paul Drinkhall, and twice English National Senior Women's Champion, Joanna Parker, married at the Holy Family Church in Addlestone on Friday August 9th with the wedding reception and evening celebration held at the Guildford Ramada afterwards for over 100 friends and family.
Drinkhall, 23, and Parker, 26, met whilst in residence at the Holme Pierrepont National Watersports Centre at what was then the National Table Tennis Academy some 10 years ago, after moving away from their homes and families to be part of the Elite Academy performance group.
Paul's brother and former National Junior Champion Bryn Drinkhall was Paul's best man, with former British League team mates Steve Bailey and Tim Surrey, and Jo's nephew Joseph Boyer, acting as Ushers for the big day. Joanna's bridesmaids were her sister Samantha, two cousins Alice and Bethany Boyer, and Paul's sister Michelle.
The newlyweds have taken a break from their hectic training schedules to jet off to the Dominican Republic for two weeks on their Honeymoon on Monday morning. Many other players both past and present from the world of table tennis were also guests at the wedding, including team mates Kelly Sibley, Naomi Owen, Georgina Walker, David McBeath, Matthew Ware, Gavin Evans, Bradley Evans, Miles Evans, Darius Knight and Gavin Rumgay.
Written by Russell Moore (August 14, 2013)