PARKES LEADS BROTHERHOOD PUSH FOR PROMOTION
Graham Parkes took his eighth hat-trick of the season in Division Three as Brotherhood H maintained their push for promotion with a 7-3 victory over Windsor Penguins.
Parkes' excellent vein of form continued a maximum that included a win over one of the Division's leading players, Ray Chillingworth. Gerald Batt gave top-class support with two singles wins while David Wilkin contributed an 11-7 in the fifth success over Mike Monschau.
The result leaves the 'H' team handily-placed in second spot behind leaders Brotherhood E, comfortable 10-0 winners over Windsor Kites.
Brotherhood G are the third side in promotion contention but they lost ground slightly when they could record only a 6-4 victory against a Brotherhood L team that fielded a guest player. Morgan Harvey was unbeaten for the losers, his three including a good win in five over Peter Bloomfield. Jonathan Found took the 'L' team's fourth point with a 4-11, 11-9, 11-9, 9-11, 11-9 victory over Mark Trayhorn.
Windsor Swallows beat Nomads Wildcats 9-1, Malcolm Caley, Angela Barratt and Iris Howlett all unbeaten. But Harry Barlow and Alan Charman took an unexpected point in the doubles against Caley and Iris Howlett whilst Barlow will feel unfortunate to have lost 11-8 in the fifth to both Caley and Barratt.
Finally in Division Three, Nomads Pumas moved into the top-half of the table with a 10-0 win over Walton E.
Nomads Panthers kept up the pace in Division One by defeating Windsor Condors 6-4. James Denyer came out on top in the match between the Division's two unbeaten players, overcoming Colin Stallwood 4-11, 13-11, 11-6, 11-2. But the doubles proved the pivotal match, Denyer and Gill Locke taking it 11-8 in the fifth against Stallwood and John Pattrick. Pattrick played well for the Condors to beat both Locke and Colin Webber.
The eagerly-anticipated meeting between the second and third-placed sides, Brotherhood A and Walton A, proved an anti-climactic damp squib. With Walton's third player failing to arrive and John Rice having to retire injured after his first match, Walton automatically conceded six points. And with Walton losing the four remaining matches, the result ended in a Brotherhood A whitewash. To his credit, Walton skipper Colin Dearman battled hard, narrowly losing 12-14, 8-11, 11-9, 11-7, 5-11 to John Andrews and 6-11, 12-10, 5-11, 12-10, 9-11 to Jermaine Fearon. However, the match did provide a neat reversal of fortunes in that the early-season meeting of the two teams had seen a full-strength Walton A whitewash a Brotherhood A team beset, at the time, by player availability problems.
Elsewhere, Sam Hume turned up trumps for Nomads Cougars with an excellent hat-trick against Walton C but the 'C' team, with Jason Gale making a first appearance of the season, took the match 6-4. Gale was involved in the closest match of the evening, just losing 11-7 in the fifth to Colin Beaumont.
Windsor Eagles beat Nomads Lions 10-0 with none of the individual matches stretched to a fifth set, a result that edges the Lions a little nearer the relegation zone.
And Walton D will fell no more secure at the wrong end of the table after losing 9-1 to Windsor Hawks, John Marshall's 11-5 in the fifth win over Windsor's John Barton scant consolation. In the closest match of the night, Barton and Felipe Rodriguez edged the doubles 11-9 in the decider against Marshall and Paul Woolnough.
Walton B leap-frogged over Brotherhood B after beating them 7-3, Paul Newbould's first maximum of the season including a 12-10 in the decider win against John Owen.
In Division Two Windsor Kestrels' top three players proved too strong for Brotherhood J, winning 10-0. Only Graham Bunce's 9-11, 13-15, 11-3, 11-9, 11-7 success against Kelvin Olano went the distance, the remaining nine matches all settled in three-straight.
Windsor Ravens kept up the pressure on the leaders with an 8-2 victory over Brotherhood C. Brian Thiel proved there's still life in old legs, going down 11-3 in the decider to Kevin Pryor but beating both Fred Gallone and reserve Peter Bloomfield in tough five-setters.
Nomads Ocelots moved into third place after defeating Windsor Harriers 9-1, Peter Giles and Doug Green unbeaten.
Barry Allen had 11-6 in the fifth victories against both Rowan Cottee and John Wrigley but these were the only matches that went to five, Brotherhood F defeating Brotherhood I 10-0.
* There will be two all-First Division ties in Round Three of the Handicap Knock-Out Cup. Windsor Hawks will host Brotherhood B whilst Nomads Panthers entertain Windsor Eagles.
The four Third Division sides left in the competition – Brotherhood E, Brotherhood H, Windsor Ospreys and Nomads Pumas – have all been handed tough draws against Division One opposition.
The full draw is (matches to be played w/c 3rd February):
Nomads Panthers v Windsor Eagles; Brotherhood E v Walton B; Lawford v Brotherhood J; Windsor Hawks v Brotherhood B;
Walton D v Windsor Ospreys; Nomads Pumas v Walton A; Brotherhood H v Nomads Cougars; Nomads Ocelots v Walton C.
* The Handicapped Singles Tournament takes place on Saturday 22nd February at the Coastal Academy Sports Hall, with play starting at 9.30 am. Entries can be made on-line or sent by post to Tony Oswick. Entry will be limited to forty-five players. The closing date is Monday 17th February. Full details are with Team Secretaries and on the League's website.
* In Division Three of the Super-Veterans Section of the Essex Inter-League, Clacton beat Chelmsford 6-3. John Hobson won two singles, with Colin Beaumont and debutant John Hockley taking one each. Hobson took both his doubles matches in partnership with Beaumont and Hockley.
* Congratulations go to three of Clacton's promising youngsters, Sam Hume, Morgan Harvey and Gracie Edwards.
At the Essex Closed Championships at Harlow, Sam won the under-15 Boys Singles while Morgan reached the quarter-finals of both the under-15 and under-18 Boys Singles.
Then, at the Essex Schools Championships, Sam became the under-16 Boys champion, Gracie took the under-13 Girls crown whilst  Morgan reached the semi-final of the Boys under-13s event.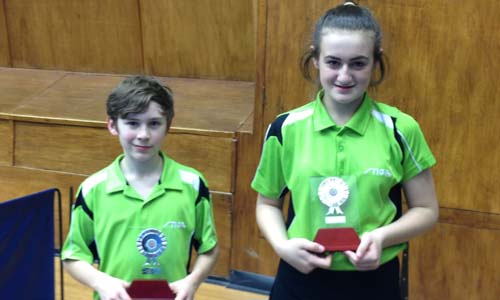 RESULTS
Division 1
Walton B 7 Brotherhood B 3;
Windsor Hawks 9 Walton D 1;
Brotherhood A 10 Walton A 0;
Nomads Panthers 6 Windsor Condors 4;
Nomads Lions 0 Windsor Eagles 10;
Walton C 6 Nomads Cougars 4.
Division 2
Brotherhood F 10 Brotherhood I 0;
Windsor Kestrels 10 Brotherhood J 0;
Windsor Harriers 1 Nomads Ocelots 9;
Brotherhood C 2 Windsor Ravens 8.
Division 3
Windsor Penguins 3 Brotherhood H 7;
Windsor Swallows 9 Nomads Wildcats 1;
Brotherhood G 6 Brotherhood L 4;
Nomads Pumas 10 Walton E 0;
Brotherhood E 10 Windsor Kites 0.
Essex Inter-League
Super-Veterans Division 3
Clacton (Hobson, Beaumont, Hockley) 6 Chelmsford 3.
To view the full tables click here
Tony Oswick (January 20, 2014)