Juniors in the limelight
The junior players of the Clacton and District League took the limelight this week, Sam Hume, Justin Reichart and Will Ovenden winning the 2013 Junior Combination Trophy in style.
In the final they won 3-0 against the combination of Kelvin Olano, Jonathan Found and Rachel Simson.
But it was a tight-run affair with the first two matches of the final see-sawing before being settled in deuce in the fifth.
Fifteen juniors, including two youngsters from the Monday night coaching, took part in a competitive and entertaining Tournament, watched by a goodly number of enthusiastic spectators.
Final results : J Reichart (-6) beat J Found (+1) 4-11, 12-10, 9-11, 11-8, 11-9; S Hume/W Ovenden (-3) beat K Olano/R Simson (+1) 12-14, 7-11, 11-5, 11-3, 12-10; W Ovenden (0) beat R Simson (0) 11-4, 11-3, 11-8.
The Consolation Doubles saw victory for Tom Wilkin and Lucy Burton (+1) over Paul Hume and Morgan Harvey (-5).
* Brotherhood A were involved in the closest match of the Round Four ties in the Handicap Knock-Out Cup, Greg Green and Alan Burgess taking the final doubles against Windsor Harriers to see their team home 5-4.
Both Green and Burgess stayed unbeaten in their singles, the crucial match proving to be Green's (-8) 12-10 in the fifth win over Ian Fielder (+1).
Tony Beezer was another player to stay unbeaten as Nomads Jaguars defeated Walton B 5-2. Four of the matches went close in five.
Walton's Gavin Price (-5) defeated Colin Beaumont (+1) 12-10 in the decider, the same score by which team-mate John Rankin (0) beat Brian Parish (0), whilst Beaumont and Beezer (+1) had a
13-11 in the fifth doubles' win over Price and Rankin (-3).
Windsor Hawks beat Windsor Magpies 5-1 although the match was closer than the score-line suggests. Andy Vincent stayed undefeated for the Hawks.
In an all-Division Two tie, Nomads Cougars were stretched all the way by Brotherhood G, coming back from 1-3 down to win 5-3. Adam Cuthbert (-5) secured their semi-final place with an 11-9 in the fifth success over Brotherhood reserve Gracie Edwards (+1).
* In the League, Brotherhood D moved to the top of Division Two with a 10-0 win over Nomads Ocelots. Shaun Beckham was involved in two close matches, winning 12-10 in the fifth against Peter Giles and 11-9 in the fifth against Doug Green.
Lawford got their promotion ambitions back on the track with a 9-1 victory against Brotherhood E. Ian Sherwood and Paul Hewitt took trebles with Rodney Betts gaining Brotherhood's consolation point.
In Division Three Nomads Leopards were 6-4 winners against Nomads Lynx, Tony Rayner beating Mike Vilka to record an excellent treble. Roger McNaughton's couple for the Leopards included an 11-9, 8-11, 11-7, 10-12, 11-9 win over Kevin Hume.
Finally, Brotherhood H showed no mercy for Windsor Kites, winning 10-0 with something to spare.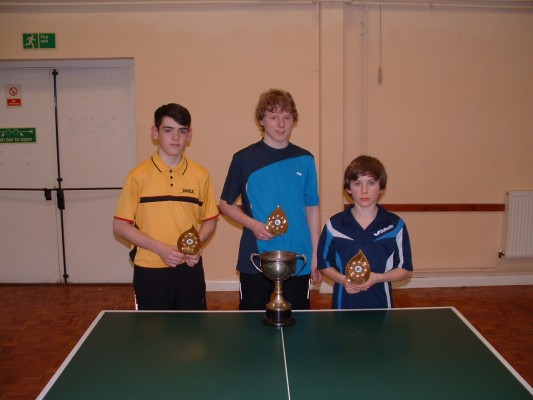 RESULTS
Handicap Cup : Round 4
Walton B 2 Nomads Jaguars 5;
Brotherhood A 5 Windsor Harriers 4;
Brotherhood G 3 Nomads Cougars 5;
Windsor Magpies 1 Windsor Hawks 5.
League
Division 2
Lawford 9 Brotherhood E 1;
Nomads Ocelots 0 Brotherhood D 10.
Division 3
Windsor Kites 0 Brotherhood H 10;
Nomads Leopards 6 Nomads Lynx 4.
To view the full tables click here
Tony Oswick