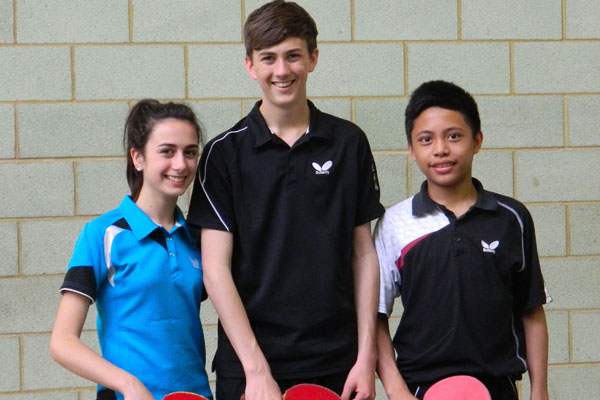 BROTHERHOOD YOUNGSTERS TAKE TOP SPOT
In the last week of the season Brotherhood J are confirmed as the new champions of Division Three of the Clacton and District League.
Tom Burton, Kelvin Olano and Lucy Burton finished their programme with a 9-1 win over Nomads Wildcats and a 10-0 victory against Windsor Kites to take the title by just two points. It was a well-deserved success for the three Brotherhood juniors, Tom Burton remaining unbeaten in the League all season.
However, it turned out to be closer than expected with nearest challengers Brotherhood I, who whitewashed Nomads Pumas in their last match, finishing only finger-tips away from the top spot.
Although the 'I' team won 10-0, the score-line failed to tell the story of a four-hour marathon match in which the Pumas were desperately unlucky not to get on the score-sheet. The closest matches saw Rowan Cottee and John Wrigley beat John Bowers and Lionel Goddard 3-2 (4-11, 7-11, 18-16, 11-6, 11-4) in the doubles, whilst Cottee beat Bowers 11-8 in the fifth and Alan Dockerill 12-10 in the fifth.
Nomads Bobcats ended in a highly-creditable third position, this week beating Windsor Penguins 7-3, with Harry Hawkes undefeated, Alan Fryer taking two and Harry Barlow one.
The Penguins later beat Brotherhood L 7-3, the much-improved Ray Chillingworth taking a treble and Sue Chillingworth two. Debra Found won twice for Brotherhood, beating Sue Chillingworth 11-5 in the fifth and Mike Monschau 11-9 in the fifth.
Windsor Swallows were 7-3 winners against Brotherhood K. Malcolm Caley, Dan Wright and Caroline North all won two for Windsor but Brotherhood's Pete Bloomfield chalked up a twelfth maximum of the season, this in his first year of League table tennis.
The Division Two title also went down to the wire with another junior side, Nomads Cougars, beating Lawford 7-3 to get the three points they needed from their final match to secure their place as Divisional champions. Paul Hume won three, Sam Hume two and Adam Cuthbert one.
It sealed an excellent season for the Nomads' youngsters. At the half-way stage, they were in fourth place with seventy-five points but a run of twelve straight wins and ninety-four points in the second-half was enough to earn them the title, a year after gaining promotion from Division Three.
So Brotherhood D, who were without a match, have to be content with second place whilst Brotherhood C finished a further eight points behind in third.
The 'C' team's last match against Windsor Harriers ended all-square, with every player taking at least one win. Ian Fielder was unbeaten for the Harriers, although it was a close 11-9 in the decider against Lawrence Torr, a victory that denied Torr his own hat-trick. Windsor's Jenny Higgins had a crucial win over Kevin Pryor.
At the other end of the table, Brotherhood G are relegated alongside bottom-team Brotherhood E.
The 'E' team narrowly lost 6-4 to Windsor Owls, Adam Jackson winning three and Tricia Salter two for Windsor. Jackson's 11-9 in the fifth victory against Rodney Betts ultimately proved crucial.
But, in their second match, Brotherhood E had the satisfaction of a victory over a depleted Nomads Tigers 7-3. The closest match saw Duncan Dunne defeat Nomads' Darren Bunce 11-9 in the fifth.
It might have been an end-of-season mid-table clash but Windsor Ravens and Brotherhood F fought it to the end, the match ending with honours even. David North took a maximum for Brotherhood, whilst there were two each for Windsor's John Long and Isabel Barton. Long had a close 3-2 (8-11, 12-14, 11-6, 11-7, 11-9) win over Sandie Isaac whilst Justin Reichart beat the same player, fresh from her heroics in the Closed Championships, in three-straight.
The Ravens' final match saw them go down 9-1 to Nomads Ocelots but they will feel unfortunate to lose all four matches that went the distance. Doug Green and Peter Giles emerged unbeaten for the Ocelots whilst Daryl Lott won twice, including a 12-10 in the fifth victory against Isabel Barton. The victory leapfrogs the Ocelots over the Ravens and moves them out of the bottom three places for the first time this season.
Nomads Panthers are the Division One champions and Windsor Condors secured the two points they needed to be confirmed as runners-up, beating Brotherhood B 9-1. Gary Cattermole and Colin Stallwood were undefeated whilst Martin Edwards took the losers' sole point with an 11-8 in the fifth success against John Pattrick.
Walton A, 10-0 winners over Windsor Kestrels, take third place, the only match going the distance being Colin Dearman's 12-10 in the fifth victory against Chris Petrou.
It mattered little to the Kestrels as they are already relegated alongside bottom-team Nomads Jaguars.
Brotherhood A won all four matches that went to five and took the match 9-1 against Windsor Hawks, Greg Green and Alan Burgess unbeaten. Annabelle Rodriguez played well but went down in five in all three singles, the tightest being her 11-7 in the decider defeat by Alan Burgess.
So Brotherhood A finish fourth, the first time in fifteen years that a Brotherhood A side has finished outside the top three.
Elsewhere, Windsor Eagles beat Walton C 6-4, Fred Button undefeated. The match included one of the closest matches of the season, Walton's Mark Tracey defeating Sue Welham 3-2 (7-11, 13-11, 11-13, 13-11, 16-14).
Finally, Nomads Lions won 6-4 against a Walton D side forced to field a guest player. George Kalli was the best player on the night, winning twice for Walton.
* In the first two matches of the Essex Senior Inter-League, Clacton notched up a win and a draw.
The town team of James Denyer, Greg Green and Felipe Rodriguez beat Braintree 7-3, Denyer winning three, Green two and Rodriguez one, with Green and Denyer sharing a doubles win.
The same trio then drew with Harlow, Green winning two, Denyer and Rodriguez one each, Rodriguez and Green taking the doubles.
RESULTS
Division 1
Walton A 10 Windsor Kestrels 0;
Brotherhood B 1 Windsor Condors 9;
Windsor Eagles 6 Walton B 4;
Windsor Hawks 1 Brotherhood A 9;
Nomads Lions 6 Walton D 4.
Division 2
Nomads Cougars 7 Lawford 3;
Brotherhood C 5 Windsor Harriers 5;
Nomads Tigers 3 Brotherhood E 7;
Windsor Ravens 5 Brotherhood F 5;
Windsor Owls 6 Brotherhood E 4;
Windsor Ravens 1 Nomads Ocelots 9.
Division 3
Brotherhood L 3 Windsor Penguins 7;
Nomads Wildcats 1 Brotherhood J 9;
Windsor Swallows 7 Brotherhood K 3;
Nomads Bobcats 7 Windsor Penguins 3;
Brotherhood I 10 Nomads Pumas 0;
Brotherhood J 10 Windsor Kites 0.
Senior Inter-League
Clacton (Denyer, Green, Rodriguez) 5 Harlow 5
Clacton (Denyer, Green, Rodriguez) 6 Braintree 3.
To view the full tables click here
Tony Oswick