Two England teams dug deep to qualify for the knockout stages at the Belgium Junior & Cadet Open.
The Cadet Boys pair of Amirul Hussain and Jamie Liu won their three group matches against Netherlands C (3-1), Belgium D (3-2) and Poland-Singapore (3-2), with both players picking up key victories.
Meanwhile, the Cadet Girls pair of Jasmin Wong and Ruby Chan progressed on countback after they, Ireland and Hungary A all finished on one win apiece and five matches apiece. It came down to sets, and England's record of 23-17 was the best in the group.
Both teams met French opposition in the quarter-finals and the boys were beaten 3-0 and the girls 3-1.
The other Cadet teams – Louis Price and Josh Weatherby and Anaya Patel and Darcie Proud – plus the two Junior Boys teams, were knocked out in the group stage.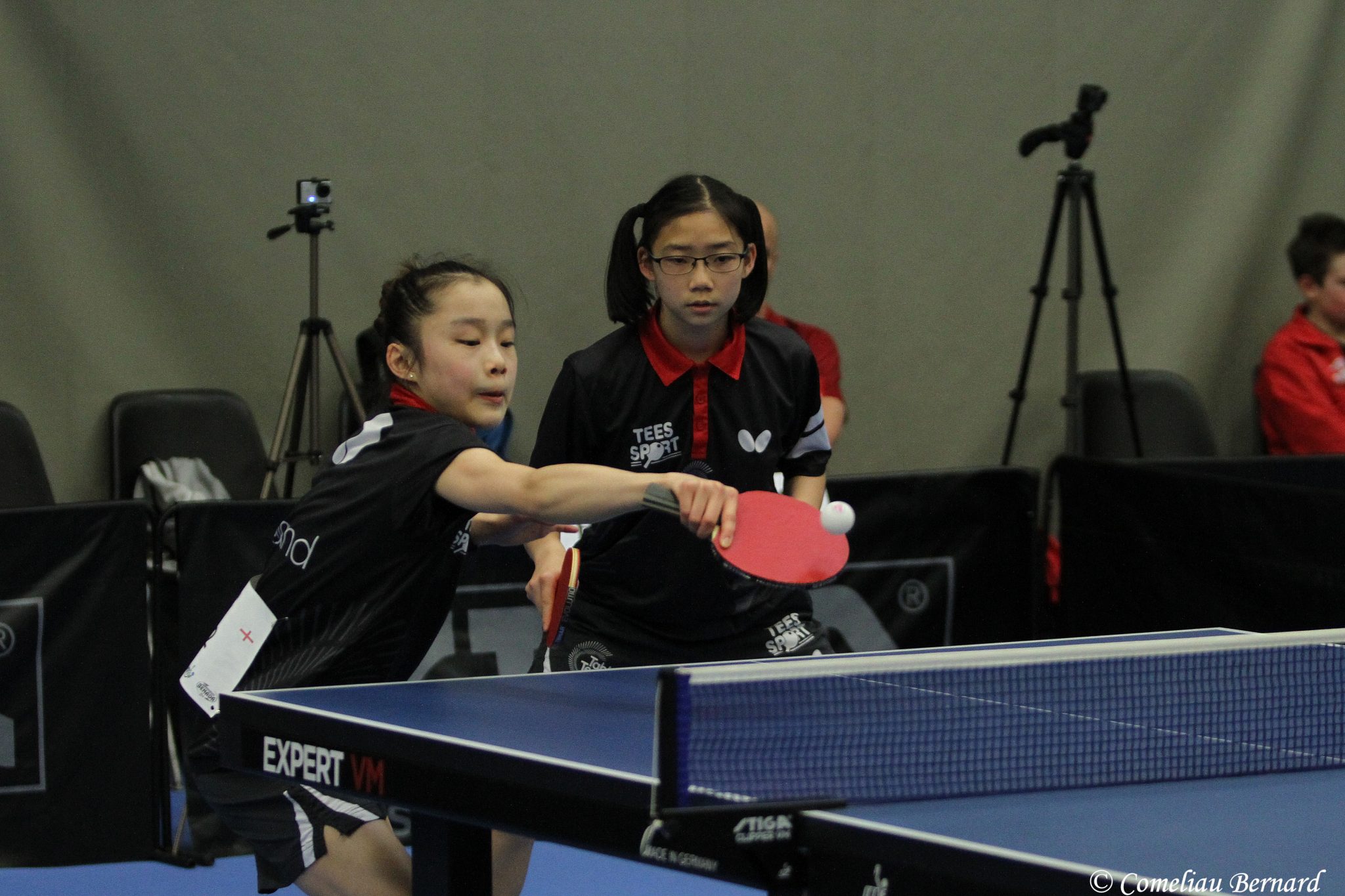 In the individual Junior events, none of the England players were able to qualify for the knockout stages, though Joe Clark, James Smith, Joe Cope and Olly Tyndall all picked up one group victory.
In the consolation event, Smith and Clark reached the quarter-finals, Cope and Shayan Siraj – who had been drawn in the same group as European Youth champion Ioannis Sgouropoulos – went out in the last 16 and Tyndall and Sam Chesterman exited in the first round.
All three English doubles pairings were eliminated in the first round by opposition from the host nation.
The individual Cadet competitions take place over the weekend.
Results
Junior Boys' Team
Group 3
Belgium A 3 England B 0
Laurens Devos bt Joe Clark 3-1 (11-7, 11-5, 9-11, 11-6)
Olav Kosolosky bt Shayan Siraj 3-2 (10-12, 11-6, 8-11, 11-7, 11-4)
Quentin Jacques bt Olly Tyndall 3-0 (11-8, 11-6, 11-4)
Spain C 3 England B 1
Miguel Nunez bt Siraj (11-9, 11-8, 11-9)
Clark bt Sergi Grau 3-2 (11-9, 9-11, 8-11, 11-6, 11-6)
Adrian Fernandez bt Tyndall 3-0 (11-5, 11-8, 11-5)
Grau bt Siraj 3-2 (11-5, 12-14, 11-4, 8-11, 11-6)
Group 4
Portugal-Brazil 3 England A 0
Samuel Da Silva bt Joe Cope 3-0 (11-8, 11-7, 11-9)
Rafael Torino bt James Smith 3-0 (11-9, 11-7, 12-10)
Vitor Amorim bt Sam Chesterman 3-0 (11-7, 11-7, 11-4)
Poland 3 England A 0
Kamil Dziadek bt Smith 3-0 (11-7, 11-6, 11-6)
Lukasz Wachowiak bt Cope 3-0 (12-10, 11-5, 11-8)
Kacper Petas bt Chesterman 3-0 (11-4, 11-9, 11-6)
Cadet Boys' Team
Group 4
Czech Republic-Russia 3 England B 1
Maksim Kaburkin bt Louis Price 3-0 (11-6, 11-9, 11-7)
Josh Weatherby bt Borek Otahal 3-1 (11-4, 9-11, 11-7, 11-6)
Kaburkin & Otahal bt Price & Weatherby 3-1 (11-9, 11-5, 6-11, 11-4)
Kaburkin bt Weatherby 3-1 (9-11, 11-6, 11-9, 11-5)
Belgium B 3 England B 1
Louis Laffineur bt Weatherby 3-0 (11-5, 11-9, 11-7)
Price bt Nolan Lerat 3-1 (12-10, 11-13, 11-5, 11-7)
Laffineur & Lerat bt Weatherby & Price 3-2 (8-11, 11-7, 9-11, 11-5, 11-9)
Lerat bt Weatherby 3-1 (11-9, 14-16, 11-7, 11-7)
Ireland 3 England B 1
Art McLaughlin bt Price 3-1 (11-5, 9-11, 11-7, 11-9)
Thomas Joyce bt Weatherby 3-1 (14-12, 11-7, 5-11, 14-12)
Price & Weatherby bt McLaughlin & Joyce 3-1 (9-11, 11-5, 11-6, 11-9)
McLaughlin bt Weatherby 3-0 (14-12, 11-7, 11-9)
Group 7
England A 3 Netherlands C 1
Milo De Boer bt Amirul Hussain 3-1 (11-8, 11-7, 9-11, 11-8)
Jamie Liu bt Jim Hendrix 3-0 (11-7, 11-3, 11-8)
Hussain & Liu bt De Boer & Hendrix 3-0 (11-6, 12-10, 11-8)
Liu bt De Boer 3-0 (11-9, 11-4, 11-8)
England A 3 Belgium D 2
Liu bt Tom Closset 3-1 (10-12, 11-3, 15-13, 11-5)
Elijah Rivera Lafargue bt Hussain 3-2 (11-13, 11-4, 11-5, 11-13, 11-8)
Liu & Hussain bt Closset & Rivera Lafargue 3-0 (11-6, 11-5, 11-5)
Rivera Lafargue bt Liu 3-1 (11-13, 11-5, 11-9, 11-5)
Hussain bt Closset 3-0 (11-6, 11-6, 11-6)
England A 3 Poland-Singapore 2
Maksymilian Miastowski bt Liu 3-1 (11-8, 10-12, 11-2, 11-4)
Hussain bt Nathaniel Jun Kai Chua 3-0 (11-8, 12-10, 11-5)
Liu & Hussain bt Miastowski & Chua 3-1 (9-11, 11-8, 11-7, 11-9)
Miastowski bt Hussain 3-1 (11-9, 11-13, 11-7, 12-10)
Liu bt Chua 3-0 (11-8, 11-6, 11-5)
Quarter-finals
France 3 England A 0
Fabio Rakotoarimanana bt Hussain 3-1 (13-11, 11-7, 8-11, 11-7)
Felix Lebrun bt Liu 3-0 (11-3, 11-6, 11-8)
Rakotoarimanana & Lebrun bt Hussain & Liu 3-2 (12-10, 7-11, 11-6, 5-11, 11-1)
Cadet Girls' Team
Group 2
France B 3 England B 0
Lucie Mobarek bt Darcie Proud 3-0 (11-8, 11-6, 11-3)
Lou Frete bt Anaya Patel 3-0 (13-11, 11-5, 11-9)
Mobarek & Frete bt Patel & Proud 3-0 (11-6, 11-8, 11-5)
England B 3 Poland B 2
Aleksandra Jarkowska bt Proud 3-0 (14-12, 16-14, 11-9)
Patel bt Zuzana Kowalczyk 3-1 (11-9, 8-11, 12-10, 12-10)
Jarkowska & Kowalczyk bt Proud & Patel 3-0 (11-4, 11-6, 11-8)
Proud bt Kowalczyk 3-2 (8-11, 11-7, 11-8, 8-11, 17-15)
Patel bt Jarkowska 3-1 (11-7, 9-11, 11-9, 11-8)
Group 3
England A 3 Hungary A 2
Jasmin Wong bt Irisz Laskai 3-0 (11-5, 11-9, 11-8)
Dorottya Tolgyes bt Ruby Chan 3-1 (11-13, 11-7, 11-9, 11-7)
Laskai & Tolgyes bt Wong & Chan 3-1 (11-8, 11-6, 6-11, 11-8)
Wong bt Tolgyes 3-1 (10-12, 11-9, 14-12, 11-6)
Chan bt Laskai 3-1 (11-4, 13-15, 13-11, 13-11)
Ireland 3 England A 2
Sophie Earley bt Chan 3-2 (6-11, 11-6, 11-3, 9-11, 11-5)
Wong bt Silke Heinen 3-0 (11-4, 11-2, 11-7)
Chan & Wong bt Earley & Nicole Scott 3-0 (11-5, 12-10, 11-8)
Earley bt Wong 3-2 (5-11, 9-11, 11-4, 11-8, 11-6)
Heinen bt Chan 3-2 (12-10, 13-15, 11-4, 1-11, 11-9)
Quarter-finals
France A 3 England A 1
Chloe Chomis bt Chan 3-0 (11-4, 11-4, 11-4)
Lucie Farcy bt Wong 3-2 (8-11, 11-8, 11-7, 9-11, 11-7)
Chan & Wong bt Chomis & Farcy 3-1 (11-7, 5-11, 11-9, 11-7)
Chomis bt Wong 3-1 (10-12, 11-6, 11-7, 12-10)
Junior Boys' Singles
Qualifying Group 1
Ioannis Sgouropoulos (GRE) bt Shayan Siraj 3-0 (11-4, 11-6, 11-3)
Alvaro Gainza (ESP) bt Siraj 3-2 (6-11, 11-13, 11-6, 11-4, 11-8)
Group 7
Joe Clark bt Gabriel Stanescu (BEL) 3-0 (11-7, 11-9, 11-0)
Francisco Miguel Ruiz (ESP) bt Clark 3-2 (8-11, 11-4, 8-11, 11-4, 11-4)
Rafael Torino (BRA) bt Clark 3-0 (11-8, 11-5, 14-12)
Group 8
James Smith bt Gustav Faurschou (DEN) 3-0 (11-3, 11-9, 11-8)
Quentin Jacques (BEL) bt Smith 3-1 (11-8, 11-4, 6-11, 11-7)
Adrian Fernandez (ESP) bt Smith 3-1 (11-7, 14-12, 10-12, 11-8)
Group 10
Samuel Da Silva (POR) bt Joe Cope 3-0 (11-7, 11-6, 11-9)
Cope bt Tim Giltia (BEL) 3-1 (8-11, 11-9, 11-3, 11-6)
Vincent Picard (FRA) bt Cope 3-1 (11-3, 9-11, 11-7, 11-3)
Group 13
Kamil Dziadek (POL) bt Olly Tyndall 3-0 (11-4, 11-2, 11-6)
Tyndall bt Boris Dobbelstein (BEL) 3-2 (4-11, 7-11, 11-5, 11-9, 11-9)
Marc Gutierrez (ESP) bt Tyndall 3-0 (11-5, 13-11, 11-7)
Group 15
Nicolas Degros (BEL) bt Sam Chesterman 3-0 (11-6, 11-7, 11-5)
Roel Bogie (NED) bt Chesterman 3-1 (11-7, 12-10, 9-11, 14-12)
Melker Nilsson (SWE) bt Chesterman 3-0 (11-5, 11-2, 11-6)
Junior Boys' Consolation Singles
Round of 32
Shayan Siraj bt Francisco Wahnon (POR) 3-0 (11-8, 11-8, 11-5)
Boris Dobbelstein (BEL) bt Sam Chesterman 3-2 (9-11, 6-11, 11-6, 11-8, 11-7)
James Smith bt Evgenii Slavkin (RUS) 3-0 (11-3, 11-4, 11-4)
Joe Cope bt Gustav Faurschou (DEN) 3-0 (11-6, 11-7, 11-6)
Melker Nilsson (SWE) bt Olly Tyndall 3-0 (11-3, 11-9, 11-5)
Round of 16
Javier Soria (ESP) bt Siraj 3-0 (13-11, 12-10, 11-4)
Smith bt Maksymilian Miastowski (POL) 3-2 (13-11, 11-5, 7-11, 9-11, 11-7)
Thomas Late (NOR) bt Cope 3-2 (11-8, 5-11, 11-3, 14-16, 12-10)
Jo Clark bt Alessi Massart (BEL) 3-0 (11-1, 11-3, 11-9)
Quarter-finals
Jon Ander Guerricabeitia (ESP) bt Smith 3-1 (7-11, 11-5, 11-4, 11-9)
Miguel Nunez (ESP) bt Clark 3-1 (15-13, 9-11, 11-9, 12-10)
Junior Boys' Doubles
Round of 32
Laurens Devos & Olav Kosolosky (BEL) bt Sam Chesterman & Joe Cope 3-0 (11-5, 11-9, 11-5)
David Comeliau & Quentin Jacques (BEL) bt Joe Clark & Shayan Siraj 3-1 (6-11, 11-4, 11-7, 11-5)
Nicolas Degros & Adrien Rassenfosse (BEL) bt James Smith & Olly Tyndall 3-0 (11-8, 11-6, 11-8)