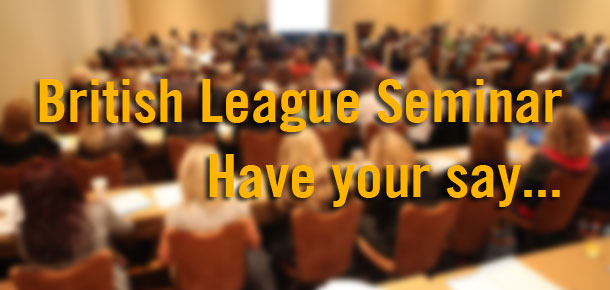 The British League is under-going a review which may lead to change, some of which could be very fundamental.
As part of this review we want to know what you think… With this in mind the British League committee is holding a one-off British League Seminar on the 28th April 2013… An entire day dedicated to discussion about the league and its future. Anyone who has views and ideas they wish to air can do so, we are listening… Attendance is by application only, in order to ensure a good mix of personalities and a broad selection of views, from clubs, players and officials.
It is important to not get this event confused with the annual British League conference; this one-off seminar will be totally different.
The primary aim of the seminar is to provide a forum for players, club representatives and officials to openly discuss a range of issues relating to the future of the British League; with a secondary aim of highlighting potential candidates to join a new progressive committee.
Potential Topics for Discussion
Financial – prize fund, entry fees, sponsorship, cost savings.
Expansion – new divisions, new regions, new professional league, new structure, stronger clubs.
Venues – centralisation, regional venues, home/away.
Promotion – branding, sponsorship, television, spectators.
New Initiatives – final day presentations, new individual competition, perpetual trophies.
Suggest something – we are open to hearing your views and ideas.
Download more information and the application form here.
Anyone who plays in or is involved with the British League is invited to be part of the discussions, we urge you to get involved.
Chris Dangerfield
British League Chairman