Naphong Boonyaprapa defeated two higher-ranked players to reach the quarter-finals at the Portugal Junior & Cadet Open, where he lost to the top seed.
The Nottingham youngster beat Silas Monteiro of the host nation in the round of 32 and then came from 2-1 down to knock out Floris Zur Muhlen of the Netherlands in the last 16.
But Payas Jain of India, the No 16 Cadet in the world and the top seed, was a different proposition and although Boonyaprapa fought well, he was beaten in three (11-8, 11-6, 11-7).
Earlier, Louis Price eliminated the 10th seed Dragos Alexandru Bujor of Romania 12-10 in a deciding fifth game to reach the last 16, having saved a match point at 10-9 down, as can be seen in the video below (courtesy Chris Rayner). Bujor is ranked more than 100 places above Price on the world under-15 list. Price lost in the next round to Miguel Angel Pantoja of Spain.
The other English boy to reach the knockouts was Ben Piggott and he was also knocked out by a Spanish opponent, Diego Lillo, in the last 32.
In the team competitions, the three remaining teams involving English players all went out in the quarter-finals, but not without some close matches.
Notably, Shayan Siraj won both his matches for the Junior Boys' team, twice levelling the score against a Czech Republic-Russia composite team who are seeded third, after James Smith and Ethan Walsh had lost in four sets.
Siraj's victims were Radim Bako, the 10th seed in the singles event, and Frantisek Onderka, the 13th seed. Unfortunately, Smith was beaten in the decider by Onderka.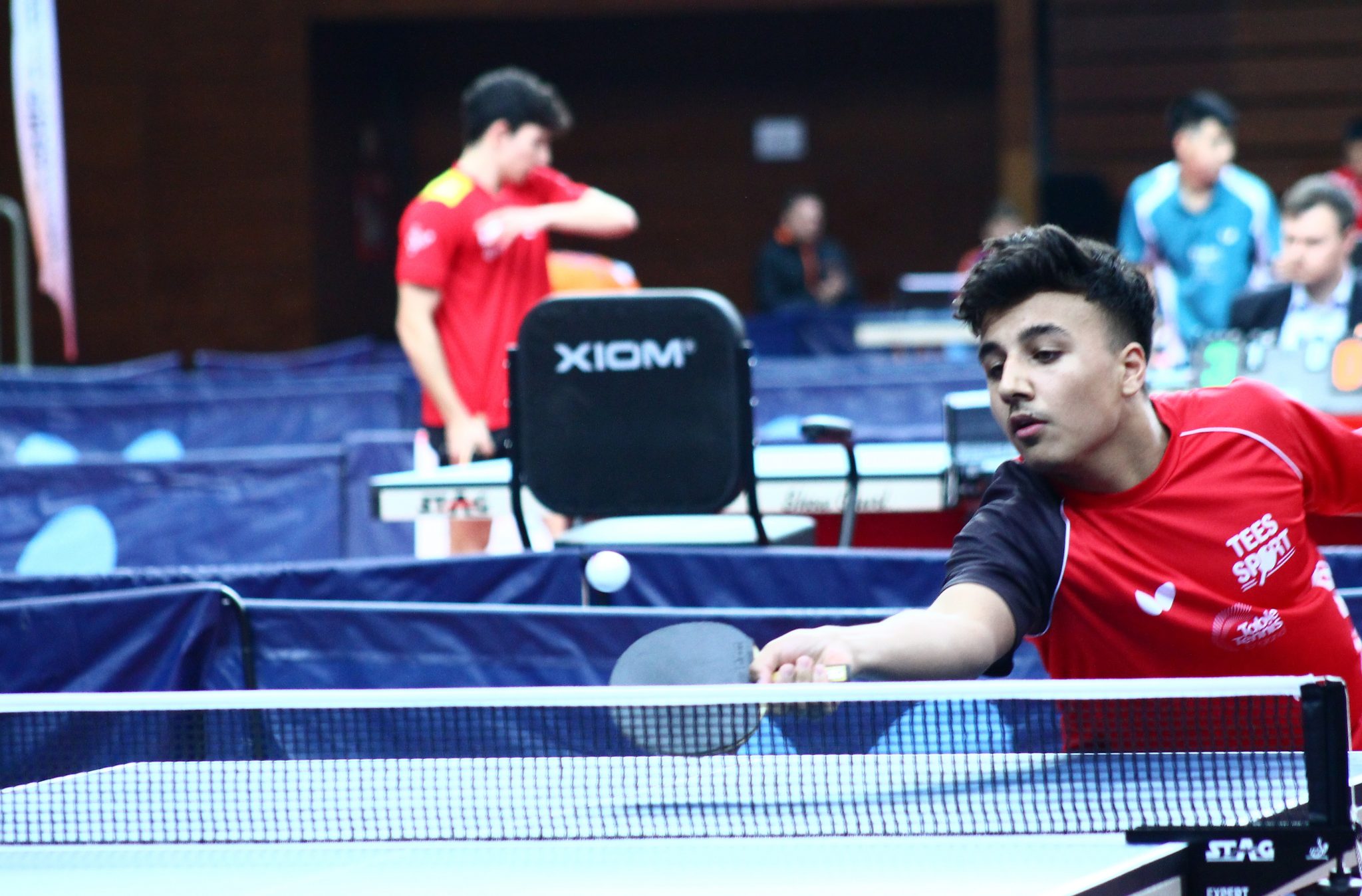 Naphat Boonyaprapa was also involved at the same stage, joining two Portuguese players and taking on the fourth seeds from Chile and India, who lived up to their seeding with a 3-1 victory.
In the Cadet Boys' category, Louis Price and Thomas Rayner were up against the top seeds from India, featuring the world No 16 Cadet, Payas Jain. Rayner took the first game against him and pushed him in the rest of the match before going down in four.
That made it 2-0 to the Indians and the completed victory in the doubles, but again not without the English pair giving a good account of themselves over four games.
Results
Cadet Boys' Singles
Round of 32
Naphong Boonyaprapa bt Silas Monteiro (POR) 3-1 (5-11, 11-7, 11-8, 11-6)
Louis Price bt Dragos Alexandru Bujor (ROU) 3-2 (6-11, 11-6, 11-5, 6-11, 12-10)
Diego Lillo (ESP) bt Ben Piggott 3-0 (11-3, 11-3, 11-4)
Round of 16
Boonyaprapa bt Floris Zur Muhlen (NED) 3-2 (14-16, 11-5, 2-11, 11-1, 11-7)
Miguel Angel Pantoja (ESP) bt Price 3-0 (13-11, 12-10, 11-8)
Quarter-finals
Payas Jain (IND) bt Boonyaprapa 3-0 (11-8, 11-6, 11-7)
Junior Boys' Team
Quarter-finals
Czech Republic-Russia 3 England 2
Radim Bako bt James Smith 3-1 (11-9, 11-3, 6-11, 11-9)
Shayan Siraj bt Frantisek Onderka 3-1 (11-4, 11-7, 4-11, 11-3)
Aleksandr Kraskovski bt Ethan Walsh 3-1 (11-8, 9-11, 11-9, 11-8)
Siraj bt Bako 3-0 (13-11, 11-9, 11-4)
Onderka bt Smith 3-0 (11-8, 11-6, 11-6)
Chile-India 3 England-Portugal 1
Andreas Martinez bt Tomas Ferreira 3-1 (12-10, 8-11, 11-6, 11-6)
Deepit Patel bt Naphat Boonyaprapa 3-0 (11-3, 11-1, 11-3)
Joao Silva bt Gustavo Castillo 3-2 (8-11, 11-6, 11-8, 7-11, 11-3)
Martinez bt Boonyaprapa 3-0 (11-9, 12-10, 11-4)
Cadet Boys' Team
Quarter-finals
India 3 England 0
Aadarsh Om Chhetri bt Louis Price 3-0 (11-1, 11-3, 11-5)
Payas Jain bt Thomas Rayner 3-1 (6-11, 11-6, 11-6, 12-10)
Chhetri & Jain bt Price & Rayner 3-1 (11-13, 11-3, 11-4, 11-9)