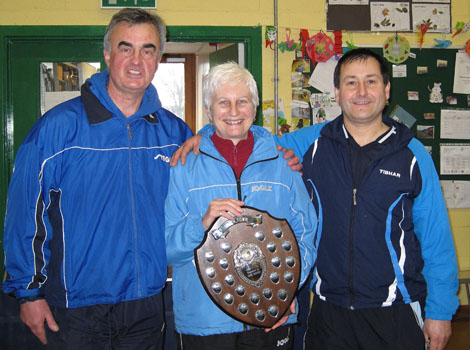 The annual Oxon Inter-League was held as usual at Moreton TTC on Sunday, 9th February. Teams from Banbury, Didcot and Oxford competed for both senior and junior trophies, as follows:
Senior Competition
Banbury – Tony Gorman, Jason Tustain, Nikki Francis
Didcot – Nat Richardson, Neil Hurford, Birgit Muller
Oxford 1 – Karl Bushell, Andy Misseldine, Janet Brown
Oxford 2 – Chris Smith, Fraser Harris, Kristelle Brook
Junior Competition
Banbury – Reuben Cox, Jordan Lafferty, Kit Lamb
Didcot – Niall Harris, Ethan Ball, Kavan Warrender
Oxford 1 – Simon Price, Fabian Audifferen, Jamie Felton
Oxford 2 – Josh Selby, Joe McKenna-Jones, Ben Neumeier,  John Ho
The senior teams of Banbury and Oxford 1 dominated the morning's proceedings with decisive victories over Didcot and Oxford 2. The second Oxford team battled well throughout the day, with both Chris Smith and Fraser Harris mounting a stiff challenge on their higher ranked and more experienced opponents. First year junior, Kristelle Brook, justified her selection for the senior event by taking both Nikki Francis (Banbury) and Birgit Muller (Didcot) the distance, losing to Nikki at deuce in the 5th, but defeating Birgit in the decider. She also played well in the Mixed Doubles, partnering Chris Smith, and Oxford 2 got their reward at the end of the day with a win over Didcot, for whom the redoubtable veterans Nat Richardson and Neil Hurford put in a fine shift throughout.
The climax of the event came in a superb confrontation between Banbury and Oxford 1. With wins for Jason Tustain over Oxford captain, Karl Bushell and for Tony and Nikki Francis in the mixed doubles, Banbury threatened to pull off a surprise; however Andy Misseldine held firm for Oxford to defeat both Jason and Tony Gorman, Janet Brown won her women's singles and Karl Bushell got the better of Tony over five close games to bring home the trophy for Oxford 1.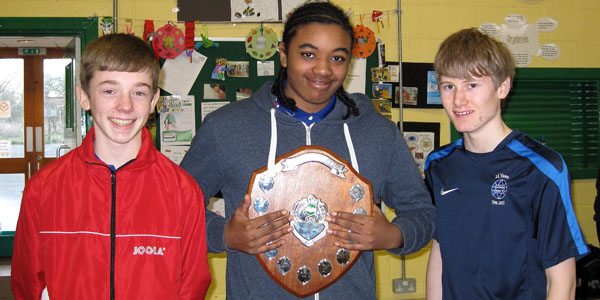 In the junior event, Josh Selby (12) upset the apple cart, recording fine wins for Oxford 2 over Didcot's Niall Harris and Oxford 1's Fabian Audifferen. That apart, it was one way traffic for the two top teams, although Banbury's Reuben Cox also managed to overturn Fabian. Oxford 2, captained by Ben Neumeier, competed well throughout the day and just managed to edge out Banbury for 3rd place, with hard fought wins for Joe McKenna-Jones (13) over Kit Lamb and for John Ho (13) over Jordan Lafferty. As in the seniors, all built up to a final duel between the two top teams, in this case Didcot and Oxford 1, but the key encounters went Oxford's way. Fabian's unique style of play proved to be too much for Niall; Kavan Warrender fought a long, hard, but ultimately losing battle against Oxford's Mr Consistent, Jamie Felton, and Oxford no 1, Simon Price, held his concentration together to beat both Ethan Ball and Niall. Kavan recovered to put Didcot on the scoreboard by beating Fabian, but in the very last match completed, Jamie altered his tactics astutely to cater for Ethan's fluent hitting and just came home at 14-12 in the 5th to complete a third 5-1 win for Oxford.
John Birkin (February 11, 2014)