Over 100 young people from 3 countries and 20 youth clubs made it to the Ambition UK National Table Tennis 2013 at the Halton Regional Table Tennis Centre. This year, the Lancashire Boys & Girls Clubs were the organisers.
The young people's behaviour was exceptional, they were an absolute credit to themselves and their clubs, taking responsibility for the events organisation as well as participating during the day.  The youngsters were also successful in gaining their junior umpire award. Some 45 volunteers and staff brought them to this event with many staying overnight or enduring long journeys, their commitment and support is very much appreciated.  As is the commitment of the ETTA International Referee Karen Tonge MBE, IR from Halton Table Tennis Club assisted by Ken Tonge, Frank James and others from Halton TT club and Inky Moss qualified ETTA umpire and chairman of Colebridge TT club Warwickshire, their experience and organisational skills ensured the event ran smoothly.
Working in partnership, a number of other volunteers contributed immensely on the day namely Neil Wheatley from Colebridge, Jasmine Gwillam of Blackpool and Sean Nolan of Liverpool young volunteers.  Our thanks go to them all.
There were excellent playing standards throughout the day, resulting in exciting finals. The Mayor of Halton, Councillor Margaret Ratcliffe, attended the event, taking time to talk to the youngsters, watching the finals and then presenting the awards at the conclusion of the day's play.
One of the players, Jack Hunter- Spivey from Halton TT Club, participating in our U19 boys section was fortunate to run with the Olympic torch recently which he brought to the event. Everyone at the venue was thrilled to being able to see and touch an Olympic torch with lots of photo opportunities available throughout the day.
A final bonus for the clubs present on the day was to witness an exhibition match between Jack (From GB Para Squad) and England international, Darius Knight. Both are Ambition UK Ambassadors.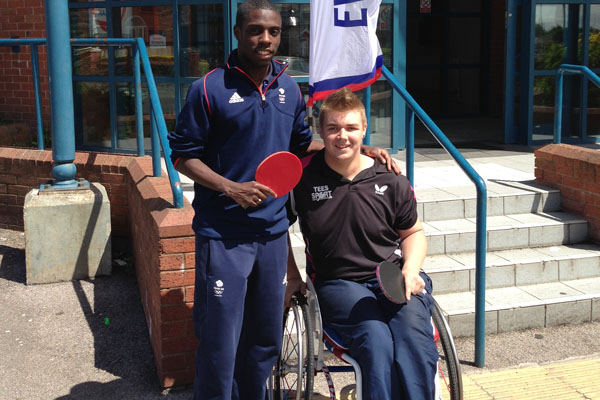 Ambition UK Table Tennis 2013 results:
Under 12 girls
Bethany Brewer (Ael-y-Bryn, WAL) bt Emma Kilpatrick (Colebridge TT Club, Wa) 3-0 (12-10, 11-5, 11-5)
Plate
Sophie Rinnhofer (Colebridge TT Club, Wa) bt Shannon Lloyd (Wyndham Boys & Girls Club, WAL)
Under 14 Girls
Lisa Rinnhofer (Colebridge TT Club, Wa) bt Robyn Cosgrove (Halton TT Club, Ch)
Plate
Sian James (Wyndham Boys & Girls Club, WAL) walkover
Under 16 girls
Beth Roberts (Ael-y-Bryn Table Tennis Club, WAL) bt Kirsten Atkinson (North Merchiston, SCO) 3-0 (11-3, 11-6, 11-5)
Under 19 girls
Alex Evans (Ael-y-Bryn Table Tennis Club, WAL) bt Shannon Kennedy (Meadows Youth Club, Ng) 3-1 (11-7, 11-5, 7-11, 11-4)
Under 12 Boys
Jake Cutts (Barnsley YMCA, Ys) bt Sam Walsh (Halton TT Club, Ch) 3-1 (11-6, 10-12, 11-8, 13-11)
Plate
Elis Burgess (Ael-y-Bryn Table Tennis Club, WAL) bt Matthew McCarthy (Halton TT Club, Ch) 3-0 (11-5, 11-8, 11-6)
Under 14 Boys
Callum Antrobus (Colebridge TT Club, Wa) bt Kai Davis-Francis (Westminster House Youth Club, Sy) 3-0 (11-4, 11-5, 11-6)
Plate
Lewis Gyekye (Hyson Green YC, Ng) bt Jack Evans (River House School, Wa) 3-2 (11-6, 11-13, 11-13, 11-8, 11-7)
Under 16 Boys
Ryan Lunn (Halton TT Club, Ch) bt Ashley Perry (Ael-y-Bryn Table Tennis Club, WAL) 3-1 (6-11, 11-5, 11-8, 11-2)
Plate
Callum Martin (Westminster House Youth Club, Sy) bt Phil Haynes (Barnsley YMCA, Ys) 3-1 (11-9, 11-3, 7-11, 11-4)
Under 19 Boys
Matthew McCormick (Halton TT Club, Ch) bt Jack Hunter-Spivey (Halton TT Club, Ch) 3-2 (7-11, 11-5, 10-12, 11-7, 11-9)
Plate
David Adesanya (Finsbury TTC, Mi) bt Faizan Bhura (Bolton Lads & Girls Club, La) 3-0 (11-6, 11-9, 12-10)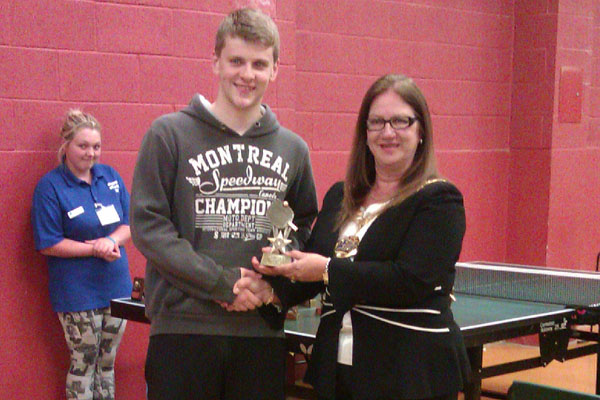 National Table Tennis 2013 Junior Umpire Award successful candidates
| | | |
| --- | --- | --- |
| Name | Club | County |
| Mathew McCarthy | Halton TTC | Cheshire |
| Jack Daniels | Bolton B & G Club | Lancashire |
| Shannon Kennedy | Meadows  YC | Nottingham |
| Jake Gerrard | Halton TTC | Cheshire |
| Bradley Matthews | Riverhouse School | Warwickshire |
| Amelia Norbury | North Merchiston YC | Scotland |
| Emily Shone | Halton TTC | Cheshire |
| Callum Brown | Halton TT Club | Cheshire |
| James Street | Barnsley YMCA | S Yorkshire |
| Asher  Graham | Loco YC | Nottingham |
| Josh Baker | Loco YC | Nottingham |
| Ciaran Moody | Halton TTC | Cheshire |
| Jasmine Gwillam | Blackpool B & G Club | Lancashire |
| Ryan Watkins | Ael-y-bryn | Wales |
| Frankie Carson | Halton TTC | Cheshire |
| Lyndon Lasota | Bolton Lads and Girls | Lancashire |
| Lisa Swift | Barnsley YMCA | S Yorkshire |
| Saman Kalanaki | Bolton | Lancashire |
| Jack Godward | Loco YC | Nottingham |
| Alix Bell | Finsbury TT C | London |
| James Turner | Benchill YC | Manchester |
| Charlie Tucki | Colebridge YC | Warwickshire |
| Jack Fitzsimmons | Benchill YC | Manchester |
| Juwon Makun | Finsbury TTC | London |
| Mathew Howe | Benchill YC | Manchester |
| Sian James | Wyndham B & G Club | Wales |
| Ben Hargreaves | Benchill YC | Manchester |
| Cerys James | Wyndham YC | Wales |
| Sebastien Rollinson | Bolton | Lancashire |
| Stephen Howe | Benchill YC | Manchester |
| Shannon Lloyd | Wyndham B&G club | Wales |
| James Waddington | Bolton | Lancashire |
| Molly Gumble | Streathan YCT | London |
| Jamie Lee Harley | Ael-y-bryn | Wales |
| Robert  Sharp | Halton | Cheshire |